15 Best Card Games for Android and iOS
November 17, 2019

in

Games
The online gaming industry is on a boom nowadays. The number of players is on the rise. Also, online card games are platforms where more than two people can play and enjoy among themselves irrespective of their location across the world. When we hear card games, solitaire is one such game that strikes in almost everyone's mind and why wouldn't? We all have spent our childhood playing this game on pc. But as technology is developing, we are getting introduced to advanced versions and also some new and complicated card games. Now we have those card games for Android and iOS smartphones. If you are looking for the best card games for Android and iOS, you are in the right place. In this article, we are listing the best card games.
Best Card Games for Android and iOS
Here is a list of few top card games for Android and iOS platforms. If you were looking for one, you can download any of these games.
1. Hearthstone
Hearthstone is originally known as Hearthstone: Heroes of Warcraft is a free-to-play online collectible card video game. It builds upon the already existing tradition of the Warcraft series by using the same elements, characters, and relics.  The game features several modes of play, including casual and ranked matches, as well as single-player adventures. The game features cross-platform play, allowing players on any supported device to compete, restricted only by geographical region account limits.
Cost: Free
Available for: iOS and Android
2. Earthcore: Shattered Elements
Earthcore is a collectible card game based on the game of rock, paper, and scissors. However, in the game, they are called as Fire, Water and Earth. Players take turns laying out cards belonging to these elements on a three-lane grid. When all lanes are full, the elements get compared to see which cards win. Losers deal that cards risk value in damage to their owner. Ties carry over their risk to the next turn.
Cost: Free
Available for: iOS and Android
3. Sage Solitaire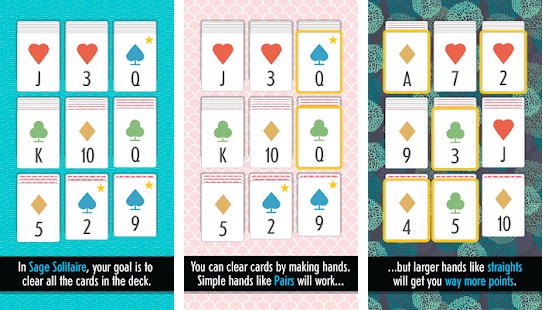 The basis of Sage is like most other variations of Solitaire: your main goal is to get rid of cards and score points. Sage presents you with a three-by-three grid of card piles, which grow larger as you move from bottom right to top left.
Cost: Free
Available for: iOS and Android
4. Star Realms
Star Realms is a spaceship combat deck-building game.  It combines the fun of a deck-building game with the interactivity of Trading Card Game style combat. As you play, you make use of Trade to acquire new Ships and Bases from the cards being turned face up in the Trade Row from the Trade Deck. You use the Ships and Bases you acquire to either generate more Trade or to generate Combat to attack your opponent and their bases. When you reduce your opponent's score to zero, you win!
Cost: Free
Available for: iOS and Android
5. The Elder Scrolls: legends
The Elder Scrolls: Legends is a competitive strategy card game set in the Elder Scrolls universe. From building your deck to taking on foes in one of the game's three exciting modes, every decision you make will require strategy and careful planning!
Legends splits its cards into five different attributes: Strength, Intelligence, Willpower, Agility, and Endurance. You can pretty much figure out from the names what kinds of characteristics these attributes have. When building a deck in Legends, you pick two attributes, and the result gives you the game's different classes. 
Cost: Free
Available for: iOS and Android
6. Uno & Friends
Uno & Friends pitches you against the community of players using the app, so in each game, you'll be matched with strangers to get playing. The main objective is to discard all your cards before other players. The player who gets rid of his cards first is the winner. Initially, 7 cards are distributed to each player. The cards which are left after distributing the cards are considered as Draw Pile. The player needs to match the color or the number from the discard pile. In case the player doesn't have the color or number card, he is forced to pick up a card from the Draw pile. 
Cost: Free
Available for: iOS and Android
7. Ascension: Chronicle of the God Slayer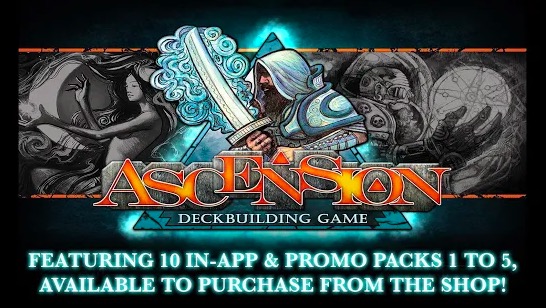 Ascension is a deck-building game in which players spend Runes to acquire more powerful cards for their deck. It offers a different play experience where players must react and adjust their strategy accordingly. Each player starts with a small deck of cards and uses those cards to acquire more and better cards for their deck, with the goal of earning the most Honour Points by gaining cards and defeating monsters.
Cost: Free
Available for: iOS and Android
8. Zynga Poker – Texas Holdem
Zynga poker is a game where you get sixty thousand chips when playing for the first time. From that moment it is up to you to get more chips or buy them with real money. It allows you to play with people all over the world or your friends! Play Poker however you want! Join a Sit n Go game, a Shoot Out tournament or a casual game, and win generous payouts, 5 players or 9 players, fast or slow, join the table and stakes you want.
Cost: Free
Available for: iOS and Android
9. Magic Duels
It offers virtual magic gameplay, unlockable cards, story-driven campaign, and many exciting multiplayer modes. As you play the game, you earn coins that you trade in for booster packs. If you want to get cards quicker, you can also buy coins, but all gameplay content is earnable just by playing. The interesting feature is that instead of unlocking a single card at a time by beating certain opponents, you earn coins. You can get coins by playing against the computer, against online opponents, or by completing challenges. You then use these coins to purchase six-card packs of random cards that are added to your collection.
Cost: Free
Available for: iOS and Android
10. Clash Royale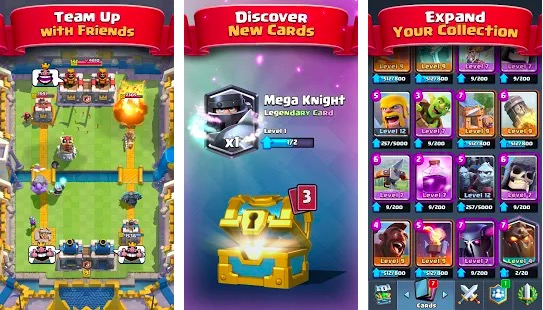 It includes collecting and upgrading dozens of cards featuring the Clash of Clans troops, spells, and defenses you know and love, as well as the Royales: Princes, Knights, Baby Dragons and more. Knock the enemy King and Princesses from their towers to defeat your opponents and win Trophies, Crowns and glory in the Arena.
You collect cards from chests and use them to build a deck that you then battle with. The whole system is based on the cards you get from battling and from chests and donations!
Cost: Free
Available for: iOS and Android
11. Gin Rummy Plus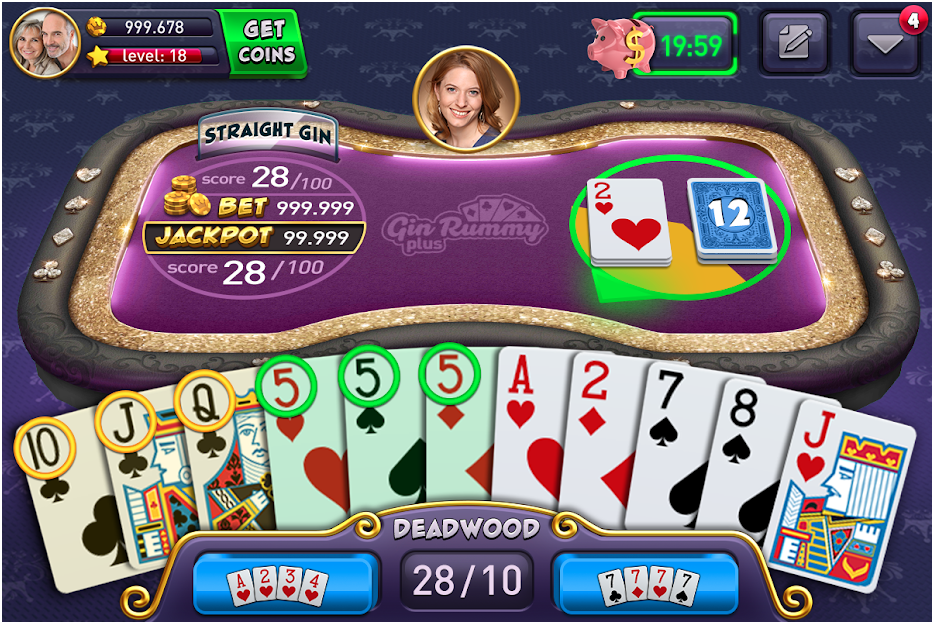 Gin Rummy Plus is also a popular card game by Zynga. As the name says, this is an online Rummy game that you can play with your friends and other real players online. The game offers in-app purchase but you also have opportunities to earn free coins. The game offers few chip events and new game modes. In case you were looking for an app to play Rummy, download this on one. Coins earned in the game comes from your own skill progression. The real-time leaderboards keep things competitive. You can also purchase coins if you want.
Cost: Free
Available for: iOS and Android
12. BlackJack 21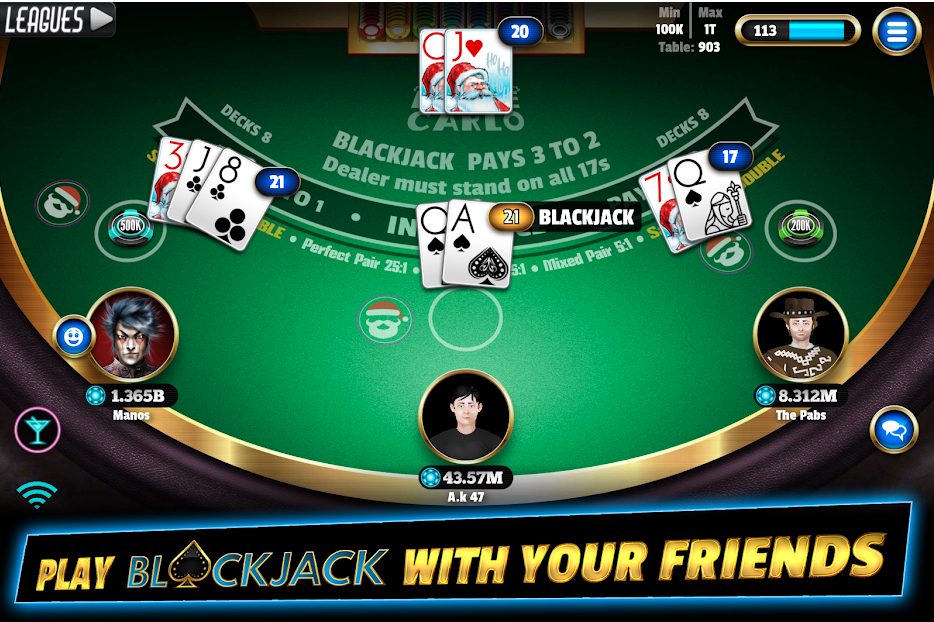 The game lets you play blackjack at stunning blackjack tables. It has good graphics and lets you choose from blackjack casino cities: Las Vegas, London, Macau and more. You can place your chips on the tables, and beat the dealers. You can either play live or explore other tables. If you play well, you will be eligible for fun in-app prizes. There is also a chance to earn in-app Diamonds every time you play.
Cost: Free
Available for: iOS and Android
13. Clue
The clue is the app version of the classic board game. Players shuffle about a map, collect clues and guess the killer's name, weapon, and place of the murder. They have to collect various cards with possible suspects, tools, and locations. This game is not free but worth to try. There are additional micro-transactions in the game but they are optional.
Cost: $3.99
Available for: iOS and Android
14. Microsoft Solitaire
Solitaire is a popular computer and 90's kids used to play it in their Windows PCs. This game is now available as a mobile app for both Android and iOS. It includes Solitaire along with four other variants: Freecell, Tripeaks, Spider, and Pyramid. The game includes challenges, cross-platform support, and Xbox Live achievements. The game also has challenges in all 5 game modes with multiple levels of difficulty every day!. These challenges will earn you badges and rewards.
Cost: Free
Available for: iOS and Android
15. Pokemon TCG Online
Pokémon TCG Online is a different kind of Pokemon game where you will be collecting and battling monsters. You can practice against the computer or play with your friends, play against players from around the world. You have an option to unlock cards and decks as you play to build up your collection. In the game, you can choose from Grass, Fire, or Water decks to set into the game. The earn cards, open booster packs, trade with other players and build the perfect deck of your cards.
Cost: Free
Available for: iOS and Android
Recommended Videos