Valorant ranking system explained – How to rank up
Valorant is a 5v5 first-person shooting game for PC. Now the game is available to all users and aims to compete against CS: Go and Overwatch. Like in the CS: Go, Valorant also has competitive mode and competitive ranks for gamers. The rank confirms the skillset of a player. This rank is also used to match players in competitive mode.
In order to achieve a rank in Valorant, you need to first unlock 'Competitive Mode' in-game. This can be done by playing twenty unrated matches. It doesn't matter if you win or lose. You just have to play 20 games. If you have been playing in the beta, your past games are counted toward this initial 20 games. After unlocking competitive games, you will have to play 5 competitive games. Then Valorant will assign you to rank for your upcoming competitive games. You will be assigned marches with players having ranks 5 levels (or two ranks) above or below your rank.
There are eight ranks to achieve and each rank has three levels. Here are the Valorant ranks.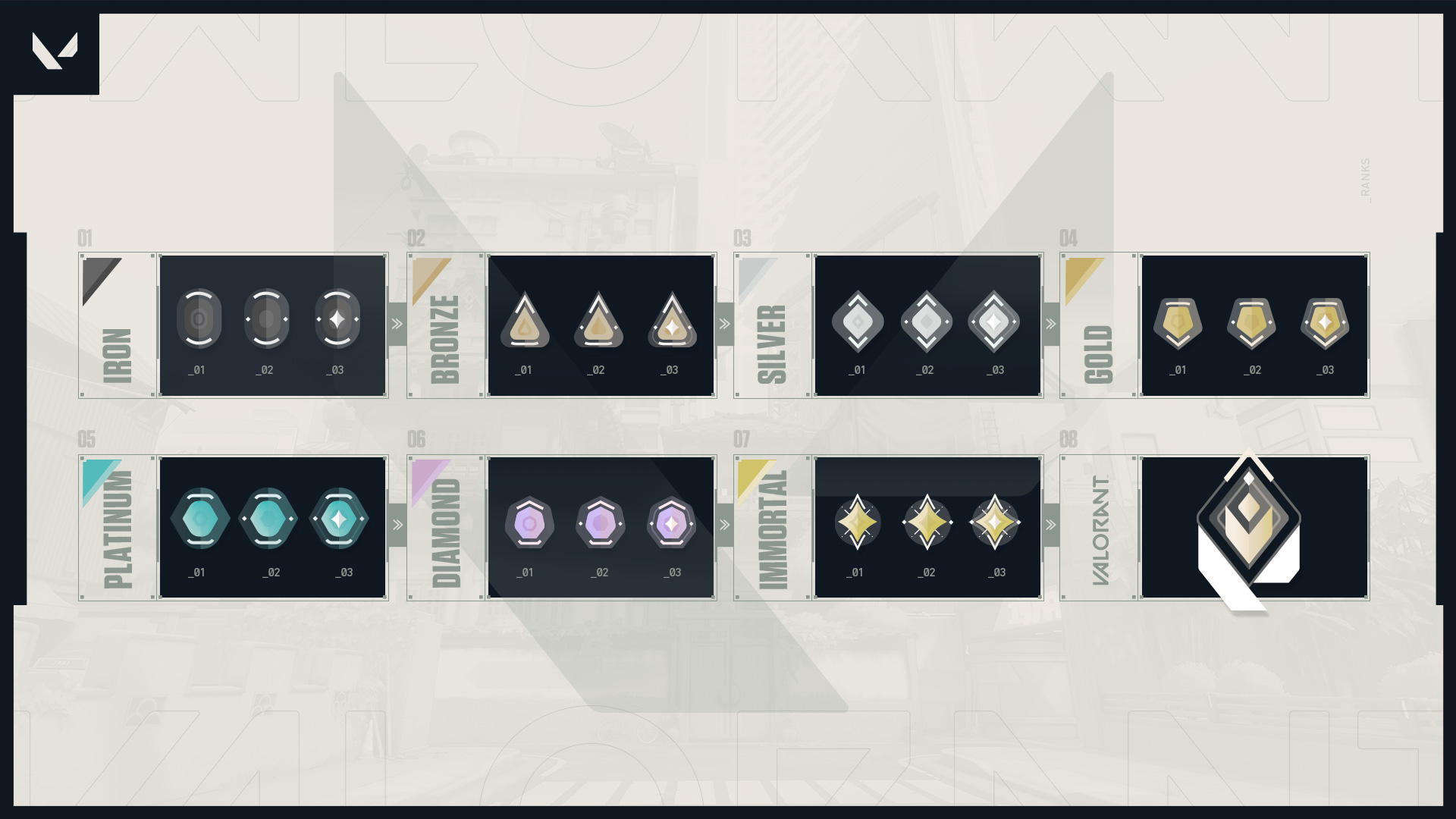 Valorant Ranked Tiers
Iron 1
Iron 2
Iron 3
Bronze 1
Bronze 2
Bronze 3
Silver 1
Silver 2
Silver 3
Gold 1
Gold 2
Gold 3
Platinum 1
Platinum 2
Platinum 3
Diamond 1
Diamond 2
Diamond 3
Immortal 1
Immortal 2
Immortal 3
Valorant
So, there are titan 22 ranked tiers represented by its own skill badge.
Valorant takes your personal performance into account while assigning you a rank. The better you play, the bearer rank you get. Valorant is the highest rank in the game.
Victories play an important role in ranking. You rank will fluctuate based on wins and losses. Along with game victories, every individual player is also a factor in helping players ranking better. You will need to get entry/initial frags, get "first blood" kills, plant and defuse bombs to quickly get a better rank. You also need to use your smokes, molotovs, acid bombs, or walls to assist your teammates. The better you contribute, the better you climb in the ranking system. Just killing enemies cannot help you in ranking better.
It is also worth noting that Winning or losing Unrated matches will have no effect on your rank. You will be graded just only based on the performance in Competitive ranked matches.
Gaining and Losing Rank
While playing games, your ranking will go up or down based on your wins and losses. There are three different types of rank effects with different symbols.
Rank UP (Green)
Rank DOWN (Red)
Break EVEN (Grey)
What happens if I don't play for a while?
If you don't compete in any Competitive matches for 14 days in a row, Valorant will stop showing your rank, however, it won't decay. It will remain hidden until you complete your next Competitive match. That means you can always take a break from Valorant without losing your progress.
Riot claimed that the ranking system is built to combat smurfing or rank boost. The company also promises balanced matches for all competitive players.