How to Delete Dropbox Account
Dropbox is a cloud storage service that allows users to store, access, and share their files across various devices and platforms. It offers a seamless way to backup files, collaborate on projects, and access data from different devices, making it popular among individuals and businesses. Sometimes, people might consider deleting their Dropbox account for various reasons such as privacy concerns, wanting to switch to a different cloud storage provider, or simply no longer needing the service. If you are looking to delete your Dropbox account, here are the general steps to do so:
Also see: List of Dropbox keyboard shortcuts
Before you proceed with deleting your Dropbox account, make sure to back up any important files or data you want to keep. Once you have deleted your Dropbox account, all files stored on your Dropbox account will also be deleted permanently. Once your Dropbox account has been deleted, you will no longer be able to access your account. It will also log you out of Dropbox on all devices. Content synced to your computer will remain there but, it will stop syncing. It is important to note that your shared folders will still be accessible to members in those shared folders. But you cannot access those files.
Steps to Delete Dropbox Account
Go to the Dropbox website and sign in to your account using your credentials. Once logged in, click on your profile picture or username in the top-right corner of the screen. From the dropdown menu, select "Settings."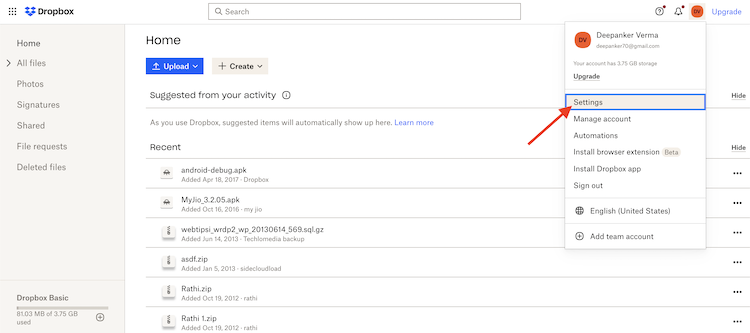 In the settings menu, navigate to the "Account" tab. Here, you will find various options related to your account settings. Scroll down to find the option to "Delete account." Click on this link to initiate the account deletion process.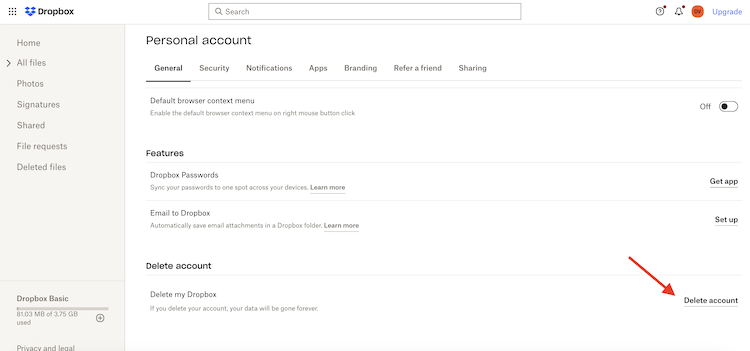 Now Dropbox will ask you to enter your account password and provide a reason for deleting the Dropbox account. Once you have entered relevant details, click the button Permanently Delete to delete the account.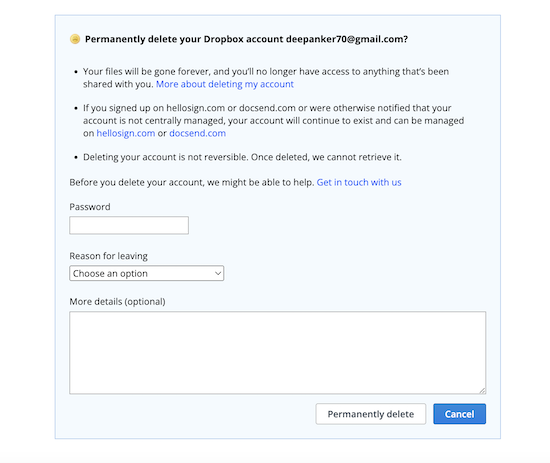 Then tap Delete to confirm your choice
Once you confirm, Dropbox will start the process of deleting your account. This process may take a little time, and during this time, you may not have access to your account. You will likely receive a confirmation email when your Dropbox account has been successfully deleted.
Wrap UP
Remember that deleting your Dropbox account is a permanent action, and you won't be able to recover your files or account after it has been deleted. So, don't forget to take a backup of your data before deleting your account.
See Similar Guides