Snapchat is one of the most popular social media apps mainly used by teens. Back in May 2021, the company confirms to surpass the 500 million only users milestone. Snapchat gained popularity among teens because the app lets them share photos and messages that are deleted automatically after a short time. Stories, Snap Streaks, and Face Filters are some notable features that teens usually like on the app. Just like other social media apps, Snapchat has also made it hard to delete accounts. If you want to leave the platform by deleting your account, you will have to first learn how to delete your Snapchat account. The Settings section of Snapchat doesn't offer an option to delete a Snapchat account. So, I decided to write an article about it. In this article, I will explain how to delete Snapchat account permanently.
Snapchat doesn't want users to leave the platform. So, the company has not given any option to deactivate or delete the account in the mobile app. But it has to give a way to delete account to avoid lawsuits. You will have to use a web browser to delete Snapchat account.
Before you Delete Snapchat account, let me make a few things clear. Snapchat initially deactivates the account for 30 days after your delete Snapchat account. After 30 days, the account will be deleted. If you login into your account before this 30 adds time limit, your account will be reactivated. So, you need to wait for 30 days and stop yourself from checking back your account if you really want to Delete Snapchat account.
Delete Snapchat Account permanently
Open this link (https://support.snapchat.com/delete-account) in a web browser. You can use both a desktop browser or a mobile web browser.
It will first ask you to log in. So, use your Snapchat credentials to login into your Snapchat account on the browser. Once you have logged in, it will show you the Delete Account page. Here's the snapshot of the Delete Account page.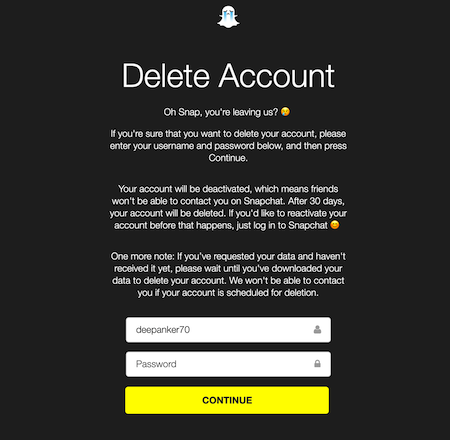 Here you need to again enter your Snapchat password to continue deletion.
After this, it will show you a message confirming your account has been deactivated.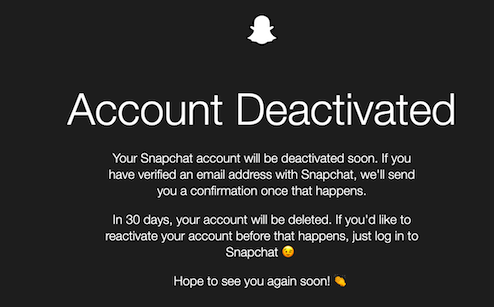 If you do not access this account in the next 30 days, your account will be deleted permanently. The company will also send you an email confirmation. Stop yourself from accessing your Snapchat account in the next 30 days if you really want to delete your account.
Before you delete your account, it is recommended to download your account data. Snapchat allows you to download your account data as a backup. You can get the option to request account data on the Account page under the My Data section. I am not going into detail of this step. If you want a tutorial on this, let me know using the comments section below.
Also see: How to delete Instagram account permanently
How to deactivate Snapchat account?
There is no different way to deactivate the Snapchat account. If you delete Snapchat account, it initially deactivates Snapchat account for the next 30 days. After this time limit expires, your account and account data are deleted.
How to reactivate the account after 30 days?
In case it is more than 30 days since you deleted your Snapchat account, there is no way to reactivate or recover your Snapchat account.
Can I delete Snapchat account from mobile?
Snapchat mobile app has no option to delete Snapchat account. You will have to use the mobile browser to access the account deletion page.
How to reactivate Snapchat account?
If 30 days time limit has not passed, you can open the Snapchat app login into your Snapchat account. It will take a few seconds to reactivate your account and then you will get your account back.