Telegram is one of the popular messaging apps. It is an open-source and cross-platform service. The reason why most people use Telegram is privacy. It lets users have text conversations, share photos, videos, documents, and do video calls. Voice and video calls are also end-to-end encrypted. The file-sharing limit is also 2GB. There are several features that make Telegram better than WhatsApp. Still, you may want to leave the app and delete Telegram account. If you want to Delete Telegram account but not sure how to do it, keep reading.
Telegram has a feature that automatically deletes the Telegram account after a certain time of inactivity. You can access this option using the app but there is no option to delete your Telegram account permanently from the app. You need to use the Telegram website to Delete Telegram account.
Delete Telegram Account
To delete Telegram account, Click on this link. It will open the Delete Account page on the web browser. Here, enter the phone number that you used to create an account on Telegram and click Next. It will send you a code on your Telegram app.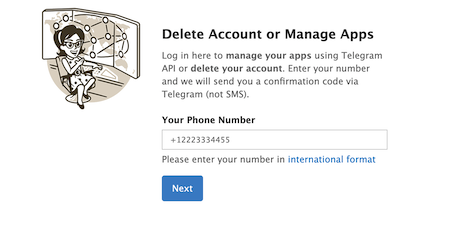 Open the Telegram app for the code and enter it on the web form. Then, it opens the Delete account page. Here, it asks you to enter the reason why you are leaving Telegram. Click the Delete My Account button to delete the Telegram account.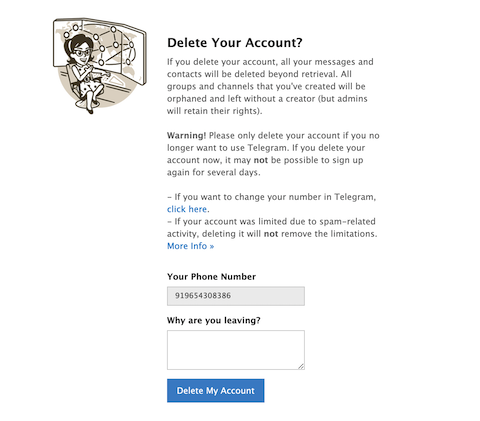 It now asks for a pop-up confirmation. Here, click the "Yes, delete my account button" to confirm the deletion.
After this, your Telegram account will be deleted. Your messages and contacts will be deleted. All the groups and channels will be left without a creator. After you Delete your account, you cannot create a new account in the next few days.
Wrap up
Telegram app also lets you export your data. S, you can export your data before you delete Telegram account. The option to export data is available in the desktop client. For accessing this option, click the three-bars in the top-right corner and select Settings. Then scroll down until you find the Export Telegram Data option.
I have also several similar articles on this blog. Use the links below to learn how to delete different app accounts.
Also see: