10+ Free Cloud Storage Services to Backup Your Data Online
Cloud Storage services are not new and these exist for a long time. Initially, these were used by only professionals to keep their important data. But smartphones have changed this industry and most smartphone users have started using these services to keep their data available on multiple devices. Android users by default use Google Drive and Google Photos while Apple users use iCloud. There are lots of other good Cloud storage services that offer free space to have a backup of your photos and other important data. All these services have cross-platform availability. So, you can also access your data from any platform.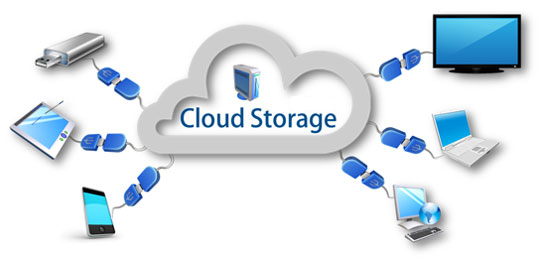 I personally prefer storing all my important documents on the cloud. Not just cross-platform availability, it also ensures safety. If you are keeping important files on your phone or laptop, it might be at risk. Your laptop's hard disk may crash or your phone might be stolen. Cloud services ensure that your data is safe until you lose access to your account.
There are lots of cloud storage services you can try to keep your data safe and accessible from anywhere. In this article, I am listing the best free cloud storage services where you can get free storage account. All these services also offer paid accounts for getting more data storage options if you want. So, have a look here at the list of the best free cloud storage services.
10+ Free Cloud Storage Services
1. pCloud
pCloud is one of the best cloud storage services that offer secure access to your cloud data but with an easy-to-use interface. They have a clean interface that improves the overall user experience. It also offers Real-Time Synchronization of your files. You get 20GB if free cloud storage and you can buy more if you want. They have Top-Notch Security and Encryption to keep your data safe on their servers.
You can share links to your files or invite more users to contribute in a folder. There are also a built-in video player and audio players for listening to your video or audio files. You also move data to pCloud from other cloud storage services easily.
Another good thing about pCloud is that there is also a lifetime plan where you can just pay $175 once and have 500GB of data for a lifetime.
Free Storage: 20 GB
2. Google One
Google One or previously known as Google Drive storage is one of the most popular cloud storage services due to its deep integration with Android and other Google services. It is also easy to use and you can easily take a backup of your important files from your Android phone, Gmail, Docs, Sheets, and Slides like services. Your files are synchronized across all platforms to make them available anywhere at any time.
By default, it gives you 15GB of free space. If you need more, you can purchase more storage. The good thing is that you can share your purchased storage with your family members, so you need to buy storage for them separately.
Free Storage: 15GB
3. Amazon Cloud Drive
Amazon Cloud Drive is another excellent cloud storage service available for multiple platforms. If you signup for Amazon Cloud Drive using your Amazon account, you get an Amazon account, you get 5Gb of free data to use. After that, you can buy more if you think 5GB is not enough. They also offer unlimited photo storage on Amazon Drive with Prime membership and this is not counted in your Cloud Drive storage.
You can use Amazon Drive to keep your photos, videos, music, and documents. All these files will be available via phone, tablet, or computer.
Free storage: 5GB
4. OneDrive Basic
OneDrive Basic is a cloud storage service from Microsoft. It is also similar to Google's One storage service. It also offers free storage data where you can save your files and access those files from any device or any location. You can also keep selected files for offline access.
It comes with Office 365 integration, so you can keep your documents online. It also offers real-time collaboration on folders and files. You can share your files with your friends. if you want to give them limited access, you can even create expiring links.
Free Storage: 5GB
5. iCloud
iCloud is for those users who are into Apple's ecosystem. If you use both iPhone and MacBook, I recommend iCloud because of its deeper integration with Apple devices. All your photos and videos will be available across the devices. Not just photos and videos, but you can also keep your other files on iCloud and access them from anywhere.
You can also use iCloud to collaborate with pages, numbers, keynote, and notes apps. Your messages will also be updated across your devices using iCloud.
Free storage: 5GB
6. Box
The Box is another popular cloud storage service used by millions of users. The company is also one of the oldest in this file. Like other cloud storage services, you get cross-platform access, the ability to manage files within folders, shared links, collaboration, and security. It also offers Official 365 and G Suite integration. You also get Slack, or Workplace by Facebook integration. So, you can use this cloud storage for your business as well.
You get 10GB of storage for free but there is a 250MB file upload limit. So, you cannot use this storage for keeping larger files.
Free storage: 10GB
7. Mega
Mega is also one of the most popular cloud storage services that came after a big controversy. Even if the service claims 50GB of free storage, you are actually getting 15GB as a free user. It is because another 35GB is free only for the first month.
Mega enables secure global access by offering End-to-End Encryption and Secure Collaboration. It offers real-time file synchronization and versioning features with all encryption. You can access your files from desktop and mobile platforms.
Free storage: 10GB
8. Dropbox
Dropbox is another popular cloud storage provide but I am putting it down in the list due to the low free storage option. The company claims to have over 500 million users across 180 countries. Like other cloud storage provides, it also offers file storage, sharing, and collaboration options. The company uses advanced security options to keep your files safe.
Free storage: 2GB
9. Upthere
Upthere is not a much-known name but a good one to try. This service is now owned by Western Digital (WD), the company best known for its Hard Disks. Upthere is a good cloud storage service that allows you to save your files in original quality and share it across any platform. The only issue with this service is that it doesn't allow folder upload. So, you have to deal with sorting and searching if you have a large number of files there.
Free storage: 20GB
10. MediaFire
MediaFire is an old name in the cloud industry. It also offers 10GB of free file storage and even allows the upload of a file of up to 4GB in size. You get unlimited bandwidth and download. You can also share your folders and folders easily. It also gives you full control of your files, and you can even create one-time links.
You can also organize your files for easier access and manage them in the folder. It is available on all popular platforms, so your files are available on all devices on the go.
Free storage: 10GB
11. Degoo
Degoo is also a less known name but worth trying. It offers 100GB of cloud space but you can access it only from 1 device or from multiple mobile devices. The service offers End-to-end encryption to keep your data safe. If you invite your friends, you will get more storage space.
The service also has some AI features to help you manage your files. You can upload your photos in their original size as there is no quality reduction. You can easily share your files and photos with your friends.
Free Storage: 100GB
Final Words
There are lots of other options you can try. I have not used many of those, so didn't include them in this list. I will keep on trying new cloud storage services and will add to this list if there is anything worth mentioning. I personally use Cloud storage services to keep my files because my system just comes with 128GB SSD storage. So, I keep my system optimized by using a few of the listed services.
You should check all the features of the service before making an account on it. If you know of any other good free cloud storage service, suggest me using the comments section below.