How to delete a Quora account
September 12, 2022

in

Guide
Quora is a popular platform where users ask their questions and get answers from other users. This forum-focused social media platform is really popular among users. If you were using Quora but didn't find it good, you can think of deleting your Quora account. On many platforms, users can either deactivate the account or permanently delete the account. Deactivating an account hides the profile from the platform but the user can activate the account in the future when he/she thinks of coming back to the platform. After deleting the account, the user will have to create a new account if he/she ever wishes to return to the platform.
Quora also allows users to Deactivate or Delete Quora accounts as per their needs. In this article, I will tell you both things. So, you will learn how to deactivate a Quora account and How to delete a Quora account.
Delete or Deactivate the Quora account
First of all, Login into your Quora account. Then click on your profile icon at the top right corner and select Settings.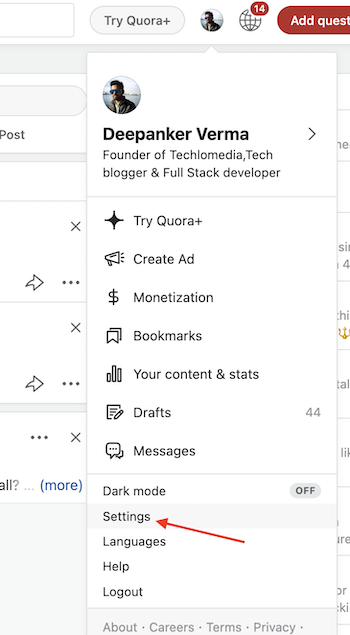 Now click on the Privacy tab and scroll down till the end. Here, you will see two options to deactivate or delete account.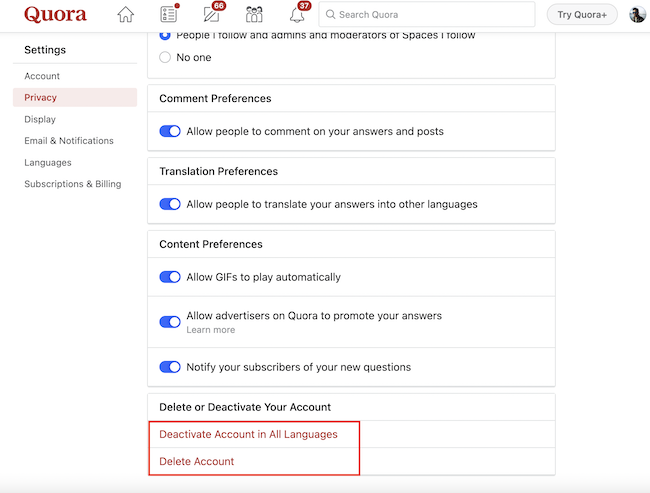 If you only want to deactivate your Quora account, Click on the Deactivate Account link. It will ask you to enter your Quora password to confirm your account. Even If you click the Delete Account link it will ask you to confirm your Quora password for deleting the account.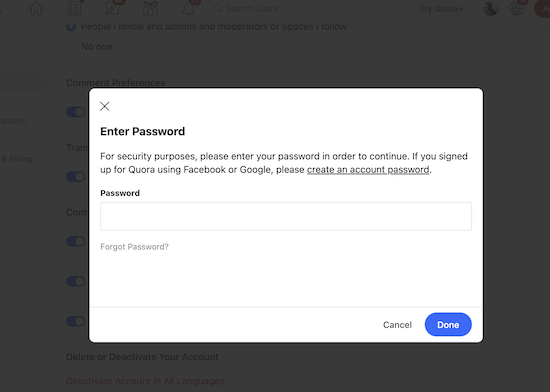 People who created an account on Quora using social login must require to set an Account password. If you log in to Quora using Facebook or Google authentication, you should first set an account password. Check the above Password confirmation dialogue, it has a link to create an account password. Clicking on this link will send you a password reset link in your email. Clicking on that link will allow you to set a new password for your Quora account.
If you use Quora on mobile apps, open the Quora app. Tap the profile icon and then click Settings. On the new screen, tap Privacy and scroll down till the last. Here, you will see options to Deactivate or Delete Quora account.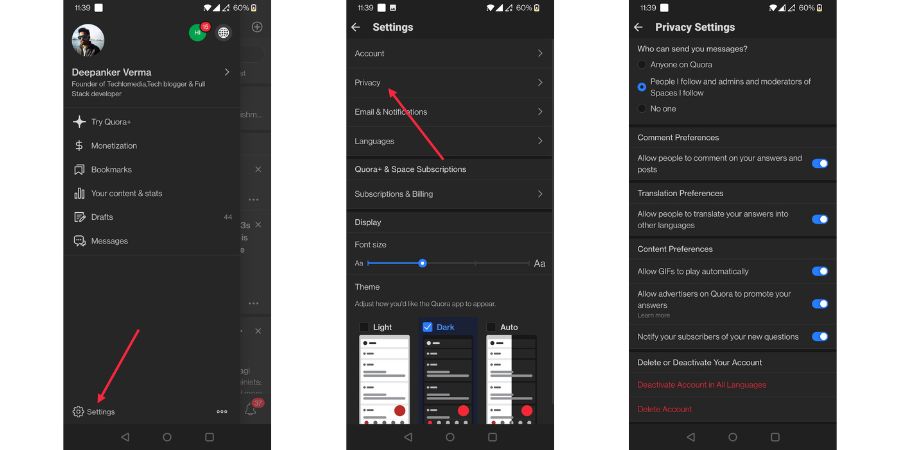 The process remains the same. If you click Deactivate or Delete link, it will ask you to confirm the Qura account password to proceed further.
Wrap Up
Now you know how to delete a Quora account. If you want, you can deactivate the Quora account and reactivate it any time later. Deleting your Quora account will delete the account permanently and you will have to create a new account using a new email address if you ever wish to come back to Quora. I hope this article was clear enough and had all the steps to give you a clear idea of how to delete a Quora account.
See similar articles