Samsung overtakes Xiaomi to lead the smartphone market in India: Counterpoint
It seems Samsung has finally managed to beat Xiaomi in the smartphone segment. According to Counterpoint, Samsung now leads the Indian smartphone market with a 24% market share. Xiaomi is now at number 2 spot with a 23% market share.
The number of Counterpoint report contradicts the Canalys report that still puts Xiaomi at the top with a 26.1 percent market share and Samsung at second place with 20.4 percent market share. Even if both the reports have different brands at the top spot, they agree that India's smartphone market saw a sharp rise in the quarter.
If we believe Counterpoint, It seems the "anti-China sentiment" helped Samsung in attracting a few more customers this quarter. If you compare the Q3 2020 results with Q3 2019 results, it is clear that most top leading Chinese brands lost market share except Oppo that recorded growth.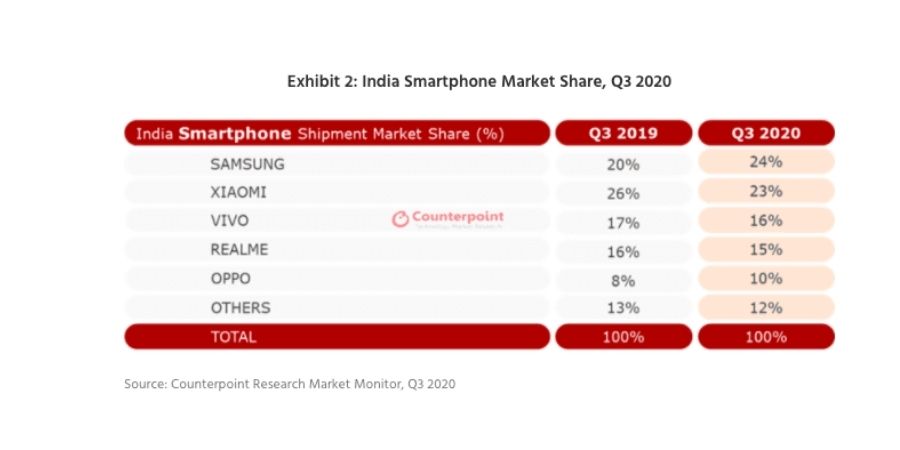 Xiaomi's market share is down to 23% in Q3 2020 from 26% in Q3 2019. Samsung managed to get a 24% market share in Q3 2020. The difference between the top spot and the 2nd spot is really small. So, Xiaomi still has a chance to regain the top spot.
Indian smartphone market crossed the 53 million mark in Q3 2020 that is basically 9 percent year-on-year growth.
Now Micromax is set to make a comeback with a new smartphone sub-brand called "In.". The company aims to compete against Chinese smartphone brand and has already announced an investment of $67.9 million. If Micromax really has a good plans, it could do well. Before Chinese smartphone makers came to Indian market, Indian smartphone brands used to sell rebranded Chinese phones. I hope Micromax won't do the same again.
India is now trying to be a smartphone manufacturing hub. The Indian government has recently approved 16 electronics companies for a $6.65 billion incentive program. This could help Non-Chinese brands who are missing from the list of approved vendors.