Apple announces the all-new macOS Big Sur
Along with new iOS 14, iPadOS 14, and WatchOS 7, Apple also announced macOS Big Sur at Apple's Developer Conference WWDC 2020. It comes with new UI and design changes to several apps.
Big Sur comes with several design changes. Application windows now have a new color scheme, rounded corners, and transparency effects. The desktop OS borrows several elements from Apple's iOS including the customizable Control Center. It also features a new Notification Center that can be involved by clicking the clock in the corner. It feels like an iOS-style notification center.
Several Apps including Mail, Photos, Notes, and iWork have also received new designs.
Safari is getting biggest update since its original launch in 2003. Now the browser is even faster and drains the lesser battery. Apple claims that it can outperform other browsers on Mac and PC. Safari is now capable of loading frequently visited sites an average of 50 percent faster than Chrome. Tabs are getting a new design to make navigation faster. Users can now customize the new start page with background images and sections. It comes with built-in translation to offer you web page translation in seven languages with just a click.
Messages on the Mac is also getting updates. You can now pin favorite conversations to the top. Search has been redesigned to organize results into links, photos, and matching terms. You can also now create and customize Memoji on the Mac. The app also makes it easy to share images, GIFs, and videos.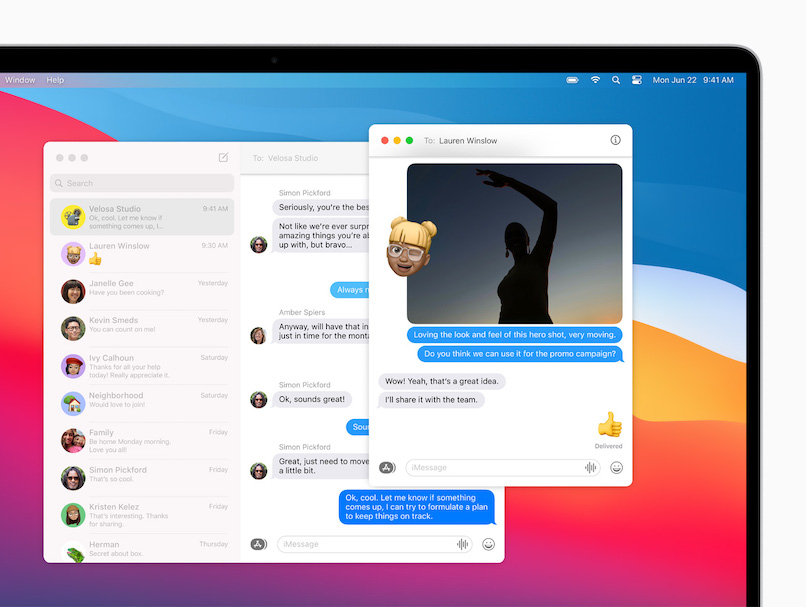 It is also getting a group messaging feature, inline replies, and a person tagging in a conversation.
Maps is also getting updates. It is getting a 360-degree view of a destination with Look Around. You can also browse detailed indoor maps of major airports and shopping centers. The map also shows routers of Cycling and electric vehicle trips. You also have an option to send directions to the iPhone.
MacOS Big Sur also comes with a Privacy Report that lets cross-site trackers Safari has clocked over the last 30 days. It also has a password-monitoring tool through which Safari helps you upgrade to secure passwords if it detects a weak password. App Store will also tell you what types of data apps might collect and if the data is being shared with third parties for tracking.
Recommended Videos