9Apps is the Play Store Alternate with Better App recommendations and more features
Android phones come with Google Play Store for app downloading and updates and most of the users rely on it. But, there are few other app marketplaces which users can try. 9Apps is also a mobile app marketplace for Android devices which offers app downloads and uploads along with various other features. These extra features make this app marketplace worth to try. You can say that this app is the best alternative to Google Play Store. After talking about its feature, I will also include the 9Apps install link in the article.
What is 9Apps?
9Apps is a popular mobile app marketplace available for Android devices. Users can use this marketplace to download or update apps. This app has already been trusted by 160 million monthly active users. They also see 20 million daily downloads. These numbers are huge and show how popular this app marketplace is.
You can see 9Apps as an alternative to Google Play Store for downloading the app. In 9Apps, you get most of the available apps for Android along with better recommendations.
Is it safe to download apps from 9Apps?
Due to increasing malware, experts recommend users to download apps from Play Store. So, you may be in confusion whether to try this app of now. But 9Apps is safe and they keep users security on priority. So, you do not need to worry about safety while downloading apps from this app marketplace. The company keeps regular check including malware scanning to provide you a safer place to download apps.
I personally use this app to find interesting apps to check. So, I can suggest you use this app. It's safe. 
Interesting features of 9Apps
You can already do app downloads from Play store. Then why should one try 9Apps? Well, there are many reasons for that. These are the features which make 9Apps a must have app.
1. Better App recommendations
If you are a kind of user who does not hesitate in trying a new app, you will surely like this feature. 9Apps use a complex algorithm to recommend you apps which you will like. It also offers one-click installation for all these recommended apps.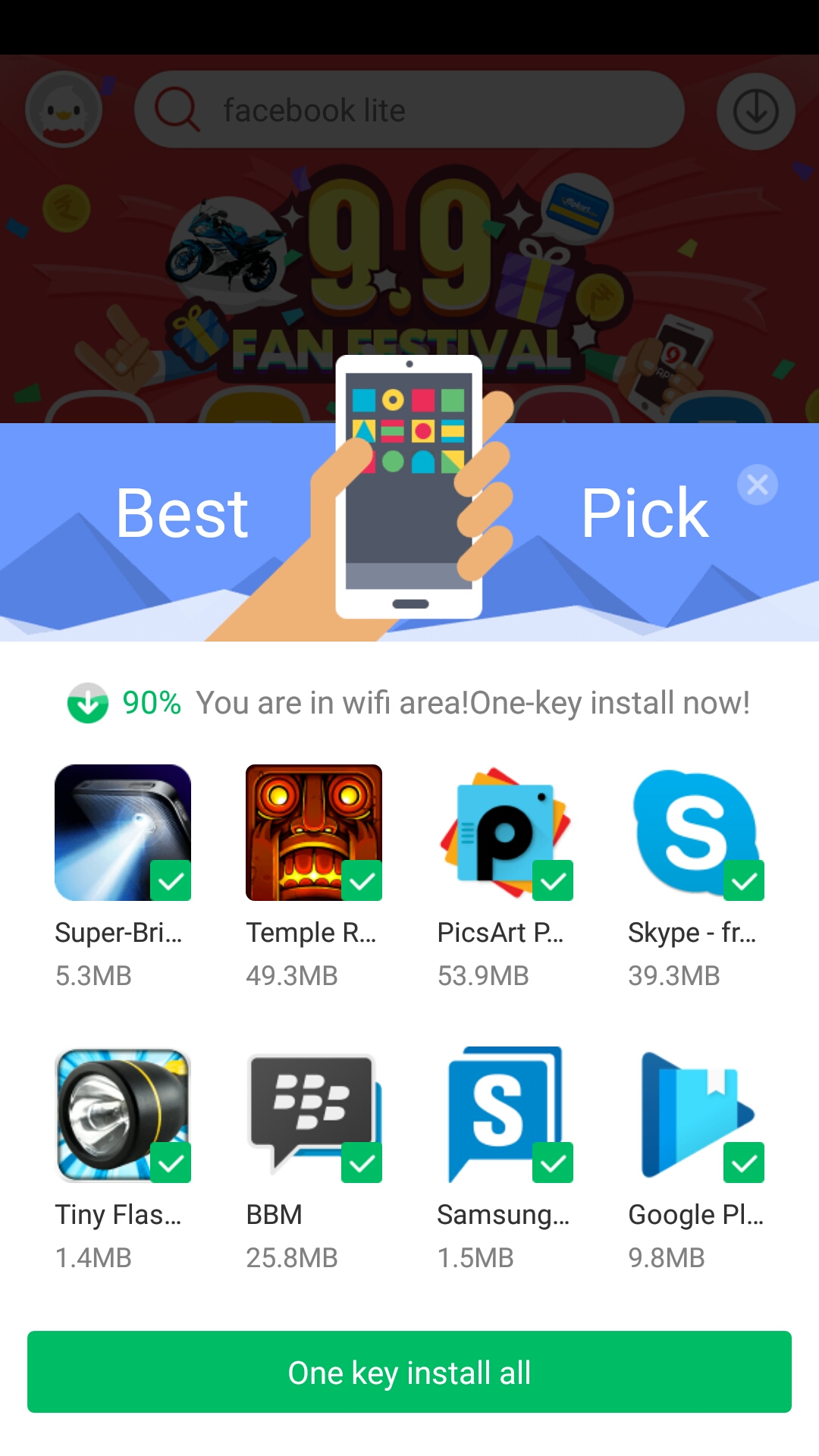 2. Wide range of categories
It has a wide range of categories and makes app searching easier. You can select any category and find the apps listed in that.
3. Price comparison
This is a section which is helpful for online shoppers. 9Apps has partnered with different online retailers including Paytm, Flipkart, Myntra, Snapdeal, Jabong, Askmebazar, Voonik and Shopclues in India to offer users price comparison. So, users can check the price of products across different retailers and see what retailer is offering it for lower cost. This helps in saving lots of money.
4. Coupons
You also get a section for the Coupons. Before you shop online, you must check this section to see if a coupon is available to save your money while shopping online.
5. Advanced data compression technology
9Apps also boasts about its advanced data compression technology to save your mobile bill. This is something you will surely like in this app.
6. Hindi Language Support
9Apps comes with Hindi language support. In case you have an issue with searching for apps in English, you can use the app in the Hindi language. It also makes it easier to search Hindi apps.
7. Instant Cashback for Downloading Amazon
If you download Amazon from 9Apps, you will get instant cash back of Rs. 50 in your Amazon account. Amazon is a must have the app and it is a good deal if you get Rs. 50 for download this app.
How to download 9Apps
Visit 9apps.cc and download 9Apps on your mobile phone. After you download the primary 9Apps app, you also need to download the supporting installer for coupons and price compare things.
After installation, enjoy 9Apps in your phone.
Here is the 9Apps install link: http://www.9apps.cc/
Final Words
9Apps is a nice app with interesting features. While we already get Google Play Store to download apps, 9Apps provides few better features that make it worth to try. I recommend this app to all our readers who use Android phones.