MediaTek's True Octa-core MT6595 Based Smartphones to Come in India This Year
One of the largest semiconductor company, MediaTek Inc announced that its True Octa-core 4G LTE Soc MT6595 has reached commercialization in India. We can expect the devices powered by this powerful chipset by the end of the this year.
MT6595 chipset aims to to deliver high performance and improved speed of 4G LTE in low cost smartphones in India.With this chipset, company want to target the 4G LTE market which in very early stage in India. MediaTek is also looking forward in associating with Indian smartphone makers to power their premium smartphone. So, we can expect next flagship smartphone from Micromax, XOLO, Karbonn or other Indian manufacturer to come with MediaTek's true Octa-core 4G LTE Soc MT6595.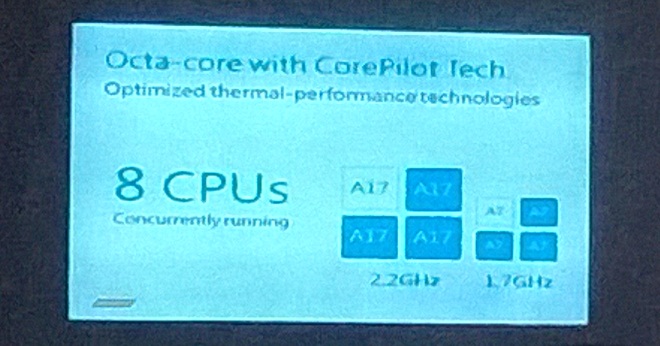 One important thing to note that MediaTek claims this chipset to be True Octa-core. Here true word signifies that this chipset allow smartphone to utilize all eight cores of the smartphone at the same time. So, better performance of the device. MediaTek's CorePilot technology provides world-class multi-processor performance and thermal control. It unlocks the power of multi-tasking and parallel computing capability by assigning or scheduling the tasks smartly among all the processor cores.
"MediaTek is focused on delivering a full range of 4G LTE platforms, and the MT 6595 is the first of many to arrive in India. Our 4G LTE solution support all modes including TDD LTE which is important for India because infrastructure provider in country are currently focusing on TDD LTE network," said Dr. Finbarr Moynihan, General Manager – Corporate Sales International of MediaTek.
Company promised that this chipset aims to deliver premium 4G experience, super multi performance and better mobile experience. MediaTek also showcased various multimedia features of the chipset. This chipset promised to offers support for WQXGA (2560 x 1600) display and H.265 Ultra HD. Company showcased how well this chipset handles the Image stabilization, super slow motion (1/16 super slow motion) video and video zoom. You can ultra zoom a video to focus on a specific object without affecting the playback or quality of video.
MediaTek True Octa-core 4G LTE Soc MT6595 was announced back in February this year. And it created buzz when it scored more than 47,000 in AnTuTu benchmark.
Key Features of True Octa-core 4G LTE Soc MT6595
4x ARM Cortex-A17 processors & 4x ARM Cortex-A7 processors
Imagination Technologies PowerVR Series6 GPU
Rel. 9, Cat. 4 LTE (FDD & TDD), DC-HSPA+, TD-SCDMA, EDGE
802.11ac, Bluetooth LE, multi-GNSS (GPS, GLONASS, Beidou, Galileo & QZSS), ANT+
WQXGA (2560 x 1600) display controller
20MP image signal-processor, best video HDR effect, 6-axis video stabilization, multi-frame noise reduction
H.265 Ultra HD video record & playback
Ultra HD video playback support for H.264 & VP9
Bluetooth LE and ANT+ for ultra-low power connectivity
MediaTek multi-mode wireless charging support
Moynihan confirmed that it is not necessary that smartphone powered by this chipset have all the multimedia features support by chipset. It will be the decision of phone companies to decide what feature to enable and how to use this chipset.
Now, we can expect more flagship smartphones in India with 4G LTE capability. This will be good for consumers because we can now expect more countries to get 4G LTE network soon. Don't worry if your city does not have 4G LTE connectivity. When Indian market will see the launch of more 4G LTE enabled smartphone, network providers will expand the 4G network across the major cities of the country.
Few weeks back company also announced to invest around $200 on Research and development in India over the next few years. And now this big announcement for in India. It seems every one is in race to utilize this big emerging Indian market.
Moynihan also revealed some interesting facts about the sales. He confirmed that company has already crossed more than its expected chips this year.  MediaTek expects to sell around 30 million smartphones with this chipset by the end of the year. But these will be in Chinese or European market. We can see the 4G LTE boom in Indian market next year when Indian manufacturers will launch their flagship smartphones with this chipset.
Recently Qualcomm has also revealed Snapdragin 210 entry level 4G chipset which is the biggest competitor of Mt6595. SO, it will be interesting to see the pricing of the devices with these chipset. As we have already noted that Indian smartphone market is expected to grow at fastest rate next year, we can expect 4G boom in India.
Recommended Videos