Official Android market hosts many malware games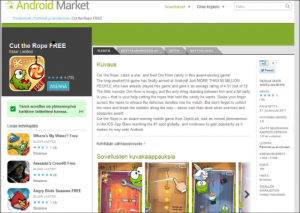 Security researchers at F-Secure have found malwares hosted in Android Market as a free games app (such as Cut the Rope and Assassin's Creed).  I wonder that this is the second time these malware apps have been found at the Amdroid market.
According to reports, The Trojanized games have been uploaded by a company calling itself Eldar Limited. Google has removed these games, but this is worrying that these types of malwares appears at the first page of games app.
Follow the instruction given by researchers, "A useful tip for users out there is to search for the paid version of the app and take note of the developer's name. If the name on both paid and free versions matches, then it is very likely to be a safe app. Otherwise, don't proceed with the download."
This is not the first time when research found the malware hosted on Android market. Google will have to think again on the issue and should take necessary steps to keep malware away from Android market. As we know that number of Android users are growing, it is important to make it secure to protect users.
Share your views with us via comments.