Microsoft Partners With Attachments.me To Bring Gmail Attachments on SkyDrive
Microsoft has just announced a new partnership with Attachments.me to bring Gmail attachments easily on Skydrive. After installing the Attachments.me plugins on Google Chrome or Firefox, Gmail attachments will automatically be saved to SkyDrive. Users will also be able to send files stored on SkyDrive from Gmail account via email.
This is an attempt to bring those users to SkyDrive who prefers Gmail over Hotmail but prefer Microsoft Office apps over Google Docs. So by bringing attachments to SKyDrive, users will be able to edit those documents on Microsoft's office app.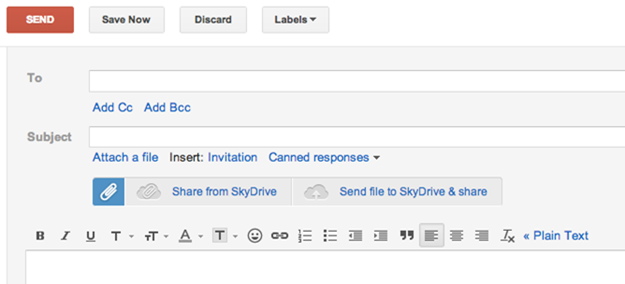 After redesigning SkyDrive, Microsoft is doing its best to bring users to SkyDrive. After the launch of Windows 8, users will have to use SkyDrive which will allow them to sync their pc and access their files from any computer. After that, Window 8 users who use Gmail will surely like to use this extension to save their files to Skydrive and bring it to ther system automatically.
To know more and use this new extension on your browser, visit this link and enjoy Gmail with SkyDrive.