5 Best External Microphones For iPhone
If you ask me the best smartphone for video recording, my answer will be the iPhone. With each new iteration, Apple makes iPhone better for video recording. Be it the video quality or stabilization, iPhone does everything really well. But the on-device mic doesn't suit for all kinds of videos. The microphone of the iPhone does a good job but it won't be the best solution when you want to record a video from a distance but also want the clear audio. That's why there are several external microphones for getting better audio while recording videos using an iPhone.
Also see: Best Microphones for YouTube videos 
In this article, I am listing the best microphones for iPhone or iPad. All these microphones come with a lightning connector. That means this list is for the latest models that don't come with a headphone jack. But I also added a few links to microphones with a headphone jack for older models.
External Microphones For iPhone
Check this list of best external microphones for iPhone. These microphones come with Lightning connector to connect to iPhone and can record high quality audio.
1. Shure MV5-B-LTG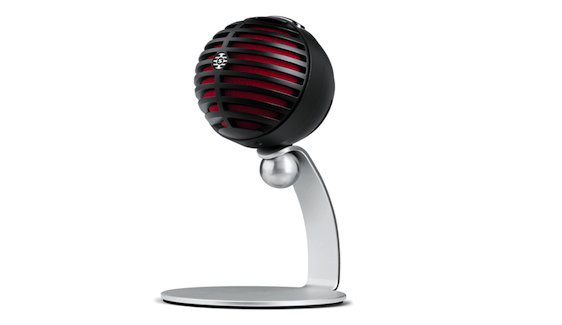 Shure MV5-B-LTG is a digital condenser microphone. This one comes with custom-tuned high-quality audio recording. It can automatically apply gain, EQ, compression, and limiting for optimal results. This microphone records crisp, clear sound. By using the hardware DSP settings and the in-app tuning, you can tune the mic to specific environments. There's also a built-in headphone output for real-time audio monitoring.
Shure MV5-B-LTG looks really good and has solid build quality. It comes with anodized aluminum desktop stand and can also be added to a tripod. There's a mute witch to quickly mute or unmute the mic.
It has a MicroB port and comes with MicroB-to-USB cable and MicroB-to-Lightning cable. You can use it with your iPhone or PC. This mic supports iOS 7.0 and higher, Windows, and macOS.
Buy Here: Amazon
2. Zoom iQ7
Zoom iQ7 is already a leader in making portable microphones. Zoom iQ7 is a good microphone for iPhone compatible with all iOS devices with lightning port. This microphone is suitable for 90, 120, and mid-side recording. It can record good audio and can be used for quality recordings. There are two microphone elements for directional and bidirectional capture. It also features a three-way stereo width switch to customize your recordings.
The microphone is compact and can be carried in the pocket. It has three-segment LED meters and an analog-type mic gain wheel for the precision level setting. It also has a dedicated headphone jack for line output.
You need to download Zoom's Handy Recorder app to add more functionality and customize different mic settings. The app lets you record audio in either linear PCM (WAV) format or in AAC format for smaller file sizes.
Buy Here: Amazon
3. Sennheiser CLIPMIC
Sennheiser CLIPMIC is also a good microphone. It has an Omni-directional microphone to record clear sound. The 24 bit/96 kHz digital interface is designed specifically for Apple devices. It is rated to be a professional-grade microphone
The microphone has a Lightning connector and is MFI certified. The long wire makes it easy to use from a distance. So, you can put your phone on a tripod and use the collar mic to record videos. You can use Apogee metarecorder app for recording, tagging, and organizing audio files.
Buy Here: Amazon
Also see: Best Lavalier Microphones
4. Rode VideoMic Me-L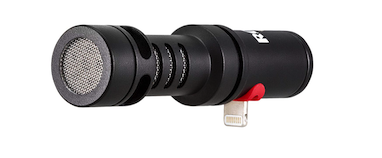 Rode VideoMic Me-L is also an excellent external microphone for iPhone. It has a lighting connector and supports all the iPhone with lighting port and running on iOS 11 or higher. The mic has a cardioid polar pattern and a 20 Hz to 20 kHz frequency response.  It is good to use for the vlog. You will get excellent audio with minimal background noise.
The mic is small and you can also put windscreen. Directly plug it on your iPhone and start recording.
Buy Here: Amazon
5. Boya DM-200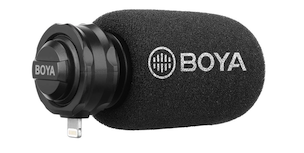 Boya is known for offering cheap but good microphones. Boya DM-200 is made specially for iPhone users. This is a plug-play lightning microphone for iOS devices and is also Apple MFI certified. It has two built-in microphone capsules to record stereo sound. The mic also comes with a Foam windscreen windshield. It records really good audio. If you cannot afford premium microphones, Boya DM-200 should be your choice. It doesn't record premium sound but clear enough to use in videos or podcasts.
Buy Here: Amazon
Wrap Up
This was the list of best microphones for the iPhone. If you want to use the iPhone to record videos with high-quality sound, you can purchase any of these external microphones depending on your need and budget. If you cannot afford a premium microphone, buy the Boya DM-200. If you want a collar mic, select Sennheiser CLIPMIC. In case you need a mic with a stand, you can select Shure MV5-B-LTG. All kinds of microphones are there on this list.