One of the most notable things in Google search is Doodle. Google Doodle Games are browser-based games created by Google to celebrate various events, anniversaries, holidays, and notable individuals. Google releases these games temporarily on its search homepage on special occasions. These games cover a wide range of themes and genres, such as puzzles, sports, classic arcade games, and more. The first Google Doodle was published back in 1998 to honor the long-running annual Burning Man event. Google publishes Doodles to celebrate well-known events, holidays, and birthdays of artists and scientists. Sometimes Doodle is just a static image, sometimes it is an animation and sometimes it is a Doodle Game. Google archives all its doodles that you can check using the dedicated Doodle page. You can browse all the doodles Google created in the past. Some of the Google Doodle games are really interesting and worth trying. So, I am making a list of popular Google Doodle games you should try for sure.
Popular Google Doodle Games
1. Cricket
The Cricket doodle game was released to celebrate the 2017 ICC Champions Trophy. The game lets you play as a batman and score run. The game is really simple but addictive. Snails are fielding and bowling. Use the bat icon to score runs.
2. Pac-Man
Pac-Man doodle was released to celebrate the 30th anniversary of Pac-Man. It was released on May 21, 2010. This doodle gam features PAC-MAN's original game logic, graphics, and sounds. The game also has a little easter egg. Use WASD keys or arrow keys to control the Pac-Man. Use the link below to play this Google Doodle Game.
3. Soccer
Not just cricket, Google also released a soccer doodle game back in 2012. This game lets you play as a goal-keeper this aim is to stop the goals. Use the arrow key to position yourself and the Space key to stop the ball. If you like soccer, you should definitely play this interesting doodle game.
4. Rubik's Cube
Rubik's Cube is a popular puzzle game several people like to play. We also have several digital versions of the game to solve the Rubik's Cube puzzle on your computer. Google also has an interactive vision of browser-based Rubik's Cube game. You can either use the mouse or keyboard keys to control the movement.
Here are the keyboard shortcuts:
F – Front
B – Back
U – Up
D – Down
L – Left
R – Right
X – Rotate Cube on Right
Y – Rotate Cube on Up
Z – Rotate Cube on Front
5. Basketball
Basketball fans can play Basketball doodle games. If you are looking for popular doodle sports games, check this one. It was released as a part of the 2012 Summer Games interactive doodles. You need to throw the ball through the net. Use the space bar or mouse button to control the ball and throw it. You have 24 seconds and try to score as many balls as you can.
6. Coding for Carrots
Coding for Carrots doodle game was released to celebrate 50 years of kids coding. This doodle game requires a player to collect carrots on the way using code blocks. You need to guide the rabbit to collect all the carrots by specifying the right path. This game helps kids understand the coding logins.
7. Loteria
Loteria is a Mexican card game doodle. Your aim is to have four beans on any row to win. You can play it against an opponent. Play with a random player from across the globe or play with your friends using the invite link.
8. Halloween 2016
In this popular Google Doodle game, you play as a black cate at Magic Cat Academy. Your aim is to save yourself from ghosts. You have to draw the ghost symbol to defeat it. As you proceed further, the difficulty of the game increases.
9. Garden Gnomes
Garden Gnomes is also an interesting game where you will control a catapult. Your target is to launch clay gnomes as far as possible. Use mouse click or space bar to play the game. If you go beyond the target distance, you get additional points.
10. Scoville
Scoville Doodle game aims to teach you about chilies and their hotness. Your aim in the game is to freeze the chilies by throwing ice cream on them. If you fail, your character will be burnt by the chilies.
11. Halloween 2018
Halloween 2018 is another Halloween game where you can team up with players across the globe to collect wandering spirit flames. This is a multiplayer game of collecting wandering spirit flames in two minutes. Opponents will try to intercept spirits and you need to save them, The game is played between two teams of four players in each. You can also invite your friends through the invite link.
12. HIP HOP
Google's HIP HOP doodle was introduced to celebrate the 44th anniversary of a 1973 party where DJ Kool Herc created hip hop's distinctive sound. This doodle lets users merge beats and music to create their own tunes. They can also later share it.
13. Baseball
This is also one of the best Google doodle sports games you can play on Google. Baseball doodle was introduced to celebrate U.S. Independence Day back on June 4th 2019. You have to score as high as possible.
14. Crossword Puzzle
Crossword Puzzle doodle game was released back in 2013 to celebrate the 100th Anniversary of the Crossword Puzzle. This doodle game is basically a crossword puzzle to solve. Play and kill your time.
15. Pangolin Love
Pangolin Love was introduced back in 2017. This doodle game highlights Pangolins, the world's only scaly mammal. There are four different levels and each level wants you to collect new items within a specific time limit. Use the right and left arrow keys to move forward and backward. Use the keyboard key to jump.
16. Doctor Who
Google released the Doctor Who doodle game in 2013 on the 50th anniversary of Doctor Who. You need to choose your favorite Doctor iteration and play the game. The aim is to avoid enemies and enjoy the gameplay.
17. Bubble Tea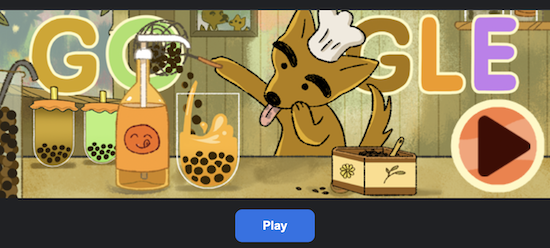 Bubble Tea Google Doodle game was released on January 29, 2023. It was celebrating the third anniversary of the announcement that boba, Taiwan's globally popular beverage. In the game, you will have to help a Formosan mountain dog fulfill boba orders at his shop by holding down the space bar.
Frequently asked questions about Google Doodle Games