9 Best Photo Editing Apps for iPhone or iPad
iPhone and iPad devices come with a nice camera. People owning iOS devices use their devices to capture the perfect moment of their life. To make those clicks beautiful and interesting, a bit of editing is required. So, having photo editing apps on your iPhone can make life easier. The iPhone photo editor app helps you to edit your pictures and make them more attractive.
In this post, we are listing 5 photo editing apps for iPhone/iPad. You can use these photo editing apps to create a new look for your pictures. We tried to list the best and low-cost apps.
Best Photo Editing Apps for iPhone
These are the best photo editing apps for iPhone. Try any of these iPhone photo editor apps to make your pictures more lively.
1. Adobe Photoshop Express (Free)
Adobe Photoshop Express is one of the most popular photo editing apps for iOS devices. Photoshop has always been a nice editing tool for designers. This app comes with similar functionality. With Photoshop Express, you can create professional looking photographs with easy to use editing options. It comes with basic and advanced editing options including sharpen, blur, rotate, straighten, adjust brightness &contrast and many more.
It has a one-touch fix option. This option performs basic adjustments like contrast, exposure, and white balancing. There are many cool photo filters that give cool effects to photos.
There are several in-app purchase options for adding more features to the app.
2. Adobe Lightroom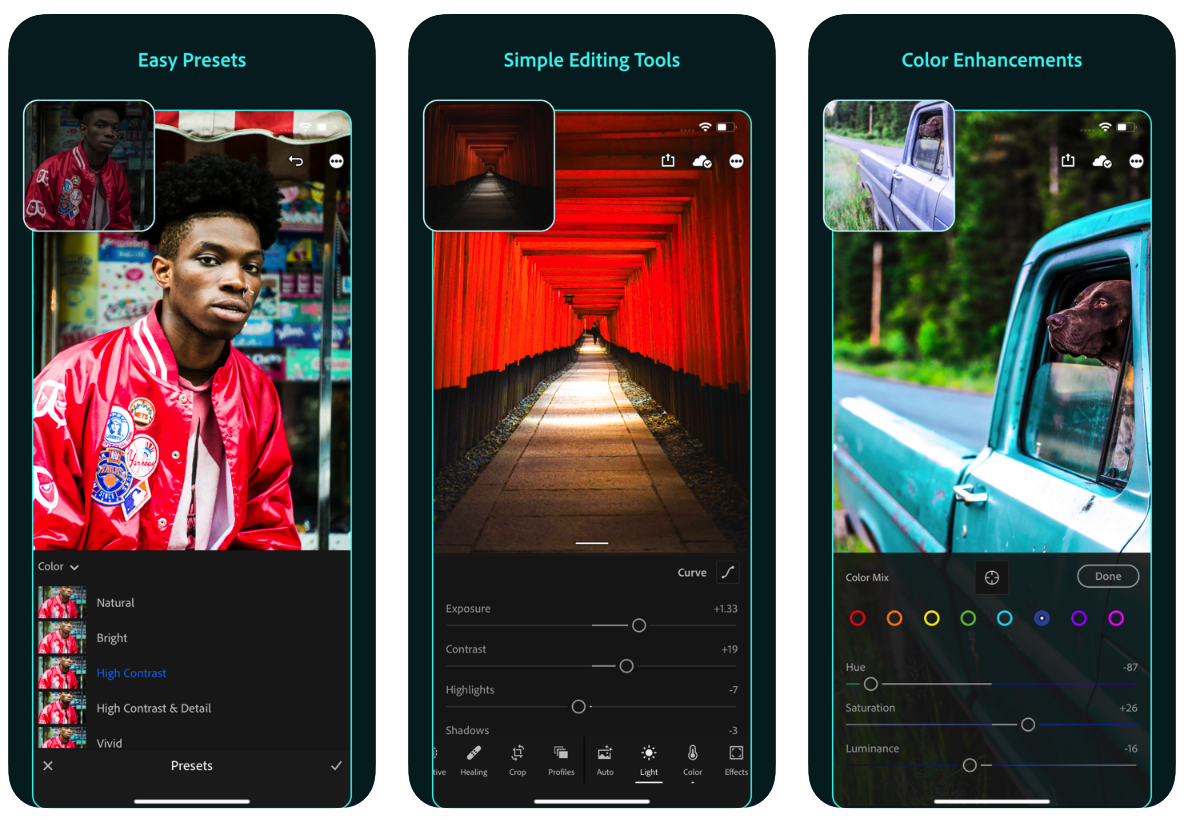 Adobe Lightroom is also one of the best photo editing app that is available for free. It gives you the power to retouch the photo by offering tools like presets, profiles, curves, color mixer, texture, and several others. It lets you adjust several things, batch editing, RAW editing and more. You also get creative cloud storage to back up your photos on the could.
It has a full-featured photo and editor. If you want the ability to sync your photos across devices and use premium features of the app, you need a premium pal that costs $10 per month. With this plan, you can access to Photoshop and Lightroom Classic on the desktop as well.
3. Afterlight 2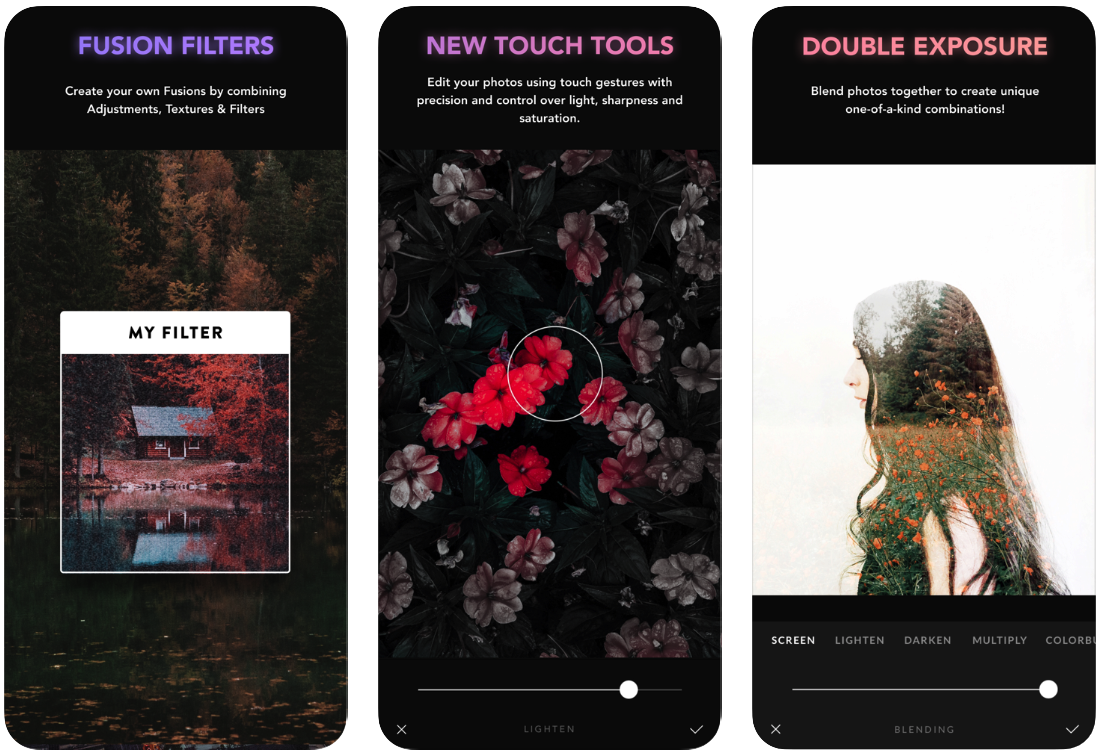 Afterlight 2 is also a full-featured photo editing app that brings pro-level editing options on your iPhone and iPad. It comes with filters, frames, local adjustments, double exposure tools, and RAW support. You can also create your own filters to give photos a distinct look. It has 130_ filters, 20+ advance tools, 60+ textures, frames, artwork and more.
The app costs $3 and you get the full app with a one-time purchase.
4. Snapseed (Free)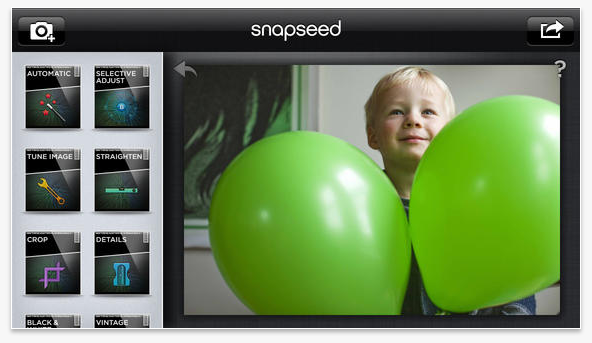 Snapseed is another popular photo editing for iOS devices. This app is also available for Android devices. Snapseed lets you easily edit and transform photos from your mobile device. What I like is the auto-correct option. It automatically adjusts basic things to improve the photo in just one tap.
It also has cool filters to add effects to photos. There are various tune effects, borders, and frames to add.
5. VSCO
VSCO is an interesting app that brings the camera, editing tools, and an online community in one place. The app comes with a set of stunning filters to give your photos a different look. The app comes with basic editing tools like Contrast, Saturation, and Grain along with 10 VSCO filters. The pro membership brings 2000+ presets and advance editing tools like HSL, Borders, and Video Editing.
6. Camera+ ($1.99)
Camera+ is a premium photo editing app for iOS. This app improves your camera experience. This camera app lets you control the light and darkness while capturing the photo. There are various photo shooting modes to get the sharpest photos.
It has many professional photography effects. It also provides flash for the front camera to take the selfie in places with low light. Camera+ app can also automatically sync your photos with iCloud. You can easily share your edited photos with friends on various social networks.
7. Color splash ($0.99)
Color Splash is another nice photo editing app. It can easily add various color effects in photos. It has a responsive and multi-touch interface that lets you easily perform various operations on the photos. You can choose from 4 different brushes and adjust the brush size. The app saves multiple sessions to resume your work later. After editing photos, you can easily share it on Facebook, Twitter, and Instagram.
8. Enlight Photofox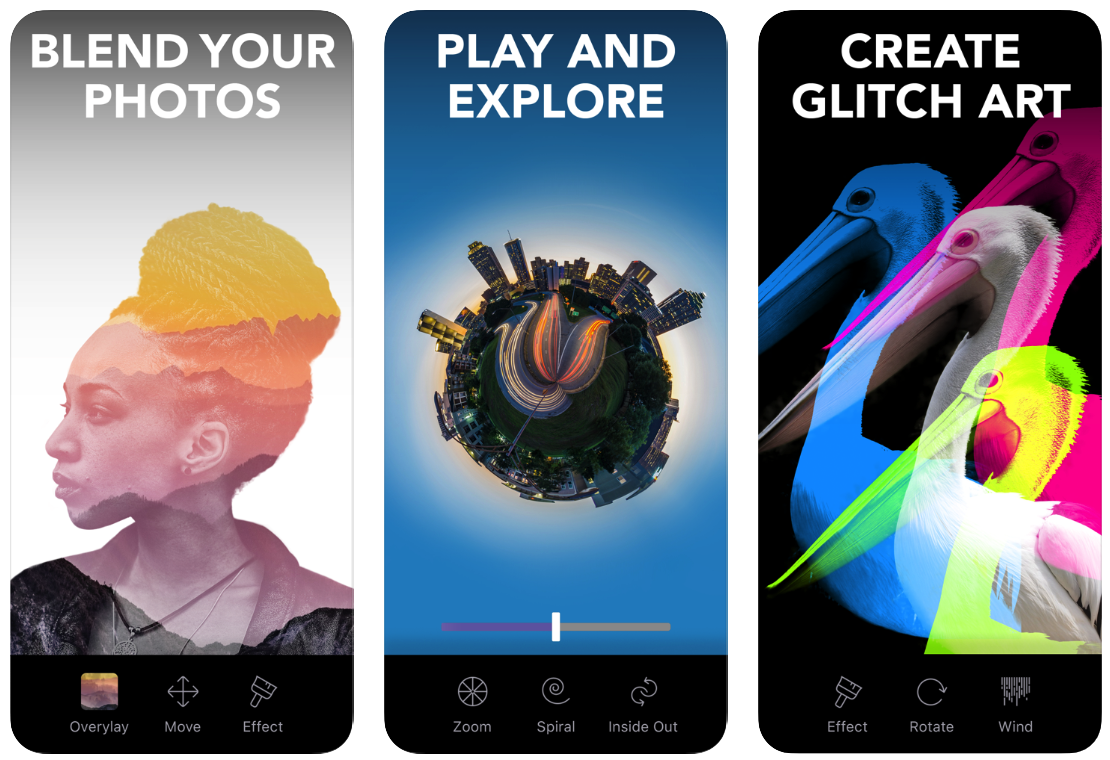 Enlight Photofox is an Artistic photo editing app available for iOS. The app is free and even won the Apple design award back in 2017. The app has the ability to brand photos together to create dramatic effects. You can add graphics elect in photos and work on layer. The app has AI capabilities to give the best possible results. You can create more details double exposures with adjustable blending modes. The app also gives you Advanced image correction tools like heal, curves, intensity, and more. You do not need to learn complicated software for these effects.
9. Pixlr-o-Matic (Free)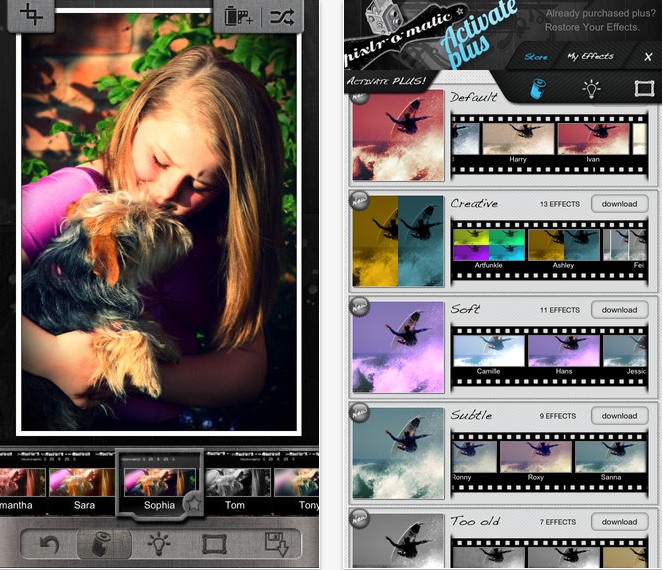 Pixlr-o-Matic is also a nice photo editing app. I am sure you already know about the Pixlr online photo editing tool. This app comes with various nice options like different filters, effects, overlays, borders and many things. You can easily enhance photos and adjust shades.
It also lets you share photos on social media.
Read More: Best Free Apps to Hide Photos and Videos on iPhone
These are the few best photo editing apps for iPhone. In case you know other apps that should be on the list, you can share those photo editing apps with us via comments. Also, do share your experiences with us after using the iPhone photo editor app.
Recommended Videos