10 Best Period Tracker Apps for Android and iOS to Track your Cycles
Are you also one of them who can't remember the date of last period or want to get pregnant but can't remember so much information about the ovulation cycle? If Yes, Then no need to take tension. It happens to every girl at some point and it's quite normal.
You can write your period-related data to keep track of it or you can use a period tracker app to do this work. This can help you to live life tension free and get complete control over your periods. The technology is a savior for you to track your period data and you can trust it. There are few brilliant people out there who made a period tracker app and ovulation calculator app to help you out with this.
Best deals on Laptops
Laptop offers for college students
Whether you want to know when your next period is coming or confused by PMS symptoms or want to take your birth control pills in time, these fertility apps or female period tracker apps are there to keep track of your menstrual cycle. You just have to enter data related to your periods on the app and the app will predict your future cycle.
Here is the list of menstrual cycle calculator apps which can predict your next period and also can work as ovulation and fertility calendar. You can use any of them as all the ovulation apps listed here are the best period apps. These natural family planning apps are for your help but do consult your doctor for serious issues or before family planning.
Best Ovulation Tracker and Period Tracker Apps
These are the free period tracker apps that you can use to keep track of your periods, ovulation and pregnancy. We recommend you to also consult your doctor before family planning. If you want to use the period calendar app just for tracking periods then go for it. These are the best apps for tracking periods and ovulation and pregnancy.
1. Period Tracker Flo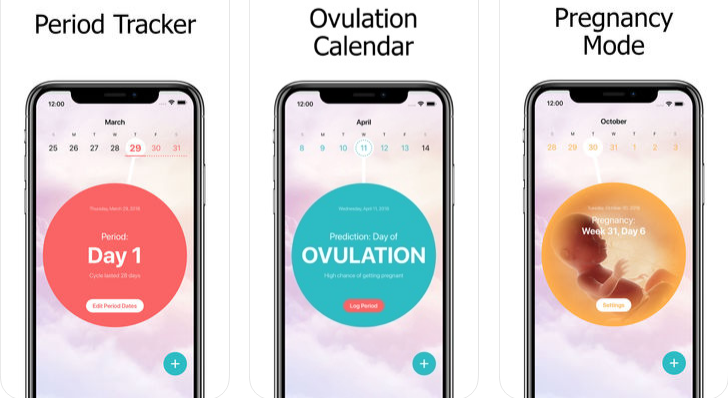 This is my favorite period tracker app. I have been using this app since last 3 years. Flo is a completely free Period Tracker, Ovulation & Fertility Calendar app. This app uses machine learning (AI) to calculate pregnancy, fertility, and ovulation and makes accurate predictions of menstruation, ovulation and fertile days.
If you have irregular periods, you can get improved predictions by logging more symptoms on this app. You can also log details of your symptoms related to PCOS or mood swings here in this period tracker.
2. Period Tracker Clue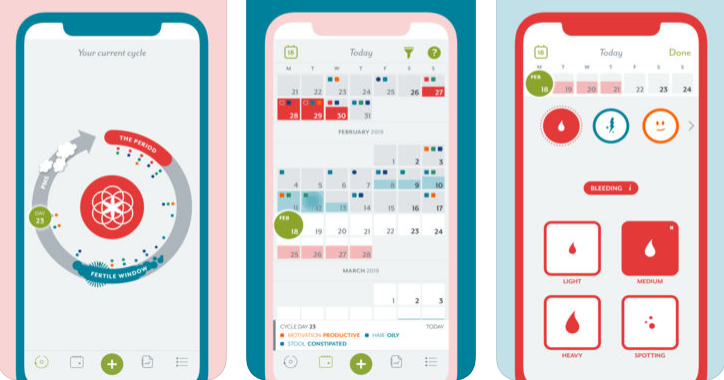 With Clue period tracker app you can track your periods, symptoms, ovulation and mood swings. You can set PMS reminders to know when to expect PMS symptoms. You can also track your sex, sleep, cervical fluid, energy levels and emotions.
This app is a complete package for you to track your periods, ovulation or pregnancy or any other symptoms related to it.
3. Eve Period Tracker: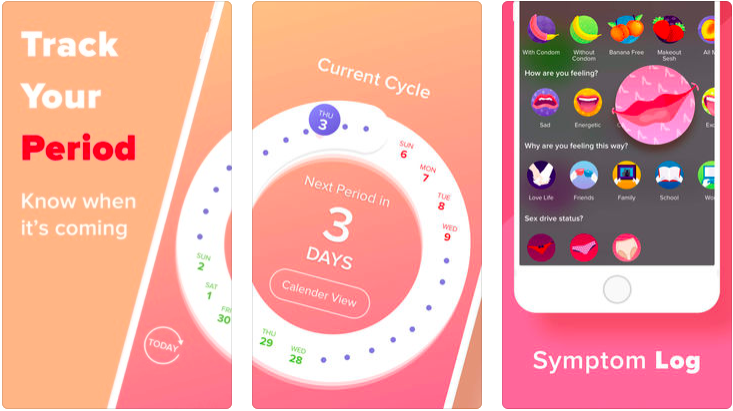 Eve is a period tracker and sex app for those women who want to track of their health and sex lives. Eve predicts your next period cycle and your chances of pregnancy. You can record all your data here and feel tension free. This app will inform you before anything starts.
4. Period tracker by GP International LLC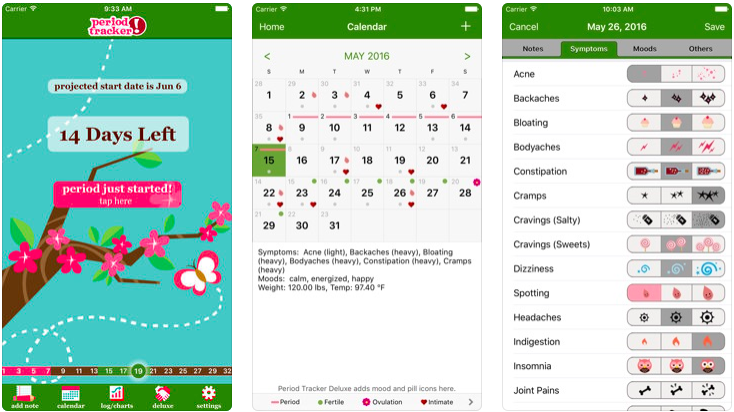 The period tracker app by GP International LLC logs your dates and calculates the average of your past 3 months' menstrual cycles. This helps it to predict the start date of your next period. It also supports HealthKit, 3DTouch, TouchID, portrait charts, and Advanced TTC Mode.
5. Ovia Fertility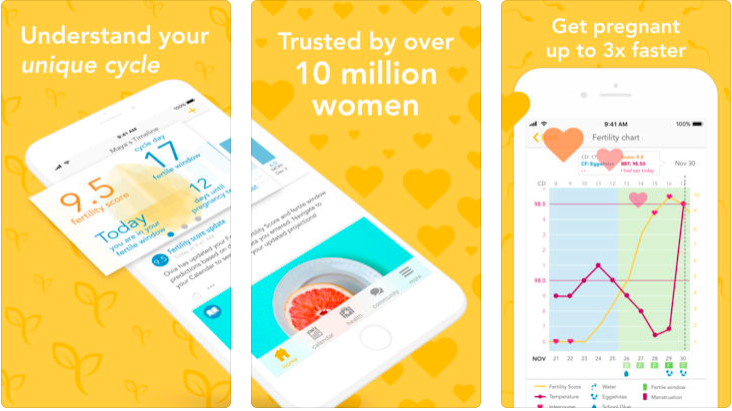 The Ovia fertility tracker app tracks accurate period and ovulation predictions. It supports for irregular menstrual cycles and you can use its calendar for symptom, mood, PMS, exercise, sex and nutrition tracking. There are over 2,000 free expert articles on fertility, conception and reproductive health on this app where you can get the best advice on your problems.
6. My Days X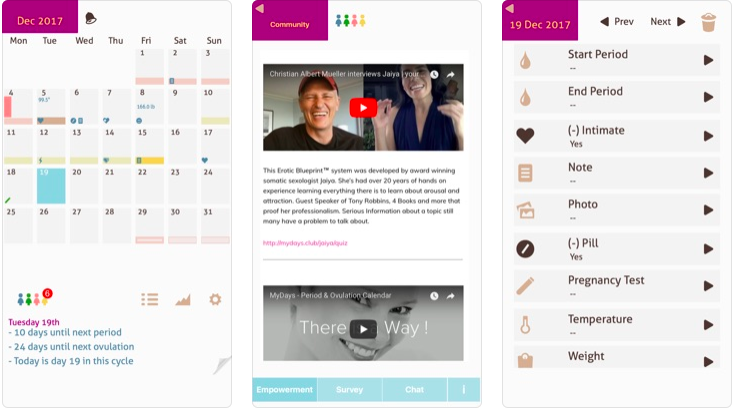 The My Days X is a health ovulation calendar app that can track periods, ovulation, moods, and more than 20 Symptoms. It also remembers your Breast Self-examination. It has an optional manual entry of your Ovulation days and next period prediction.
7. Ladytimer Ovulation and Period Calendar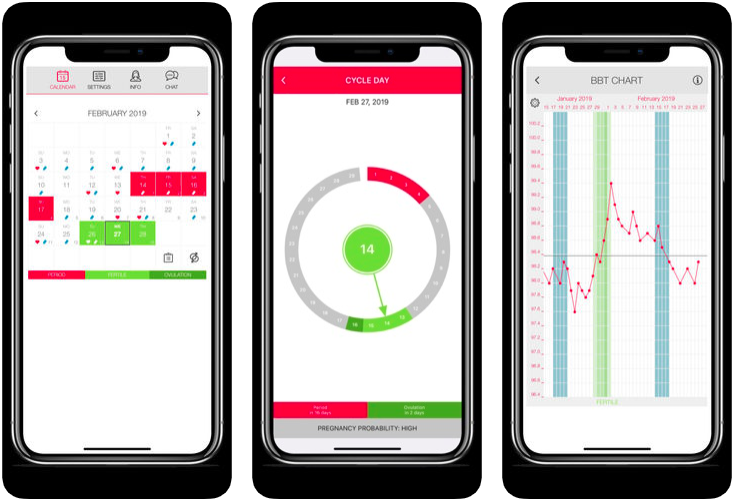 LADYTIMER Ovulation & Period Calendar is the app which can predict menstrual cycles, helping women to get pregnant or avoid pregnancy. This menstrual cycle calculator app uses the latest scientific methods to accurately pinpoint a woman's fertile days. The app helps you while trying to conceive, lets you switch to pregnancy mode and back to period calendar mode after birth or miscarriage.
8. Maya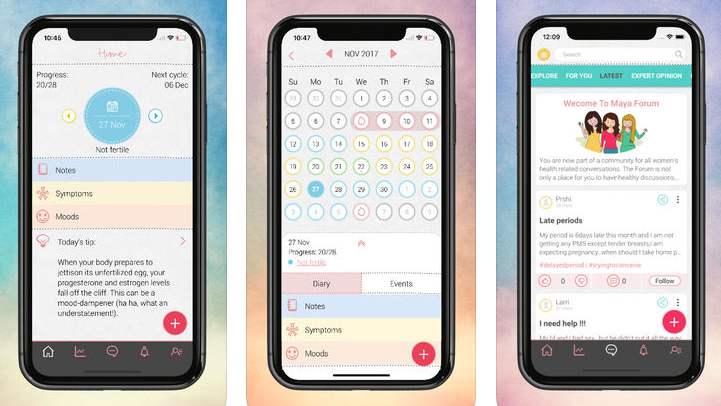 The Maya tracks your periods, related symptoms, mood swings, and your overall health. It has a community of users and experts to answer your health queries. It can backup data to account and sync to multiple devices.
The Maya app has a password protection feature for high privacy. You can take the premium version of this app by payment monthly wise.
9. Glow Fertility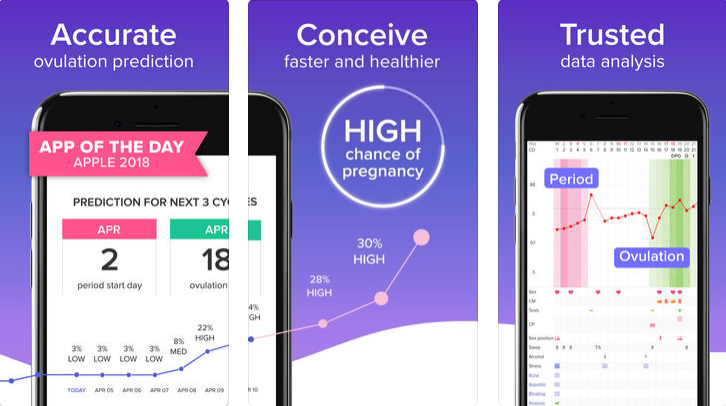 Track your cycle, pregnancy, and moods with Glow ovulation calculator. You can learn more about your reproductive health every time you log on by entering your data in this app. By recording your physical symptoms, sexual activity and day to day moods, it can help your chances of getting pregnant.
10. OvuView
The OvuView Period Tracker and Ovulation & Pregnancy Calendar app is a simple way to view past data of your period and predict future periods, fertile days and ovulation days. You can log all the details here in this app and get the accurate prediction of your future health.
Download Now: Android
Read More, Cool Apps that Every Girl Must Have
These are the best Period Tracker Apps that you can use to track your periods and ovulation. I will suggest you use Clue and Flo period tracker app. I personally using Flo for the last 3 years. Do share your experiences in comments with us after using one. You can also suggest a better fertility app that you have been using to improve this list.