5 Best Meditation Apps for Android and iOS
If you feel anxious, depress or cannot sleep properly, you need to. meditate. Meditation is basically mental exercise to keep yourself calm, achieve mental clarity and better focus. The practice involves relaxation, focus, and awareness. There are several meditation and Yoga centers where you can learn meditation. You can also use your smartphone for the same. There are several meditation apps for Android and iOS where you can learn meditation and do it regularly.
I have tested several meditation apps and made a list of best meditation apps. I have included apps for both Android and iOS devices. You can download any of these apps to start your regular meditation practice.
Also see:
Best Meditation Apps
Are you looking for a good meditation apps? Here is the lost of Best Meditation Apps for Android and iOS. You can download any of these apps and learn meditation.
1. Calm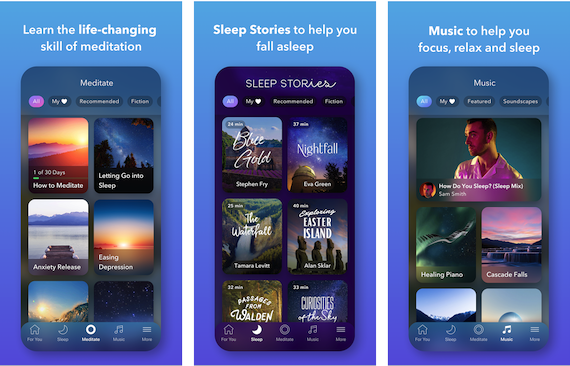 Calm is one of the best meditation apps you can try to keep your mind calm, relieve your stress and get better sleep. This app includes several programs for meditation. It has meditation sessions from 3 minutes to 25 minutes. You can choose any depending on your choice. Meditation sessions are available for stress management, Sleep, Concentration, Anxiety, Relationships and many more. There are also 100+ Sleep Stories. Breathing exercises are also there. This app is also recommended by psychologists, therapists, and mental health experts.
2. Headspace
Headspace is also a good meditation app to help focus more, stress less and get better sleep. The app teaches you how to perform meditation. The team behind the app claims that the app is basically a gym membership for the mind. The app acts as your personal guide that teaches you how to focus, stay calm, learn breathing exercise and get better sleep. There are over 40 courses on different topics. If you do not have much time, you can try super-short mini-meditations. It also includes 10 sleep music tracks or 16 nature soundscapes.
This is a paid app that offers a seven-day free trial. You will have to pay $13 monthly or $70 annually.
Also see
3. The Mindfulness App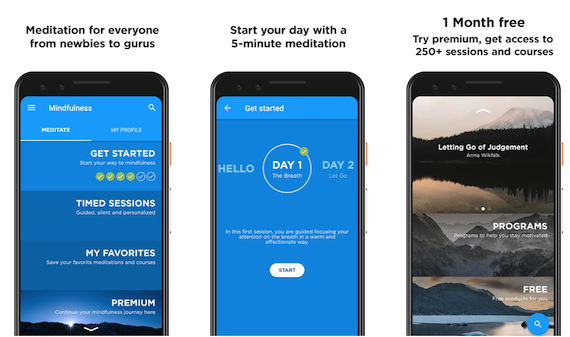 The Mindfulness App is one of the best meditation apps that comes with professional guided meditations. You can use this app to learn and practice meditation. There are guided and silent meditations from 3 to 30 minutes. In free access, you get limited courses of meditation. If you pay for premium, you get unlimited access to over 250 guided meditations. The app has guided introductions. You also get bells and nature sounds to keep yourself calm. You can also listen to your meditations offline. The Mindfulness App also keeps on updating content.
4. Buddhify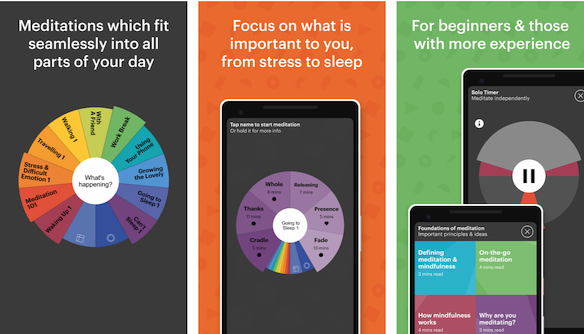 Buddhify aims to bring calm, clarity, and kindness in your life. This is an excellent meditation app to reduce stress and anxiety. You can use the app for guided meditations. There are more than 200 meditations for anxiety, stress, sleep, pain and difficult emotions. Sessions are for beginners and experienced both. Meditation sessions are from 3-40 minutes. The app also includes Kids content. If you have this app, you do not need to go to meditation classes. You just need to install these apps for learning meditation.
5. Sattva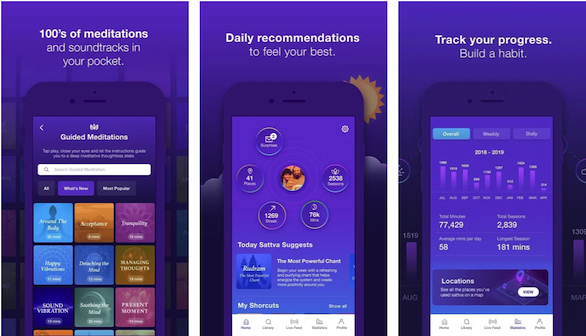 Sattva brings ancient Indian meditations based on Vedic principles. Sattva has 100+ Guided Meditations, Sacred Sounds and Music tracks to meditate. The app lets you set goals and achieve them. There's also Meditation Timer and Tracker so you can track your meditation sessions. Not just time, it also records your location on the map. You can check all the places you have meditated on the Map and check in-depth stats. The app also shows daily Wisdom Quotes.
The app offers two subscription options including $12.99 per month and $49.99 per year.
Wrap up
These are some good meditation apps to learn breathing exercises, get better sleep, relieve stress and anxiety. These apps come with guided sessions where you learn and practice meditation. You can download and install any of these apps on your phone and start your daily meditation. I tried to include all good meditation apps on this list. If you think I missed any good meditation that should be on this list, you can let me know using the comments section below. I will surely test the app and add it to the list.