7 Best Notification Apps for Android
Notifications are the most essential feature on Android or for any Android device. Notifications give you updates from various apps, so you don't miss anything important. With each iteration of Android, Google is trying to improve the notifications. But with the Android operating system, you have the freedom also to modify and customize push notifications on your Android smartphone. So, there are lots of notification apps that improve the notifications experience and give you the freedom to get it the way you want. Basically, these notification apps are for smarter notification. So, here are some of the best notifications apps for Android.
Also see
Best Notification Apps for Android
1. Spren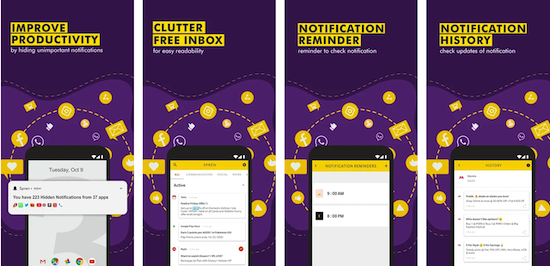 Spren is an interesting smart notification Manager app that lets you manage notifications of your Android phone. It wants you to focus by reducing distractions without missing important notifications. You can categorize apps to tell the app what notifications could be important. This app automatically blocks Promotional notifications from SMS and other apps like Amazon, Myntra, and others. It can also block group chat notifications. The app also lets you read deleted chats from social media apps directly from notifications.
This notification app is ads-free and supports dark mode. It also supports a fingerprint lock to keep your notifications private.
2. Heads-up Notifications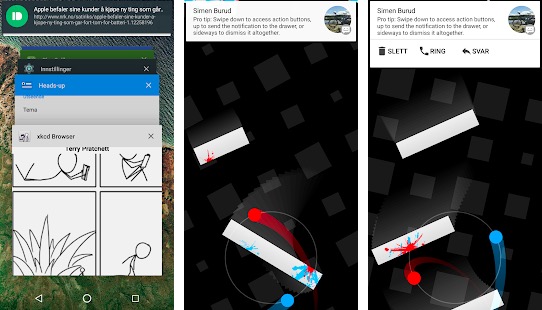 Heads-up Notifications is a feature-rich notification app that displays notifications as a floating popup. You can access the full text and even reply directly from the notification. You can filter apps, set notifications priority, or block an app from sending notifications. The app also lets you customize the notifications by offering options for font size, opacity, and notifications position. There is also a themes option.
The app doesn't ask for internet access permission. So, there is no way it can send your data to any server.
The app is also available in over 20 languages to be available for the masses. Another important thing about the app is that it is open source and anyone can contribute to making it better.
3. Notistory
Notistory is an interesting app to manage all your notifications. The app lets you check all different texting apps' notifications and read messages without notifying sender. It also grounds notifications from the same app. You can also set keywords and receive the vibration notification if the notification includes that keyword. This notification app also supports floating notifications.
4. Dynamic Notifications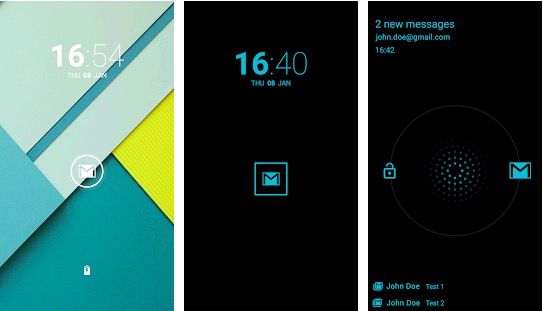 This is also a good notification app that keeps you updated about notifications even when the screen of the phone is off. It also understands when your phone is in the pocket or is face down and doesn't light up the phone. You can select the apps that you want to send notifications to. The app also has the option to change the appearance by customizing foreground color, background color, image, and main notification border style.
There is also a premium app that offers more important features like night mode, Hide additional details, Auto Wake or Use as lock screen. But the free version of the app also works well.
5. Shouter
Shouter is a different kind of notification app. As the name says, it shouts the notifications, which means it reads your notification. So, it is good when you are busy or too easy to read your messages. If someone is calling you, it also shouts the caller's name to notify you about the caller.
The app also announces battery level while charging along with Battery and Charging State. It also shows voice reminders. This notification app is good when you are driving. Caller name announcement helps you pick whether you need to stop for picking the call or ignore it.
Like other apps, this one also comes with several customization options. Check the settings menu for all options.
6. APUS Message Center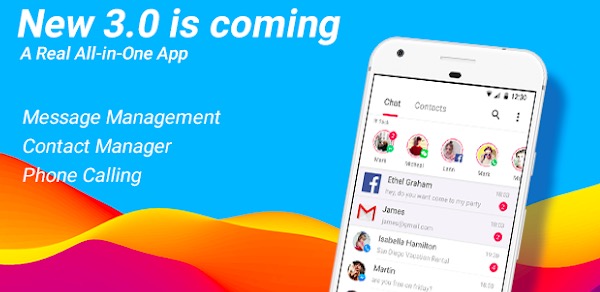 Asus Message center is also a good app to manage your notifications, messages, contact, and call records. The app is an all-in-one app that also offers notification management. The apps groups your WhatsApp messages, emails, SMS, missed calls, and various social apps. It also shows the number of unread messages over the app icon. You can reply directly from the notification panel without visiting the app.
7. Floatify Lockscreen
Floatify gives you mini heads-up notifications whenever you are in full-screen mode and can't slide the notification panel to check with some of the new notifications. Its Direct Reply lets you pick predefined replies, which you can help to tap to send instantly. It also allows instant replies or marking them as with the 'read' from the notifications without having to open any of the apps. It works with some of the major messenger apps like Skype, WhatsApp, Telegram, WeChat, and more.
Also see: Best Weather Apps for Android 
Final Words
Now you have a list of good notification apps for Android that gives a different way to handle notifications. This is the beauty of Android that gives you the flexibility of keeping things the way you want. You can try these notifications apps and see what works well for you.
If you also know of any good notification app, you can let us know using the comment section below and I will surely try the app to see where to fit in the list.