Privacy is an important thing we need to take care of while browsing the Internet. We should try to hide revealing our sensitive information on websites and use VPN apps. VPNs or Virtual Private Networks are useful tools to protect your identity online and safely access websites over the Internet. Not just hiding your identity, VPNs also help in accessing blocked content on the web and a lot more.
There may be different reasons to use VPNs and if you are looking for one, this post is important for you. In this post, I am listing the best VPN apps for iOS devices. If you are using an iPhone or iPad, take a look at the list.
Also see: Best Free VPN Apps
Before you go with Free VPN apps, you must know that free VPN servers are usually crowded. So, you will mostly experience slow speed. Do not rely on any random Free VPN because cheaper may also serve malware to infect your system or sell your data to earn a few bucks from your data. So make sure you are in safe hands before using any VPN service.
Best Free VPN apps for iOS
In this article, I am adding a few trusted and good VPN apps for iPhones and iPad. You can use any of these free VPN apps if you want to protect your privacy.
1. Proton VPN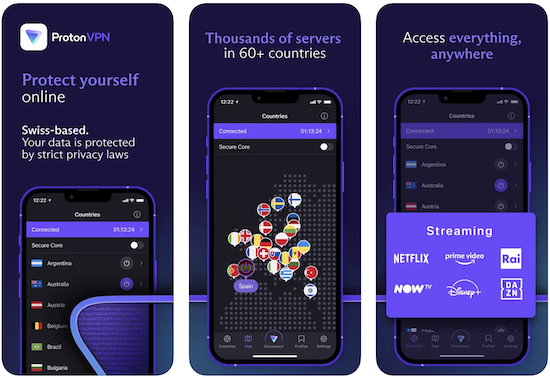 Proton VPN is an impressive VPN service that owns more than 1400 servers located across 60+ countries. Proton VPN app is available for both iOS and iPadOS. It promises a free VPN forever with a strict no-logs policy. The company is protected by Swiss data privacy laws and has an audited open source code. It doesn't add bandwidth limits or doesn't restrict speed. The service is also ads-free. The service uses IKEv2 protocol and can be used to bypass firewalls and censorship. Free users can only connect to servers located in the United States, Netherlands, and Japan.
Proton VPN lets you connect up to 10 devices at the same time. It also comes with an adblocker. You can use it to access different streaming services such as Netflix, Amazon Prime, Hulu, Disney+, and more.
Unlimited bandwidth for free
AES-256 bit encryption
P2P servers and torrent support
No-log policy
Easy-to-use app for iOS
Adblocker
2. Windscribe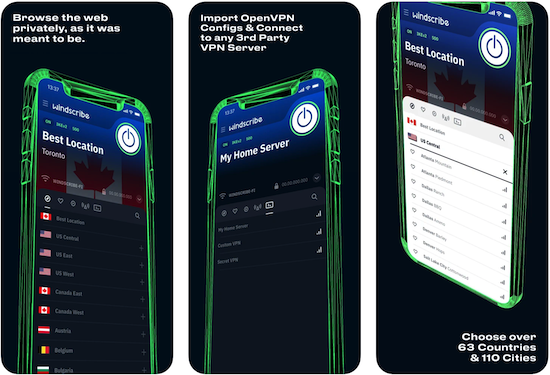 Windscribe is also one of the best free VPN for iOS devices. In the free VPN, you get 10GB of data per month. That could be enough for most customers. Free customers also get servers across 10 countries including the US, Canada, France, Germany, the Netherlands, Norway, Romania, Switzerland, the UK, and Hong Kong. You get the same level of encryption and security as in the pro version. So, there is no compromise with privacy. Windscribe VPN has a strict no-logging policy. If you opt for the pro version, you can servers across 60 countries, Unlimited Bandwidth, and Unlimited connections.
10GB data for free, and more available
Server locations in 10 countries
Allows torrenting
Unlimited simultaneous connections
Adblocker and a strict no-logs policy
Easy-to-use app for iOS
3. Hide.me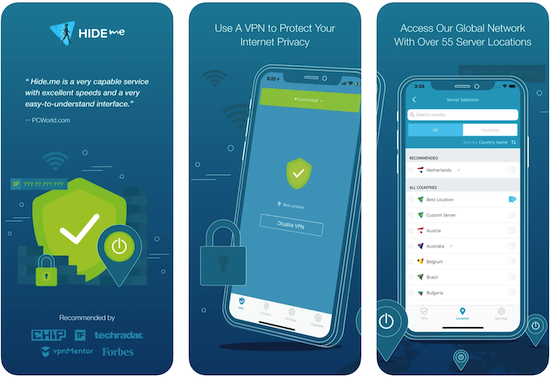 Hide.me also offers a free VPN for a lifetime. You will get 10 GB of monthly data in the free version and 5 Free locations. Even if you are not paying, there is no speed throttling, ads, trackers or logs. You get data privacy. This free VPN for iOS only lets you connect one device at a time. Hide.me free VPN offers Military-grade encryption, IP leak protection, and a kill switch. If you need more features and unlimited data, you need to opt for the paid version of the VPN.
2GB of free data per month
Dedicated app for iOS
Free servers in five countries
Military-grade encryption, kill switch, and IP leak protection
Built-in ad blocker
4. Betternet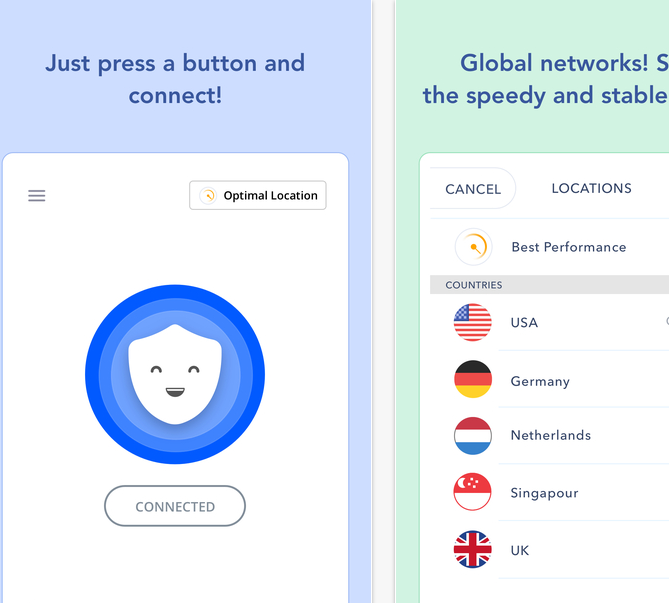 Betternet is another free and secure VPN app for iOS devices. This app requires no registration or credit card info to use. It is free and allows you to surf the web anonymously. The Free VPN offers 500MB of free data per day. You can also access blocked websites. It automatically detects your location and connects you to faster service. It also claims to maintain no logs from users. The free version only allows you to select 8 cities in the US.
The app also offers a premium service to use more features. In premium subscription, it offers more locations and faster connectivity.
500MB of free data per day
Dedicated app for iOS devices
256-bit AES encryption
8 different servers in the US
Ads supported
5. TunnelBear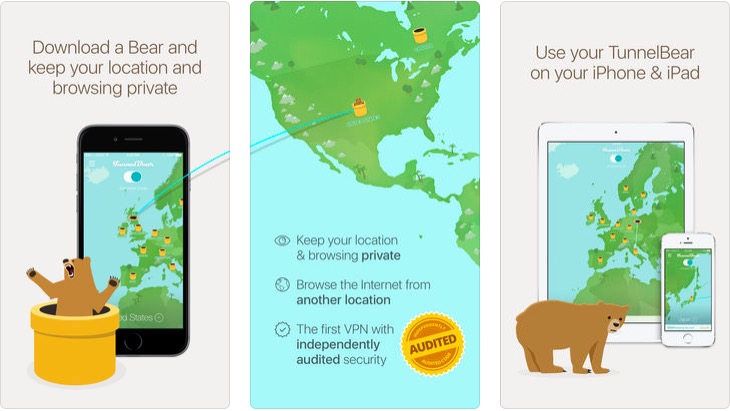 TunnelBear is a known VPN app for iPhone or iPad. The allows you to connect to a VPN network and browse the web securely from any random location. You can choose the location that you want. In the free plan, TunnelBear offers 500 MB of data per month, but you can always buy premium plans to get unlimited data.
The app is simple and encrypts your web browsing and data. It also makes you safe on public Wi-Fi. The service has servers in 22+ countries and uses strong AES-256 bit encryption by default.
500MB of free data per month
Dedicated app for iOS devices
256-bit AES encryption
6. Hotspot Shield Free Privacy & Security VPN Proxy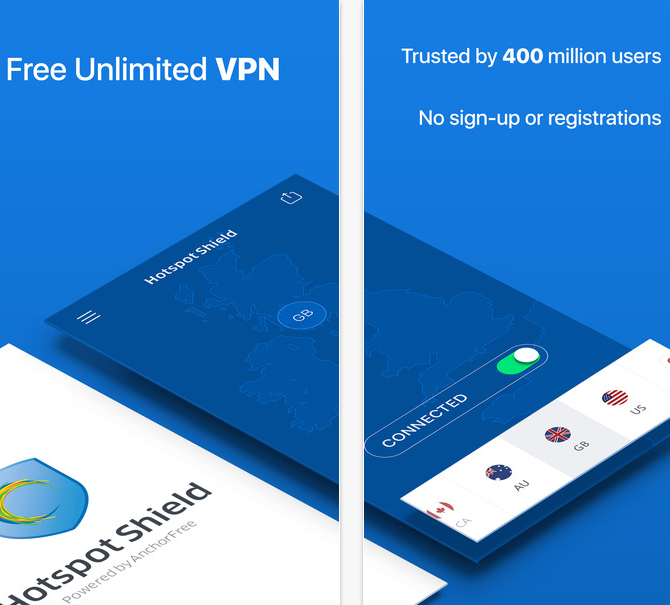 Hotspot Shield is another nice and free VPN app for iOS devices. It also has a premium service to enjoy unlimited data, up to 5 devices protection, and support. For using the free version, there is no registration and no need to put a credit card. Even in the free version, you get Military-grade encryption to keep your web browsing private. The service is powered by AnchorFree. It offers 17 different countries and is secure to use. It hides your IP address, identity, and location from websites. You get 500MB of free data per day.
There is also a Hotspot Shield Premium plan with additional features. If you want to get additional features, go with this. But the free version is still good enough for getting a reliable VPN.
500MB of free data per day
Dedicated app for iOS devices
256-bit AES encryption and built-in ad blocker
Perfect forward secrecy feature
7. Avira Phantom VPN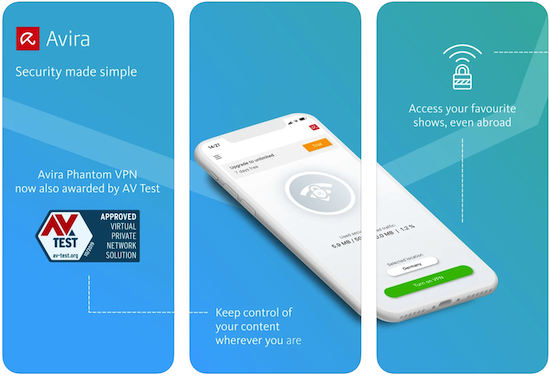 Avira Phantom VPN is also a free VPN for iOS. This antivirus software is from popular security company Avira that also offers an Antivirus. You get 500 MB of data per money. All your data is encrypted, you get the virtual private address and it also offers DNS leak prevention. Avira claims a no-log policy. You can use it to unblock websites and also access torrents.
500MB/Month (unregistered) / 1GB/Month (with registration)
Dedicated app for iOS devices
256-bit AES encryption
Run simultaneously on all your
no-log policy
8. VPN by SurfEasy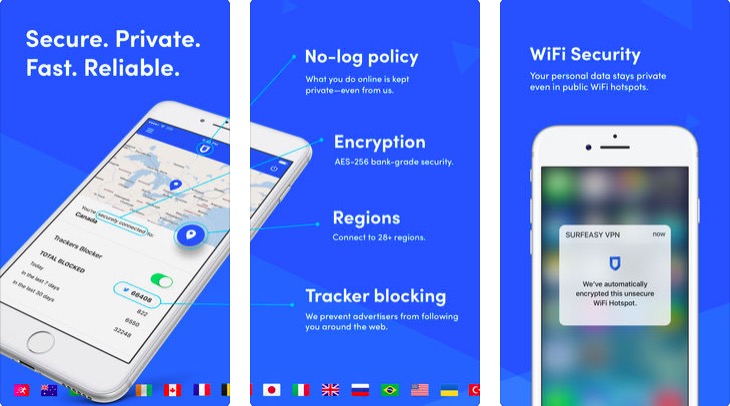 This is one of the best VPN available for iOS devices. The lets you choose the most optimum server location to route your traffic through and be anonymous. You can change the location to any country that you prefer. The free version of the app just gives 500 MB of data and you can get more by completing the rewards available in the app. You can also upgrade your plan to the unlimited data plan. The service uses AES-256 bank-grade security. It also protects your personal data when connected to public WiFi hotspots.
The paid plan starts at $3.99 and offers unlimited data.
Final Words
Alternatively, you can also use Cloudflare 1.1.1.1 DNS to protect your privacy online. It is free and you can use the 1.1.1.1: Faster Internet for this. There is no registration to use this service. There is also no monthly usage limits.
These are few VPN services that you can use on your iPhone or iPad to keep your identity hidden and access blocked websites. There are also few other better VPN services but most of those are paid or offer very little free data to access. These apps offer unlimited access for free of cost. So, try these and stay safe.
Are Free VPNs reliable?
Nothing is free. So, you need to first understand what will you get for free. Most Free VPNs are not good, and good free VPNs offer limited features. Most free VPNs usually limit monthly bandwidth and kets sou connect to limited servers. Some also apps speed. So, free VPNs are not good for streaming or torrenting. You will end up having a connection with buffering and lagging.
This is the reason I recommend users to get a good paid VPN. VPNs are not costly and paying for a longer time will provide really cheap VPN deal.
Will the iOS VPN work with my other devices?
Yes, most VPN support other major platforms. If it is offering a free version on one platform, it will also offer a free version on other supported platforms.
Do these free VPN providers keep log files?
Not all free VPNs are safe, but all the VPNs I added to this list doesn't keep a log.
Editor's VPN Picks For 2021
Here are the best VPN services selected by our VPN experts