10 Best and Free Screen Recorders for Android | 2020
If you are an Android user then it might be possible that a question of how to record a video of your screen arises in your mind. This option of recording the phone screen is there in iOS11 but Android users are still waiting for this option. Google's stock Android is still missing this feature. Some mobile phone manufacturers have added a screen recording option in their custom ROM, but many devices still lack this notable feature. For your information, Xiaomi's MIUI has a good built-in screen recording option. So, if you are Xiaomi users, no need to worry about this problem. OnePlus also ships the phone with a screen recorder app. But most of the Android phone users still search for Screen Recorders for Android. This is why we are writing this article about the best Screen Recording Apps for Android.
Screen recording option is necessary when you want to record a tutorial on mobile devices. Many gamers record their gameplay and share the videos with their friends or upload them to Youtube. Therefore, this is a very important feature for some Android users.
There are many third-party Screen Recording Apps for Android that you can use if your smartphone lacks this feature. I have made the list of best and free screen video recorder with audio. You can use any of them to record the phone screen on Android devices. 
Also see:
Screen Recorders for Android
Here is the list of best screen recorders for Android that you can use to record a video of your screen with audio. If you were looking for free screen recording apps for Android, you can use this list to record the phone's screen. gameplay and more.
1. AZ Screen Recorder: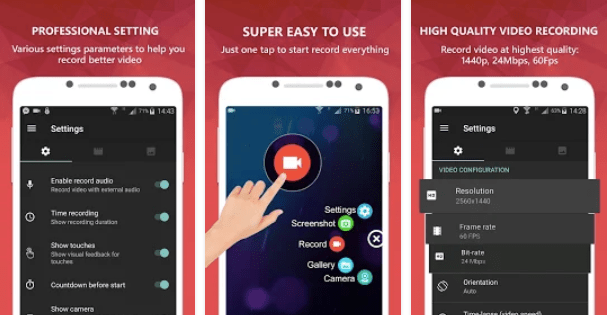 The AZ screen recorder app is another app that can record Android mobile screen. It doesn't require root access. It has no time limit and no watermark. This screen recorder is very easy to use with one action to start and stop recording. The app also gives an option to make a time-lapse video of your screen. It offers options from 1/3rd speed to 3x speed for videos.
This app can access the front camera to record your facial expression with the mobile screen. You can emphasize, draw a symbol or mark something with any chosen color directly on your screen. The app is free to use but it supports ads.
Also, Read Filmora video editor for Windows review
2. Screen Recorder: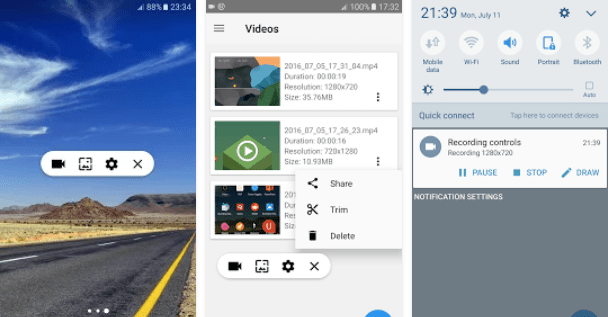 Screen Recorder is an app that helps you easily record screen. It supports the front camera while recording the screen. This app has an inbuilt video editor which helps you to trim or edit your video after recording. You can also add text or images to your recording.
This screen recorder helps you in recording videos with a resolution from 240p to 1080p. You can select the frame rate from 24 FPS to 60 FPS and bitrate from 2 Mbps to 15 Mbps. There is also an option to launch the game and record your gameplay. This app is free to use with ads in it.
3. Super Screen Recorder- No Root REC & Screenshot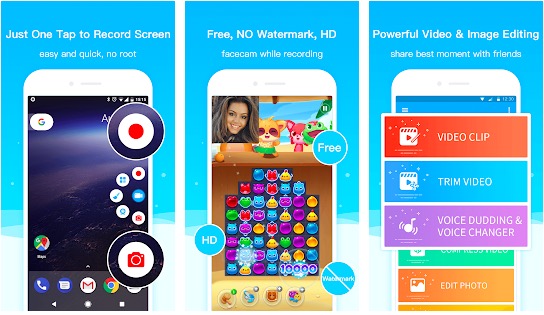 This is also an excellent screen recorder app for Android. The app is free and it doesn't require root for working. The app also doesn't put any watermark on recorded videos and there is no time limit for recording. It can record 1080P at 60fps and also supports lower resolutions at different frame rates. You can also pause or resume the recording through a floating window or notification bar. It also features a shake option to stop recording. If your phone has external storage, you can also save the recording directly on external storage.
The app also has a built-in video editor where you can cut a part of the recorded video or trim the video. You can also merge videos and even add background music if you want.
4. XRecorder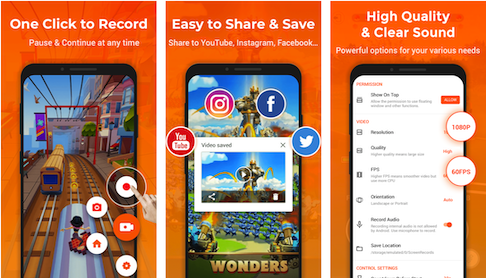 XRecorder is a popular screen recording app that doesn't ask for rooted devices. It also doesn't put any recording limit or watermark. So, you can record screen without any restriction. After recording the screen, you can export the video from 240p to 1080p videos depending on your need. When you start recording, it adds a Floating window to control the recording. This app can also record your face selfie camera and keeps it as a small overlay window on screen recording.
5. Rec. (Screen Recorder):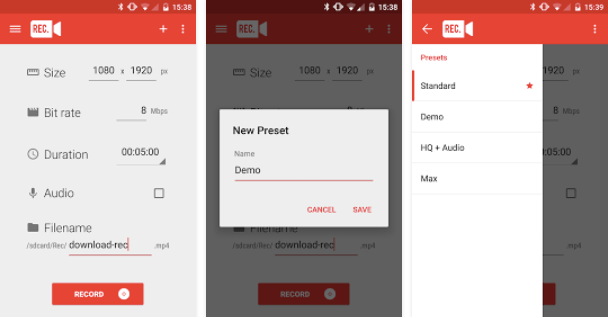 Rec is also one of the good recording apps for Android. It is similar to the above apps with flexible and fully configurable screen recording capabilities. You can record audio for up to 1hr. The devices running on Android 4.4 requires root. For higher Android versions, it does not require root.
You can also use an external mic for audio recording. To stop your recording early, you can shake your device, or switch your screen off.
6. Mobizen Screen Recorder :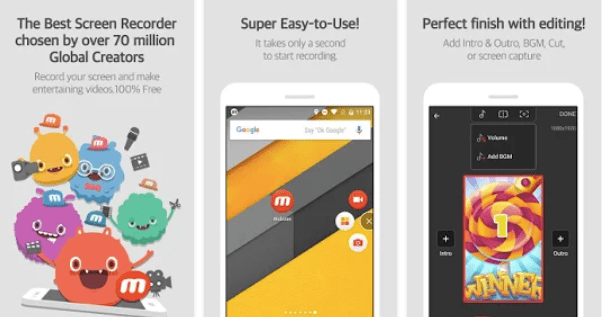 Mobizen is also one of the best Screen Recording Apps for Android. With Mobizen, you can record FULL HD videos. You can record your reactions while recording game sound and your voice with Facecam. It has a variety of Video Editing Features to enhance your recording. The app also has touch gestures.
By default, this Screen Recorder for Android comes with a watermark enabled option. But you can remove the watermark from the settings for free.
7. ADV Screen Recorder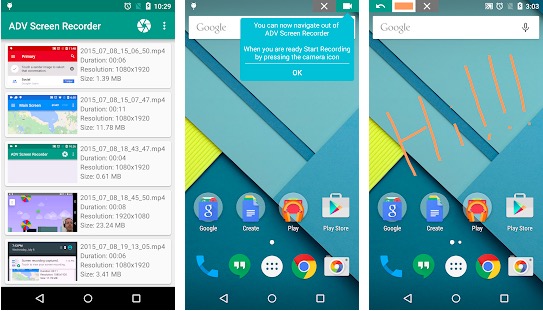 ADV Screen Recorder is also a good Android screen recorder app. It is an easy to use app that doesn't ask you to root the phone. It also has all those features you look for in a screen recorder app. You can pause recording, draw on the fly, use the front or back camera while recording, and also set text on the video. It also has an option to trim the video in case you need it. You can also set different video resolution, bit rates, and frame rates as per your need. It also doesn't add any watermark on your recordings.
8. Screen Recorder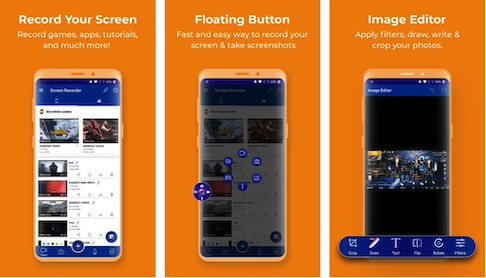 Screen Recorder is also a similar app and does what it promises. It can record the screen of your Android phone. So, you can record video calls or any other activity on your phone. The app also has a built-in video editor to add text on your recording or trim video if you want. The app lets you choose the resolution, frame rate, bit rate, orientation, and video compression. You can also choose if you want to record audio. There's also no restriction on the video length/
9. ApowerREC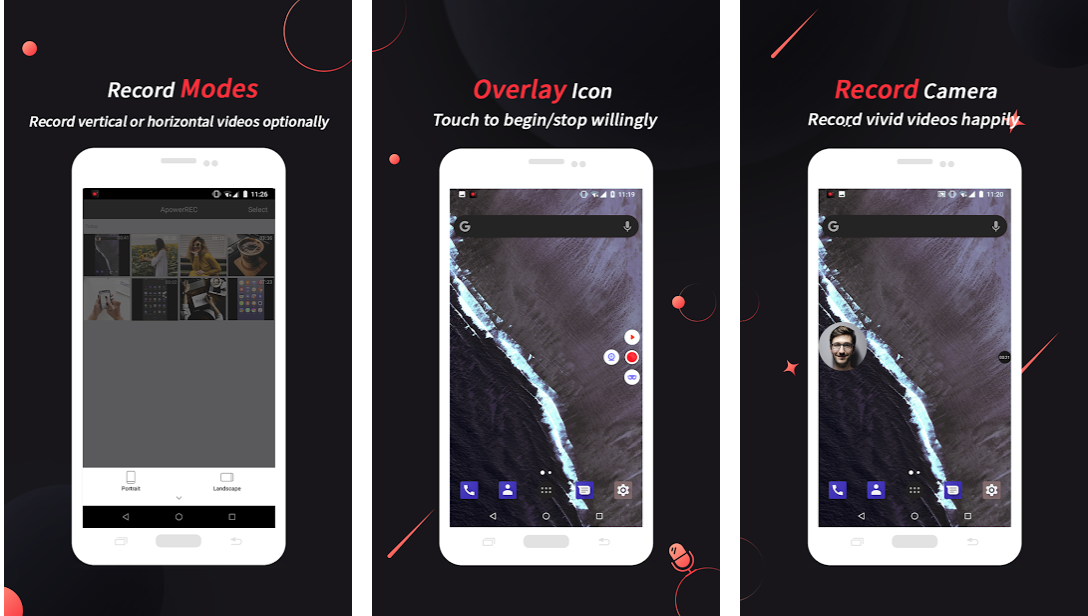 ApowerREC is also a good free screen recorder for Android that lets you record the screen of your phone in full HD resolution. This free app comes with ads and puts watermark in videos. The app lets you record games, live streams, video chats, and other screen activities without asking for root permission. You can customize the recording resolution, record screen with audio, record front camera, record in portrait and landscape, show touches while recording, dust bitrate and frame rate. There is no recording length limit. It adds a floating action button to make recording much easier.
10. MNML Screen Recorder
MNML Screen Recorder is still in beta and the early access app is available on the Play store. It has no ads, a simple interface, and a few settings. It may still not work on all the devices, but it worked really well on my OnePlus 6T. The app is open-source and you can also contribute to improving the app if you want. This app has limited features like it lacs the recording of internal audio. This is the reason I am keeping it at the last to the list.
Read More, Best Slow Motion Video Apps for Android
Wrap Up
All these free screen video recorders with audio are best in their respective way. If you ask me which one to use, I will suggest you download the AZ screen recorder app for Android. You can also record your voice and your face with these screen recorder audio and video for free. You can check this complete list of free Screen Recorders for Android and select the one for you. I made this list of best screen recording apps with proper care and have tested all the apps before putting this list. Do share your experiences with us after using any of these screen recorders for Android from this list.