7 Best Ringtone Maker Apps for Android | 2019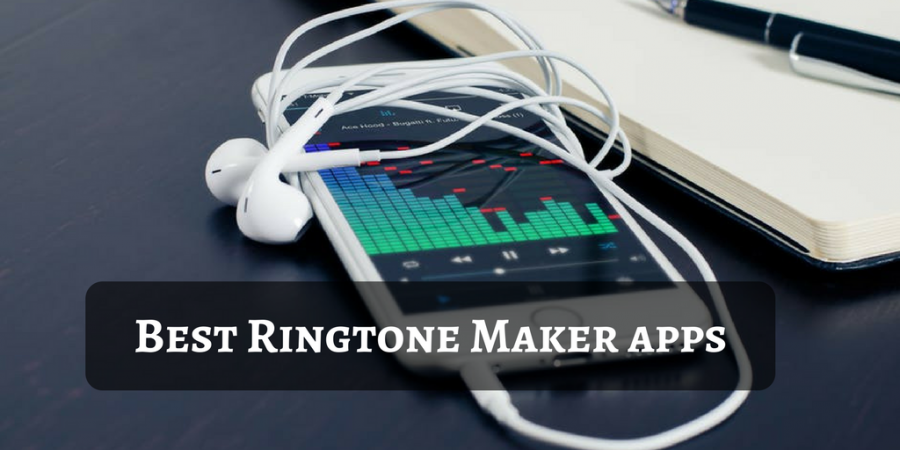 Songs are the most beautiful things ever made by humans. There are so many songs out there, related to every mood and you can relate yourself easily with them as per your mood. Sometimes, a few lines of a song are so amazing that you want to make it your ringtone or alarm tone or notification tone. In this case, we usually search for ringtones on the Internet or look for ways to make ringtones from the songs. If you are also one of those people who is looking for an easy way to make a song ringtone for your phone, you need a Ringtone maker app. The ringtone maker app can cut that part of the song and use it as a ringtone.
If you want to set a part of a song as your ringtone and passionately searching on the internet but couldn't find any, here is the solution for your problem: The ringtone maker app or ringtone cutter app.
Rs. 1500 off on Vivo Mobilephones
Vivo Five Year Celebration
Best Ringtone Maker or Ringtone Cutter Apps
These are few best ringtone maker apps or ringtone cutter apps for Android to make custom ringtones. Now you can set any part of the song as your ringtone or message tone. Try any one from this to cut the song and make a ringtone for your smartphone.
1. Ringtone Maker:
Ringtone Maker is the free Android app that creates ringtones and alarms. You can use MP3, FLAC, OGG, WAV, AAC(M4A)/MP4, 3GPP/AMR files with this app. You can manually select the start and end notes just by sliding arrows along the timeline. Below the timeline, there are buttons for start, pause, forward and backward the song. By pressing Start and End to record the point, or by typing in time stamps you can make your ringtone.
Other features of this app are Copy, cut and paste, Fade in/out for mp3, Adjust volume for mp3, Preview the Ringtone files and assign to contact and much more. You can also record a new audio clip to edit.
The app also allows you to directly assign a ringtone to a contact, re-assign and delete. This app is ad-supported. There is also an ad-free version of the app. If you are willing to pay, you can go with that paid Ringtone maker app. Not just ads-free, that app also offers a few more features.
Download From Here: Ringtone Maker
Also see: MP3 Downloader apps for Android
2. MP3 Cutter and Ringtone Maker:
If you want to cut the specific part of a song and make that your ringtone or alarm tone then you are at the right name. Yes, MP3 Cutter and Ringtone Maker have the capability of this. Make your own MP3 ringtones with this ringtone cutter app.
You can also record live audio and then use that audio, edit it get the best parts from it to use as a ringtone. This app supports MP3, WAV, AAC, AMR, and most other music formats.
Download from here: Mp3 Cutter and Ringtone maker
3. Ringdroid:
Ringdroid is the original open-source ringtone editor for Android. It was initially released almost 9 years back in 2008. You can create ringtones, alarms, and even notification sounds from your favorite audio files and also record new ones.
The app is available for free and never allows ads. You can access the source code and use it if you want. This app can also set contact-specific ringtones, but you will have to allow the app to access your contacts.
If you are a developer, you can access the source code available at ringdroid.com.
Download from here: Ringdroid
4. Ringtone Cutter: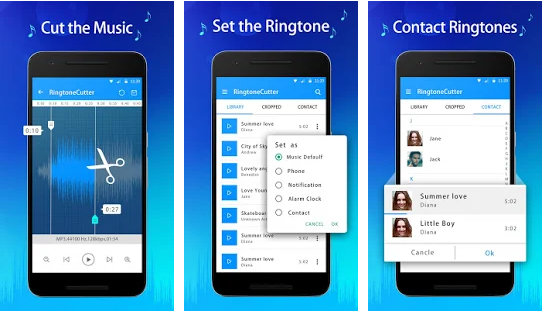 You can create your own ringtones, alarm, or notification sound from an existing audio file in your android phone. This ringtone cutter app has no limits that mean you can make unlimited ringtones and set them as your caller ringtone or alarm ringtone. Share the ringtone made by you with your friends and surprise them.
Download From here: Ringtone Cutter
5. Ringtone Maker – MP3 Cutter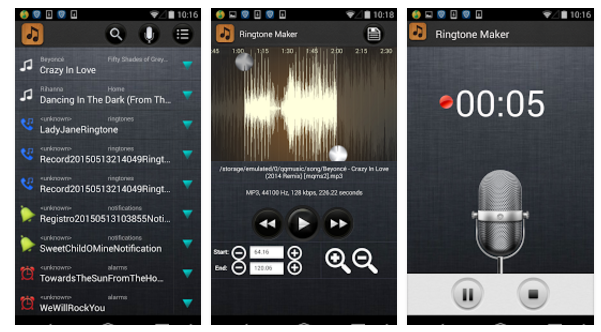 Ringtone Maker – MP3 Cutter is the ringtone editor app that edits the music files stored on the phone and makes a unique ringtone. Similar to other apps do, you can also record new sound in this app. It supports the file formats like MP3, WAV, AAC, AMR, 3GPP, 3GP, M4A.
With powerful editing options and wide-range of audio format support, this custom ringtones app is one of the best ringtone maker and audio editing apps available.
Download from here: Ringtone Maker – MP3 Cutter
6. Ringtone Creator: Editor & Slicer:
Ringtone Creator: Editor & Slicer or you can say Ringtone Slicer FX is a ringtone creator and audio editor android ringtone maker app. You can make your own ringtones and edit your favorite music and create the mp3 alarms and notifications. It has several features including Audio FX like Fade In/Out, Volume Adjustment (Compression) and EQ Looping for testing.
It comes with inbuilt file explorer for quick access to music files. You can also choose the best UI color scheme for audio editing.
Download from here: Ringtone Creator: Editor & Slicer
Read More:
7. MP3 Cutter
MP3 Cutter is another good app that you can use as a ringtone cutter on Android. MP3 Cutter lets you edit music files and select a part to use as ringtone on your Android phone. The app can also save the ringtone in the SD card. Then you can use the saved part as ringtone on your Android phone.
Download from here: MP3 Cutter
Final Words
We tried to list some best available Ringtone maker apps for custom ringtones. We used all these ringtone cutter apps before writing this article for you. I hope it will solve your purpose and you will be able to get your desired ringtone. There are various cool ringtone maker apps and we may miss some good one. If you know any other best ringtone cutter apps that should be on this list, do tell us via comments. I will be happy to update this post by adding a better one.