7 Best Apps to Take Scrolling Screenshots on Android and iOS
You already know how to capture regular screenshots on Android or iOS. But what if you want to capture the screenshot of an entire web page or chat conversation. That needs the ability to capture scrolling screenshots. Although several smartphone brands including Samsung, Huawei, and Xiaomi have this option into their custom UI, there are some good third-party apps that do this job better. If you are looking for an app to take a scrolling screenshot on your smartphone. In this article, I am adding a list of the best apps for taking scrolling screenshots on Android and iOS.
One of the easiest ways to capture scrolling screenshots on your phone is to capture multiple screenshots and combine them together into one image using an image editing tool. But that is a time taking process and also not easy. Apps that let you capture scrolling screenshots use the same way but make the whole process much easy. So, you can easily capture scrolling screenshots. Here is the list of best apps to capture scrolling screenshots on Android or iOS.
Apps to Take Scrolling Screenshots
1. LongShot
LongShot is the best App for taking long and scrolling screenshots on Android phones. This app stitches multiple screenshots into one image to create a long screenshot. It also lets you capture multiple screenshots in quick succession. You are allowed to select the start and endpoints of the screenshots.
This is an Android-only app and is free to download. This doesn't add any watermark.
Download: Android
2. Tailor – Screenshot Stitching
Tailor is an iOS that lets you capture a long screenshot on your iPhone or iPad. You can use this app to capture screenshots of other apps as well. SO, you can capture chat conversations, Articles, web pages are more. Just take some overlapping screenshots and Tailor will stitch them together for you to make a long screenshot. There is no need for manual alignment, cropping, or blurry stitches.
Download: iOS
3. Stitchcraft
Stitchcraft is another interesting app that lets you capture scrolling screenshots. You need to capture screenshots manually and then use the app to stick them together. Make sure you are carping a common area between screenshots. It stitches screenshots together but you can also do the processor manually if you need more control.
This app works with web pages, third-party apps, and message threads. It also includes an annotation tool and makes it easier to share screenshots on social networks.
Download: Android
4. Picsew
Picsew is for iOS devices and lets you capture long screenshots. The app merges multiple screenshots into one to create one screenshot of the whole web page or conversation. The app uses automatic stitching but you can also choose to do it manually. It supports both vertical and horizontal stitching. It also includes some editing options. It lets you pixelate faces or sensitive information. You can also add watermarks and borders. It works with all scrollable content including third-party apps like WhatsApp, Facebook, and Twitter.
Download: iOS
5. Stich It
Stich It is another interesting app for capturing long screenshots and share them on other apps. You can capture screenshots and the app stitches them together. The app offers an easy-to-use interface. You can align the screenshots by cropping them accordingly. The app also lets you edit the screenshots and hide private information
Stich It is available for both Android and iOS
6. Screen Master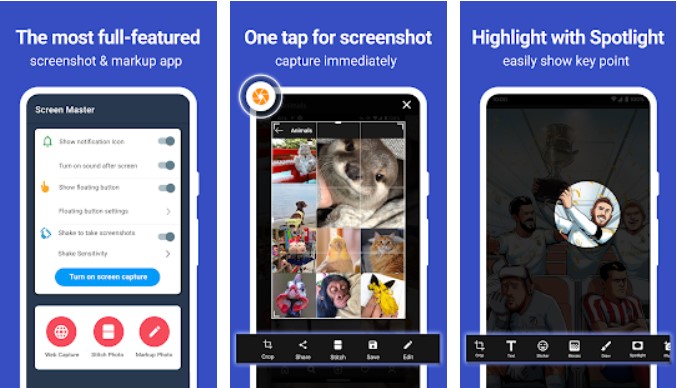 The Screen Master is a free, easy-to-use screenshot & photo markup tool. You can capture the screen by touching the floating button or just by shaking the device. You can take screenshots on your tablet, phone, or other Android devices with the help of this app. Screen Master also provides many features like crop, add text, pixelated image, draw arrow, rect, circle, and more. It lets you easily edit and markup your screenshot and quickly share it with anyone.
Download: Android
7. Web Scroll Capture
Web scroll capture helps in capturing web pages, or long picture that needs to scroll. You can easily view the captured webpage or long screen on your phone. You can also turn any webpage into a PDF file to make notes and to save the web page for reading offline.
Download: Android
Read More, Best and Free Screen Recorders for Android
Final Words
Capturing screenshots is easy but capturing scrolling screenshots is not. If you don't have phones that offer the built-in option in UI for capturing long scrolling screenshots, you can download any of these apps.