Asus Zenfone 3 ZE520KL Review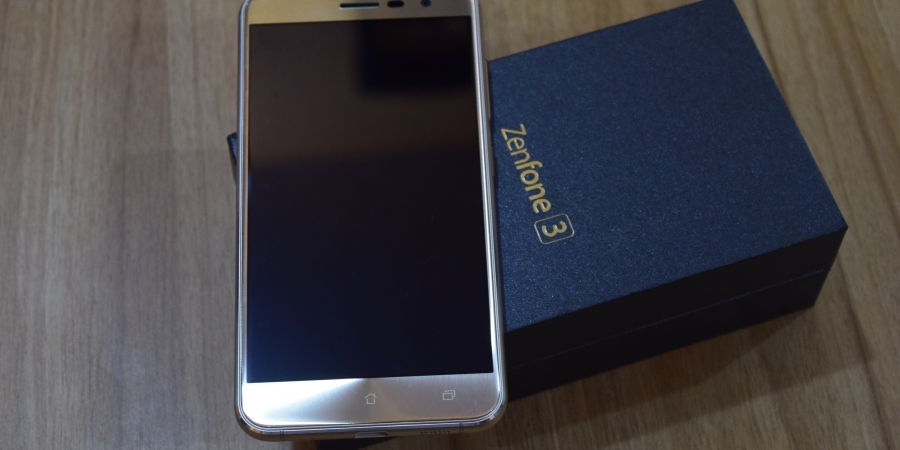 Advertisement
With a new range of Asus devices, Asus has finally adopted the premium metal build for its smartphones. Asus launched Zenfone 3 smartphone series with various Zenfone 3 phones including variants of Zenfone 3, Zenfone 3 Deluxe and Zenfone 3 laser. I got Zenfone 3 ZE520KL with the 5.2-inch display, 3GB RAM, and 32 GB internal storage. After using this phone for few days here is my detailed review of Zenfone 3 ZE520KL.
Asus Zenfone 3 ZE520KL Review
Design
The design of Asus Zenfone 3 is very beautiful and makes it one of the most attractive devices available in the market. At this price segment, Xiaomi Mi 5 was my favorite phone in terms of design, but Zenfone 3 has now come to give Mi 5 a tough fight. With Zenfone 3, Asus has adopted a beautiful design pattern to make its phones premium in terms of design.
It has glass panels on both front and rear with Gorilla Glass protection. These glass panels are joined together by a metal frame. The glass on both sides kind of curves (2.5D) into the frame. Due to glass panels and metal frame, this phone looks very premium. The only issue with these glass panels is that these panels attract fingerprint and you will end up cleaning it multiple times a day.
Under the rear glass panel, it has etched the iconic ASUS hairline spun metal concentric circle pattern that is reminiscent of the water ripples of a pond, or the gravel circles of a Japanese Zen garden. Check the two pics below.
See the zenfone's line pattern and then compare it with Zen garden's design pattern. Phone's back also shines in the light which looks good. It is sleek and flat monolithic block with attractively rounded corners. Aluminum alloy frame of Zenfone 3 is rounded and has sandblasted surface. These curved edges improved the grip. Diamond cut chamfered edge feels great.
Above the display, it has an earpiece, sensor, and front camera. Below the display, it has three capacitive keys which are almost invisible in golden variant due to similar color of body and key color. There is also no backlight light on these keys. At the left side, it has SIM card tray slot. At the right side, it has a volume rocker and power button with beautiful textures on both. At the top edge, it has 3.5 mm audio port and secondary microphone. Below edge has USB Type-C, speaker, and primary microphone.
The back panel is attractive with the rear camera at top center side. I have already talked about concentric-circle pattern of back panel. The camera bump looks good. Don't worry, Asus has taken care of the camera lens' security even with this camera bump. It has laser autofocus at the left side of the camera while dual color LED is on the right side.
Just below the rear camera, it has fingerprint sensor with a glassy look. Unlike phones with fingerprint sensor at the rear, Asus has used a different shape for this sensor.
The phone is bit slippery but easy to handle. Mi 5 and One Plus 3 both phones were slippery. So, I feel Asus has given its best to provide you a best design with nothing to worry about. As the display is small, it is good in holding and handling tasks. While there is also a one-hand mode, I feel that handling this phone with one hand is not a tough task. It has the pleasant and premium design which you can use proudly anywhere. It is available in different colors, but I recommend the golden variant what I am using.
Display
Zenfone 3 comes with 5.2-inch Full HD Super IPS+ Panel. By Ignoring the boasting of 2K or 4K display, Asus has managed to keep the display fine enough for daily usage and save lots of battery juice. Most of the movies and videos come in 1080p resolutions and you will have no issues I multimedia consumption.
The display is no-reflective in nature and IPS panel also offers excellent viewing angles.
The display has the narrow bezel and the screen-to-body ratio is also good. Even on minimum brightness, the screen is clearly visible from a long distance and from good angles. Keep it on auto and ZenUI will take care of brightness to give you good experience and reduce battery consumption as well. On Full brightness, it is also bright enough.
Outdoor visibility is also very good and you will never face any issue in reading your emails and message.
The display can also be tweaked from the settings. You can manually select color modes or customize the color temperature, Hue and saturation.
Software
Asus Zenfone 3 runs on ZenUI based on Android 6.0.1. I personally do not like the way it heavily adds too many apps in the phone. When you connect the phone to a WiFI network for the first time, it will automatically start updating many apps. While few apps including Facebook, Messenger, Instagram are fine, but there are many other apps which you will never eve use. There are many Asus branded apps and list of these apps is longer than you expect. You can disable many of these apps.
The phone is filled with many apps but performance has not been compromised. Asus also tried to make it cleaner. It is too quick and with almost no UI related lags.
There is also an Easy Mode if you want to use only important apps and avoid most of the third party apps. You can also decide what apps to show in this Easy mode. This has been designed for old people who need extra-large fonts and fewer options to avoid confusions.
Zen UI is customizable and it offers lots of themes, wallpapers, and widget. Always make sure to install lightweight themes. Heavy themes may affect the performance. Themes are available for most of the ossacions and styles. These themes also offer unique kind of transition effects,
Asus has also added many useful filters in UI with options in the quick settings panel. You can enable Blue Light filter at night. You can also enable One hand operation from quick settings when you want to use it. Additionally, you can also enable quick trigger. After this, just double-tap on the home key to activate it.
The fingerprint sensor is not just for unlocking phone, but you can add more operations on it. For example, tap and hold on fingerprint to answer calls, double tap to launch the camera and single tap to capture photos.
ZenMotion is another important option in Zen UI. It offers many touches and motion gestures. Enable these options to perform many options quickly.
Performance, RAM, and storage
Zenfone 3 comes with octa-ore Snapdragon 625 processor with Adreno 506 GPU and 3 GB of RAM. There is no compromise in the performance as well. This processor also consumes less power and hence enhances the battery backup.
While many people are arguing about having only 3 GB RAM, this phone has proper RAM management to give you best multi-tasking experience. It has a RAM boosting technology to keep your RAM free and give you the best experience.
I never faced any issue while using any kind of app. The opening of the app is quicker than most of the phones available in this price segment. Switching between apps is also fast. It offers very smooth experience while browsing different apps and accessing the Internet.
The gaming performance of this phone is also excellent. You will enjoy good graphics, loud sound, and smooth gameplay. I tried various games in this phone including Need for Speed – No limit, Asphalt 8, Death Trigger 2 and few others. It was a great gaming experience in Zenfone 3. This phone does not heat as well even after long gaming.
It comes with 32 GB internal storage which is also expandable up to 256 GB by adding a microSD card. if you buy this phone, you will also get additional 100 GB of free Google Drive storage. So, storage is not an issue in this phone.
Camera
Zenfone 3 is one of the best camera phones in this price segment and its software feature makes it a unique camera phone. It has excellent performance in outdoor and indoor conditions. It has 16-megapixels Sony Exmor RS IMX298 sensor with F2.0 aperture, 6-element lens and 1/2.8″ sensor size at the rear side and 8-megapixels front camera with F2.0 aperture. It also has dual color LED flash to help you in capturing photos when the light is too low.
Note: Asus also claims to have world's Best 0.03 Second TriTech AF Camera.
For best photography experience with this phone, you must check its camera modes and understand what camera mode to use. While auto mode tries to give excellent performance, I recommend the use of low-light mode when the light is too low because use of just the flash is running the photo experience.
It has Asus PixelMaster 3.0 which is actually a combination of advanced hardware and software to give you the best experience. It has 4-axis optical image stabilization for photos and 3-axis electronic image stabilization for video. It has real-time HDR and fast autofocus.
Both cameras perform good. You will enjoy photography experience in different kind of light conditions. I will be talking about the camera in detail in the separate camera review. In this article, I just want to add few camera sample and let you know about its excellent camera performance.
The rear camera can also record 4k videos and front camera can record full HD videos.
Fingerprint sensor
The fingerprint sensor of this phone is fast and accurate. You can save up to 5 different fingerprint profiles. You can also active few additional functions of fingerprint sensor like capturing photos, answering phone calls and launch camera. It got impressive accuracy and not a single time it refused to recognize my fingerprint.
Asus claims that this fingerprint sensor can unlock your phone in just 0.22 second. When I didn't try to measure and verify this time but I found this fingerprint sensor fast and accurate. It can also detect your fingerprint from any direction.
Multimedia
Multimedia experience on this device is excellent. The display provides good video experience and speakers offer good quality audio. It has Hi-Res Audio support with New 5 Magnet Speaker and NXP Smart AMP.
Play any song on full volume and you will feel clear and distortion free sound. The sound is also clearly audible in the noisy place. It has special five magnet speaker system by Asus audio team. This speaker system is powered by amplifier developed by NXP to give you best sound experience.
The sound in earpiece while the call is also loud and clear. You also get earphone within the box which is good enough to enjoy music and use for calling.
Connectivity and Battery
It comes with 4G with support to VoLTE. It also offers Wi-Fi 802.11 a/b/g/n/ac, Wi-Fi Direct, hotspot, Bluetooth 4.2 with, A2DP, EDR & LE, USB Type-C, GPS, AGPS, GLONASS, BEIDOUS connectivity options.  I used most of these options and found no issue.
Buyers can also avail Jio welcome offer on this phone and enjoy faster, unlimited data and calls until December 31.
This is packed with 2650 mAh battery which is impressive and lasts longer. It gives full day usage without any problems. It supports fast charging with 5-Volt, a 2-amp charger which comes within the box. It claims to charge for up to 2 hours of talk time with just a 5-minute charge. It takes around 1 hours and 20 minutes in charging from 0-100% with charger provided within the box.
See the screenshot of battery consumption below. I made many long calls and played NFS for a long time during this period of time. Internet browsing was normal and I accessed Facebook, Instagram, and emails multiple times. I also used the camera to capture more than 150 photos for camera sample to add in the review. Still, I managed to get around 22 hours of backup which is good.
It can be better if you control the brightness and use the available battery performance mode.
Final words
Asus Zenfone 3 is a very premium beautiful and powerful smartphone. It feels great to hold this device in hand and due to the 5.2-inch display, it is very comfortable in the hand. It offers the excellent camera, awesome performance, attractive design and nice battery backup. What else do you need on your phone?
The only disappointment was its price. No doubt that phone's performance is excellent, but we have similar specs in many phones with price less than Rs. 15000 and performance of those phones are also good. Zenfone 3 is no doubt much beautiful and premium in looks. Still, I feel that the phone is bit overpriced.
Asus Zenfone 3 ZE520KL
"Asus Zenfone 3 ZE520KL is one of the most beautiful and powerful devices available in the market. It also offers great camera experience and good battery performance."
The Good
Excellent Design
Good display
Nice camera performance
Good battery life
The Bad
Back panel is fingerprint magnet
Too many bloatware
Breakdown
Design 85%

Display 80%

Performance 80%

Camera 80%

Gaming 85%

Battery 75%