Roblox is an online platform to play games. The platform also hosts games made by its users. So, the platform is not just for playing games but also for making games. The platform also boasts that users have already published over 20 million games on the platform. People can also earn money on the platform by publishing and monetizing their games. A report claimed that a 24 years old developer made $1 million in a single year on the platform. Another report claims that more than 50 percent of all American kids under the age of 16 have played on Roblox in 2020.
The platform lets anyone create and publish games. So, there are also several games with inappropriate content for kids. This could be a reason why several people want to delete Roblox account. In this article, I will explain how to delete Roblox account.
Delete Roblox Account Permanently
The issue with Roblox is that it doesn't provide an easy way to delete the account. But the company deletes the account if you want. For this, you will have to contact Roblox support. Open this link in the web browser and login into your account. Fill the form. There's no option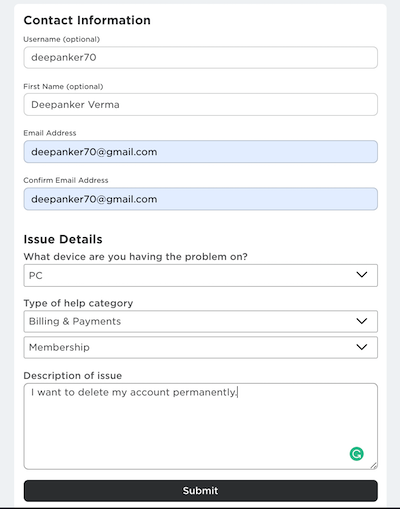 After this, a customer service representative will contact you about the issue. Ask to delete your account. The customer service representative will ask to verify your identity before deleting your Roblox account. So, it may take a few days to complete the deletion process.
Alternative ways to contact Roblox Support.
Email: [email protected]
Customer support number: 888-858-2569
You can either directly send an email or call customer support to delete the account. While sending an email, don't forget to provide your email, full name, a phone number associated with your account.
There is another way to delete a Roblox account. Stop using your Roblox account for a year. If an account is inactive for a year, the compete deletes it. So, you will have to wait for a whole year for your account deletion.
Wrap Up
Roblox is really popular. The primary reason for this popularity is that the game lets you earn money by publishing games. If you are a developer, you can earn a lot of money on the platform. Developers earn from in-app purchases in their games. Developers get a cut of Robux that can be converted to real money using Developer Exchange. There could be several reasons why you may want to delete your account. In this article, I have explained a few ways you can contact Roblox support and ask to delete your account. Alternatively, you remain inactive for a year and your account will be deleted.
If you just want to cancel your Roblox membership, you can do it by going to the Settings menu. There is no need to delete Roblox account just for canceling your membership.
See similar articles