If I say the current era is of the Internet and Digital world then there shouldn't be a myth. We better know, there are millions of users who have a Wifi connection in their home that they use for various purposes. But, did you imagined if the connection will be a bit risky then what circumstances you have faced? So, it is always recommended to use a strong security in your Wifi network to browse safely. Just by using a complex and secure password can't guarantee you for full protection, but there are many other factors which matter a lot. The speed by which internet consumers increasing everyday can point on a question related to consumer's network security. Among them, those who have basic knowledge about networking can solve Wifi problems easily, but for a normal PC/Smartphone use, it's a headache.
Up to 60% off on Bluetooth Speakers
Up to 60% off on Bluetooth Speakers
For overcoming all the networks threats including your Wifi security, you have to search some best Network analyzer which can retrieve and avoid your all threats. In this article, I am suggesting an android app named – Wifi Analyzer, which can help you to secure your Wifi with some proper analysis. It is available on Google Play store with detailed "How to use" guide. This App can help you to protect your Wifi from external threat by mapping techniques and maximize your connection speed. As per the claim of Wifi Analyzer Dev Team "This is the ONLY app on Google play that will map your network in a graphical display". If the claim is correct then really, it seems quite interesting and I can suggest you to download this App if you looking to browse in a secure Wifi connection. There are much more user-friendly network utilities and tools available in this app, which can be used by beginners to IT specialist and even skilled network administrators.
Features of Wifi Analyzer App For Android
This app is currently one of the most popular apps to view and monitor the home network. Once you have started scanning your network with it, it will show you all wired and wireless devices that are connected to the internet.

Once the scanning process is done, you will be shown a detailed list of known and unknown devices that are connected to your network and later you can build your own trusted network by adding devices to a trusted list of networks.

Along with the device name, this network analyzer also shows device information like IP address, host name, MAC address, and manufacturer name. You can then note down the details of the unwanted app and then you can click on BLOCK button to enter MAC address of the device in your mac filtering table to stop it from using the internet.
Network Analyzer and Wifi Strength
The main function of this app is to list down the details of the devices that are connected to your Wifi network, so it will display information like IP address, MAC address, access point names from which you are connected and you can also customize images/icons and edit display names of the devices using this app.
Access Point Scan and Graphs
Wifi Analyzer app is not just for blocking and finding out devices connected to your network, but you can also use it to find out all router Access Points in range to you. Including their MAC address, db signal strength and channel they are using.
Connections and Block Feature
All of the connections that are connected to your network can be viewed using it. It doesn't matter if it is the close connection, listening IP address or established foreign connection, you can always view them. This App also checks each established IP against 35 Blacklisted databases and then make a decision whether IP address is trusted or not?
There is another plus point with this App, In case if you not using then you may always be in the threat that you losing some of your bandwidths as someone may be using your Wifi connection without your consent. So, use this app which brings devices web interface where you can open up filter table and add input unwanted MAC address to it.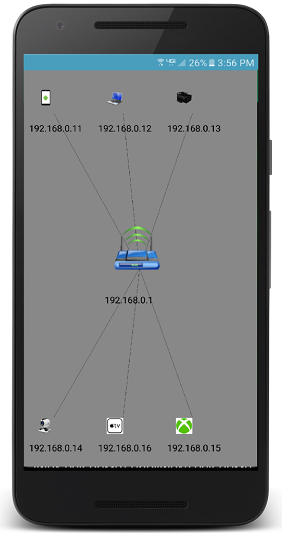 Conclusion
As per my experiences, Wifi Analyzer app for android seems quite good and I can recommend to my readers. It has some best eye-catching features which can amuse any Wifi user. Since it coming in two version Pro and Free but I can recommend to download Free version from Google Play. Since, this App developed while keeping in mind the common android users who are not much technical. In case, If you still have any question regarding "How to Use this App" then my suggestion is to Go ahead and read App description at Google Play.
If you already using any other Wifi Analyzer or know any other similar app which you can suggest us to look upon, then do let us know about them via comments below.
---
Advertisement
---