Unscreen: Remove video background automatically
For making a video with transparent background, people shoot the video with Green Screen. But what if you don't have a green screen setup but want to shoot videos with transparent background? Now there are several AI tools that can automatically remove the background from your videos and make them transparent. So, you can use any custom background in your videos. I recently tried Unscreen and found it impressive. Unscreen video background remover is by the same company that offers Remove Bg to remove background from photos. In this article, I will talk about Unscreen and will show you how it works.
Unscreen is really easy to use. You just need to open Unscreen and upload the video to remove the background. It supports several video formats including .mp4, .webm, .ogg, .ogg, .ogv, .mov, and .gif.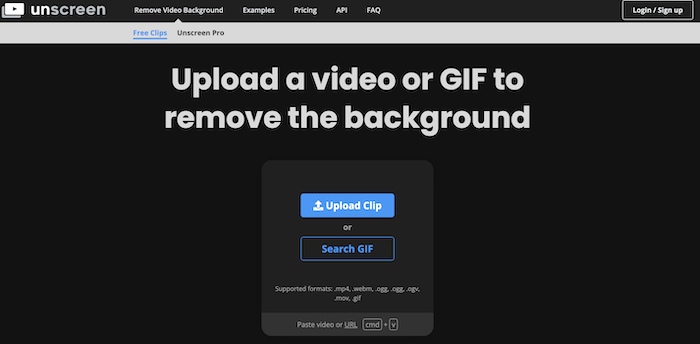 As soon as it uploads the video, the platform uses AI to remove the background. The edge detection depends on the background color. It is not as perfect as the green screen video, but good enough.
After removing the background, it also offers a custom background. You can select any solid color or a photo to use as video background.
If you want to produce background-free videos or videos with custom backgrounds, you can use Unscreen. This platform can perfectly produce videos to share on social media. The most notable thing is that this is a really simple tool for removing video backgrounds. It just takes a few seconds and you are done.
If you are using the free version without creating an account, you will get only 5 seconds of the clip and the clip will be in 360p quality. Creating an account will get you 10 seconds clip. But to use this tool to remove the background of longer videos and export them in high quality, you will have to get a subscription.
Unscreen Pricing
Unscreen is free but with several limitations. If you want to unlock all features, you need to get the subscription plan. The company offers different subscription plans based on video minutes. If you are interested, get the one that suits your needs.
Unscreen plans also come with 14 Days Money Back Guarantee. You can upgrade or downgrade anytime you want.
Unscreen also offers Unscreen Pro Plugin for Adobe Premiere Pro & After Effects. So video editors can use it directly within Adobe Premiere Pro & After Effects to remove video background automatically with just a click.
Is Unscreen free?
Yes, Unscreen is free to use. You can use it freely to remove or change the video background. The free version limits to 10 seconds clips and also offers just 360p videos with Unscreen watermark. If you want to unlock all the features, you can subscribe to Unscreen Pro.
Wrap up
If you are looking to remove video background online without a green screen, unscreen is a good tool. You can use it on any modern browser and it works really well. Unscreen is free with limitations but offers premium subscriptions to unlock its full potential.