VideoProc – Easy to Use 4K video editor and an MKV to MP4 converter for Mac
VideoProc is a powerful, easy to use but affordable 4k video editing software for macOS. This software comes with lots of features that make it worth for users who are into video content creation. macOS users have iMovie, but that is not as feature-rich and Final Cut Pro X is too expensive. So, VideoProc is one you need to look at. If you want a quick video editor for editing videos for posting on social media, try VideoProc. In this article, I will talk about VideoProc in detail.
VideoProc is a video editing software that can edit 4K videos in the fastest way. If you are looking for an affordable 4K video editor, VideoProc can be a nice choice. It is a user-friendly tool that is easy for beginners. You can quickly transfer videos shot by your camera or smartphone to PC and start editing using VideoProc. Video editing options include video rotation, video flip, video effects, split, merge, and crop. You can also add subtitles and stabilize shaky videos. This tool can also reduce video size.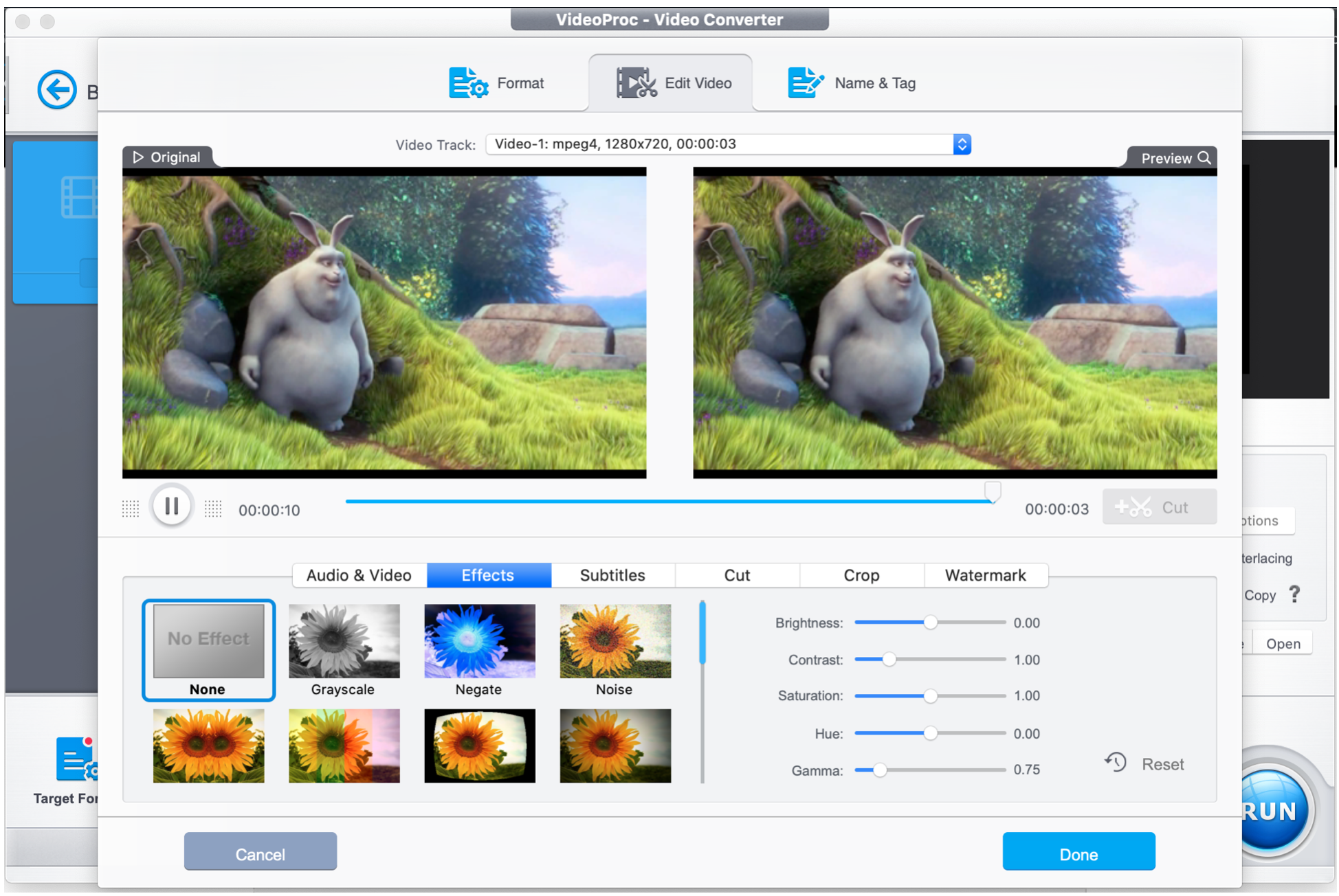 You can also quickly add watermark in videos to let the world know that the video belongs to you. You can add text or image watermark depending on your choice. You can adjust the size and transparency.
MKV to MP4 Conversion
MKV is a widely used video format on the Internet. DVD and Blu-ray rips are mostly available in the MKV file format. The issue with MKV is that it is not widely supported and you need to find good software to convert MKV to MP4. VideoProc is here to save your time and effort and can also be used as MKV to MP4 video converter. This is software can quickly convert MKV to MP4.
To convert the MKV to any other video format, load the video on VideoProc using the video option at the top. Then select the Target Format option located at the bottom side. You can use different tabs including Popular, video, or device to select MP4 and then click on the Run button at the bottom right side.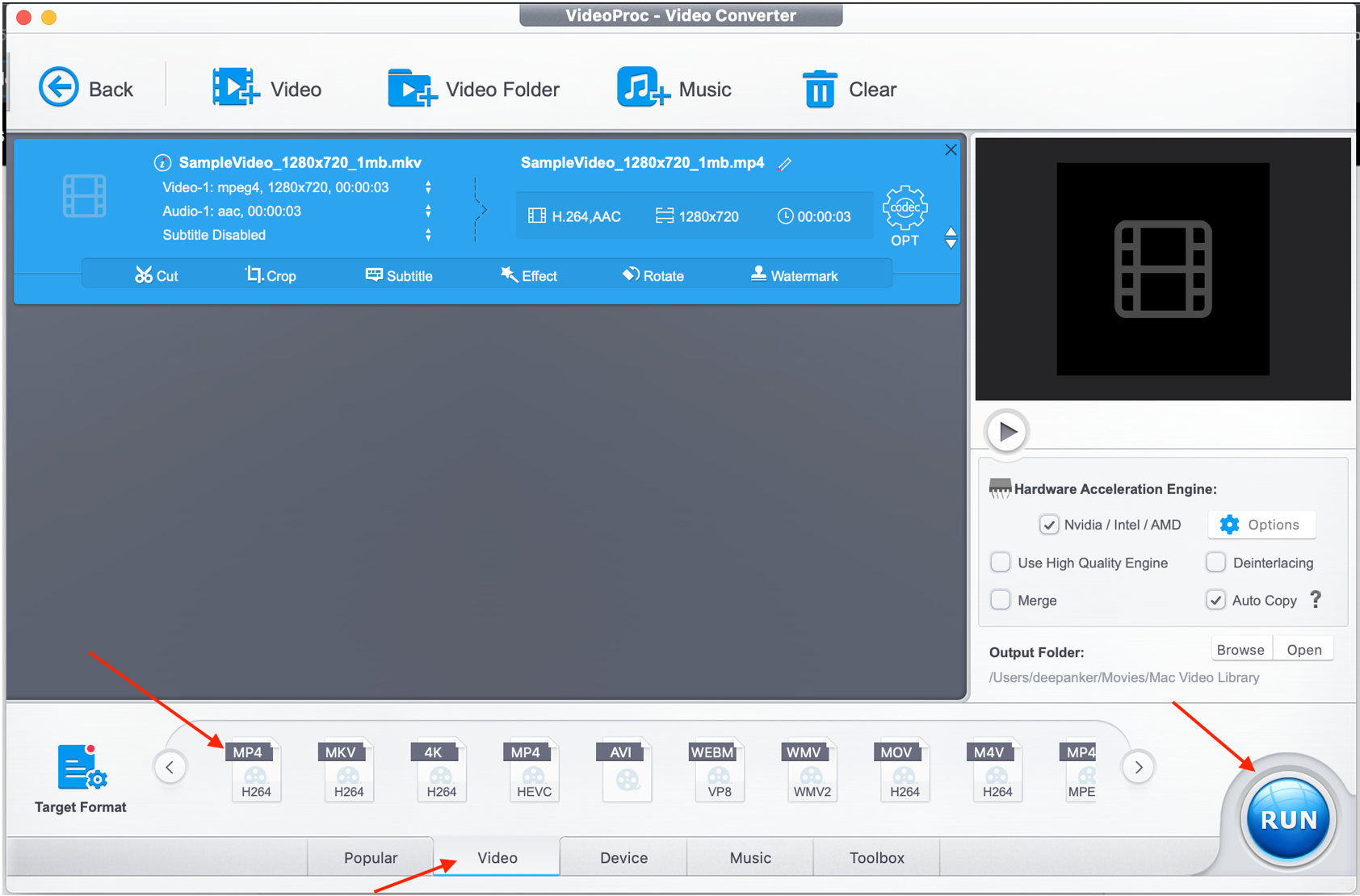 VideoProc is an all-in-one audio and video processing software. It supports 370 input codecs and 420+ output formats. So not just MKV, you can convert any type of video clip to any other video format supporting different smartphones, TV, and more. You can select video format, video codec, frame rate, resolution, audio codec, and more complex things. If you know how to use these, you can.
Click on Target Format at the bottom and then look for Toolbox. Here, we see key features like video stabilization, Denise, merge, video to GIF, Lens correction and more.
When you select any of these options, these will be added at the bottom side of the main screen. Then you can access these options at one click.
Stabilizing Videos
For the stabilization of shaky video footage, you can use the Deshake option. I have already shown you how to find it in the Toolbox section. After it has been added into the Target section, you need to select the video and then click on the gear icon at the top right corner of this button to open the stabilization window.
Here, you can select Shakiness, accuracy, step size, and mini contrast. Shakiness level depends on the shakiness of the video. Don't always the high value here. You can also select the part of the video by manually entering input Start and End Time. Click on Done to start stabilization.
The most notable thing about VideoProc 4K video editor is that it offers GPU accelerated video processing. It supports full GPU Level-3 Hardware Acceleration powered by Intel, AMD and NVIDIA GPUs. So, video editing, video compression or video conversions much smoother.
Another notable feature of VideoProc 4K video editor is downloading videos from any website in high resolution and directly use on VideoProc for editing.
The recorder feature is really interesting because you can use it to record the desktop of your system, record using the camera of your MacBook or your record the screen of the iPhone. While capturing the desktop, it can also capture system audio and mouse clicks. Another good thing is that you can select the area that you can to record in your video. So, you can hide unnecessary parts if you want. So, you can make video tutorials using VideoProc easily and quickly edit them using the editing tools available here.
VideoProc is not a powerful video editor with complicated timeline video editing, but has quick editing features and lets you process videos, compress videos and convert it to any other format. It works flawlessly with 4K videos and that's an advantage because we all record 4K videos from our smartphones now. Additional tools such as recorder, downloader, and DVD make it even better. If you are looking for an easy to use 4K video editor to edit videos for posting on social media, this one is a good option.
VideoProc is also running a special offer for all visitors. In this season, you can get a VideoProc lifetime version with a 60% discount. Get VideoProc licensed copy now.