iPhone 7 Plus vs iPhone 6S Plus: Which is Better?
It's that time of the year again when the world goes bonkers for Apple's new devices. This year Apple unveiled two new devices, the iPhone 7 and iPhone 7 Plus.  iPhone 7 Plus is the bigger of the two and has a dual lens camera.
We take a look at iPhone 7 plus and compare it with iPhone 6S Plus in terms of Design and Performance. So let's get started.
Design: 
The major change that you'd notice on the iPhone 7 and 7 Plus is the missing headphone jack. This change has caused and backlash and is being slammed by people on the internet.
The camera lens is wider, thanks to iPhone 7 Plus' dual lens camera.
Apart from this, the iPhone 7 Plus and iPhone 6S Plus look pretty much similar. They both flaunt a metal body with the same dimensions. However, the 7 Plus boasts off an extra speaker for better sound output.
There isn't a 'Space Grey' version of iPhone 7 Plus, which was seen on iPhone 6S Plus. Instead, two new colors Black and Jet Black were introduced. And trust me, Matt Black color is awesome while Jet Black is prone to scratches.
The iPhone 7 Plus is IP67 certified water resistant and dust resistant, which give it a slight edge over 6S Plus.
Display: 
There isn't much difference between iPhone 7 Plus and iPhone 6S Plus. Both the devices flaunt a 5.5-inch display with 1080×1920 resolution. The 3D touch is present in both the phones and the display is high quality.
The only difference is that the iPhone 7 Plus has a brighter screen and a greater color range. So, you will get better experience.
Performance: 
The iPhone 7 Plus is more powerful than its predecessor, thanks to its quad-core A10 Fusion processor at its core. This brand new chip makes iPhone 7 Plus run up to two times faster than the previous device.
When it comes to Gaming, iPhone 7 Plus is still in the lead thanks to its powerful GPU which makes it 3x faster than the iPhone 6S Plus.
Although we aren't sure of the battery capacity of the iPhone 7 Plus, Apple promises that it would last two hours longer than the iPhone 6S Plus. It is because the new A10 Fusion chip saves battery.
Both the devices are set to have iOS 10, while iPhone 7 Plus will roll out with the new OS, the older device will receive an update.
The internal storage has been doubled for iPhone 7 Plus as it now comes in three storage options; 32GB, 128GB, and 256GB. iPhone 6S Plus now will be available with 32GB and 128GB storage as well.
Camera: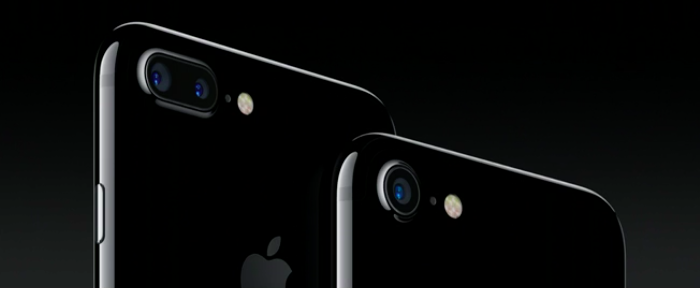 As mentioned earlier, Camera is the biggest change in iPhone 7 Plus. It has the same 12MP sensor as seen in the iPhone 6S Plus, however, has Dual lens alongside quad LED flash. It is 60% faster than the previous models.
The dual lens enables the iPhone 7 Plus to take wide angle shots with 2x optical zoom with the loss of quality. Dual camera is a nice addition by Apple and you will surely realize the difference if you try clicking pictures from both phones at the same time. Apple iPhone 7 Plus will offer great camera experience. Well, I have not personally experienced the camera of iPhone 7 Plus but I have seen the dual camera experience in Huawei P9. So, I know why this camera is worth to try.
Other Noticeable Differences
The iPhone 7 Plus got stereo speakers for better multimedia experience. If you use your smartphone for watching movies, you will surely feel the difference.
Price: 
The iPhone 7 Plus will be available for $769, $869 and $969 for the 32GB, 128GB, and 256GB devices respectively.
The price of iPhone 6S Plus has been dropped to $649 for 32GB and $749 for 128GB.
However, recent reports state that Apple has set MRP of Rs. 60,000 for iPhone 7 in India, which 35% more than the price in America. It will be available on October 7th in the subcontinent.
Verdict: 
There are few features that place iPhone 7 Plus above the 6S Plus, thanks to its water resistance, dual rear camera, and newer processors. So, iPhone 7 Plus is better in terms of performance and camera. This phone is water resistant as well. However, it has the same size and runs on the same OS.
If the price doesn't matter to you and if you are excited about the 'AirPods', the iPhone 7 Plus is the device for you. But, you will not be able to charge the phone and enjoy music at the same time and for this, you will be forced to AirPods which are costly.
If you are not excited to try dual rear camera, you can go with iPhone 6S Plus and save $120 for you. But, we recommend to go with iPhone 7 Plus, if you are looking to buy a new phone.