Shipment Delay of Micromax A116 Canvas HD, Price Revised to Rs. 14,499
If you have ordered Micromax A116 Canvas HD, we have a bad news for you. Snapdeal has confirmed that the shipment will be delayed by 10 days. Micromax A116 Canvas HD was launched on Feb 14 and sold out in just 15 minutes. Most of the customers are still waiting for their smartphone.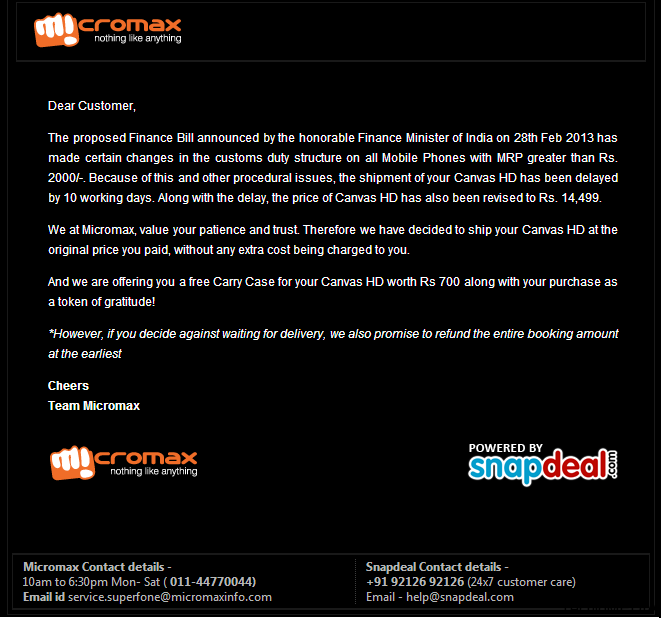 Micromax has partnered with Snapdeal for the shipment of the smartphone. But Snapdeal is facing huge problem to fulfill the demand. Customers are also angry and many have already cancelled the order.
"We know that some of you have been facing issue with regard to the Order placed for Micromax Canvas HD. We understand your concern and it is unfortunate that Micromax had to delay the orders due to procedural issues. Our team has vehemently dispatched the first lot of the orders despite the demand for it being at its peak. We along with Micromax have communicated by an e-mail(publish with this post) to each and every customer about the reason for the delay and the next course of action," Snapdeal posted on Facebook.
Micromax has sent emails to all customers regarding the delay. Company says that the Finance Bill announced by the honorable Finance Minister of India on 28th Feb 2013 is the main reason for the delay. In the bill, there are few changes in he custom duty structure for the phones priced more than Rs. 2000.
Micromax also confirms that the price of Micromax A116 Canvas HD has also been revised to Rs. 14,499. People who already ordered the smartphone will receive the phone at the price they ordered. Micromax also promised the free Carry Case for your Canvas HD worth Rs 700 along with smartphone.
Have you ordered the phone? Do you think company is treating customers fine? Share your views with us via comments.