Facebook launches article hosting service "Instant Articles"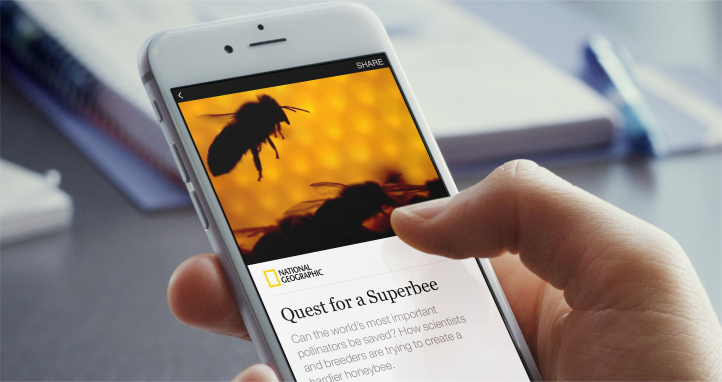 Earlier it was rumoured that Facebook is planning to bring content hosting service. Now, company has officially launched "Instant Articles," a new format of content that will be loaded into the Facebook's app itself. So, users will not have to click and wait for other website to load. As of now, this is only available for iPhone app of Facebook.
Company has launched this new service with the few selected publishers including USA's The New York Times, National Geographic, BuzzFeed, NBC and The Atlantic; the UK's The Guardian and BBC News, and Germany's Spiegel and Bild.
Facebook has developed this new platform to offer publishers more features. Publishers will be able to add high-quality images which users can zoom in app, video, audio captions and interactive maps.
Facebook also claims that articles will load much faster than the time it takes in opening website in browser. Facebook claims that it takes around 8 seconds in opening a link in browser after it has been clicked in app. But with this service, content will be loaded within few milliseconds. Facebook will also parse article in the manner to bring the exact typography on the app as it is in the publisher's website.
This service has been designed by the team behind Facebook's standalone new reader app Paper. Facebook has learnt users' behaviour from paper and now it has been implemented in the Facebook's main app as a form of "Instant articles."
"Fundamentally, this is a tool that enables publishers to provide a better experience for their readers on Facebook" said Facebook Chief Product Officer Chris Cox. "Instant Articles lets them deliver fast, interactive articles while maintaining control of their content and business models."
Partner publishers have also shown their pleasure to be the part of this new content hosting service of Facebook.
"It is great to see Facebook trialling new ways for quality journalism to flourish on mobile," said Tony Danker, International Director, Guardian News & Media. "The Guardian is keen to test how the new platform can provide an even more engaging experience for our readers. It is then vital that, over time, Instant Articles delivers recurring benefit for publishers, whose continued investment in original content underpins its success."
What will publishers get with this?
Publishers who will be the part of it will have access to Facebook's platform in which users can now engage with articles in faster manner. Facebook also allows publishers to add single 300 x 250 banner ad unit with 100 % revenue for publisher. If they have unsold inventory on their article, Facebook will show ad via its own ad network and give publishers 70% of that revenue.
Facebook also offers analytics that can be integrated with Google analytics or Adobe Omniture. So, publishers do not need to worry about traffic drop in the analytics. If a user request for the article in the app, it will also be counted as one visit in Google analytics of other analytics service. ComScore will also count this traffic and award it to publishers.
Publishers are not bound to use the product. So, they can decide how much articles they want to publish via this platform. They can also keep on posting articles as they regularly do.
One thing which publishers who are not the part of it will surely think that Facebook can promote these articles over traditional link shared on Facebook. But Facebook has made it clear that its news feed algorithm will not promote the new format over traditional links. So, other publishers should not have to worry about this. But of course, these articles will have different and appealing look in news feed and hence more click through rate.
What will Facebook get with this?
Facebook is not going to make any financial profit because it is offering 100% ad revenue to publishers. But this new platform will keep users within the platform. So, users will always be in the Facebook app. If the platform becomes successful in future, Facebook can bring few ways to monetize users engagement with articles.
This new service seems good but if you look broadly, it has few drawbacks. Publishers will not have proper control over ads and Facebook is only allowing least profitable ad-unit. Facebook can change the terms and conditions any time to and it could be a problem for publishers in future. Facebook is one of the biggest source of referral traffic and with this new platform, it does not want users to leave its app. So, hosted content will keep users on the app and hence more chance of activity from the user.
Facebook already has more than 1.2 billion users and it only wants to keep users on its platform to increase engagement and revenue. This is the reason, it is expanding all its apps and service in the way to keep users always in its platform. This is why it launched Messenger for business and also reduced the page reach to force business owners use its advertising. It also adds selling option in Groups and video section in pages. All these things to keep users engaging on its own platform. If some service try to compete and beats Facebook, Facebook instantly bid to buy it. This is what it did with Instagram and Whatsapp. It is also trying its best to buy Snapchat.