The keyboard is an essential part our smartphone, therefore, having a good keyboard is a necessity. With a good keyboard app, you can have good typing experience. It saves time and reduces the number of errors. In the era of the smartphone, there are many Keyboard' apps. While selecting keyboard app, the most important issue is security. As everything one type with the help of keyboard is recorded. Therefore, the keyboard should be such secure so that the user need not to worry about the stealing you emails' information or passwords. So, you should always install trusted apps.
There are many Android keyboards. Some of the best keyboard apps for Android are listed below. If you were looking for keyboards for Android, you can take a look at the list below.
Core i5 Laptops with 2 GB graphics from Rs 35990
Big deals on laptops
Best Android keyboard apps
1. Swype Keyboard:
Swype is one of the most popular keyboard apps for Android. As per the name it employs swipe method for taking character input. One can slide his/her finger on the Swype keyboard across the letters of the word one wishes to type and when the word finished, put the finger up from the keyboard. Cut/Copy/Paste functions are embedded in this keyboard as a gesture.
It has now become a common feature of every keyboard but Swype is the one who brought this feature. The unique feature of this keyboard is that it learns from your messaging habits and updates its dictionary automatically. Another feature is that it creates automatic space in between the words while typing. Swype keyboard supports typing in two languages at once.
Swype keyboard offers the free version but its full version is a dollar cost and if you want the themes feature then you have to pay additional two dollars.
2. SwiftKey: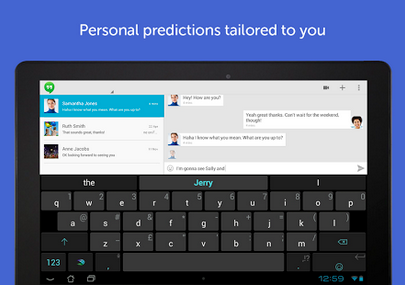 Another most well-known keyboard app that is available in the Google Play Store is the Swiftkey. It has one of the finest interfaces available on Android. Many phones and tablet have preinstalled Swiftkey app.
It has the similar feature of swipe as of Swype keyboard but swiftkey calls it 'flow'. Swiftkey's prediction method is known as 'fluency engine' which attracts its users. There are many options for keyboard size and layout including an intriguing 'thumb' mode. This thumb mode creates a space in between the left and right half of the keyboard.
Swiftkey used to be paid app but now it is a free app since last year. The themes for the keyboard have price.
3. Google Keyboard:
The Google Company has made the android keyboard with very simple interface. It has a ton of languages, text-to-speech, gesture typing, material design themes and a lot more. In short, it is a complete package with a clean interface.
Google keyboard is the first keyboard to feature the full library of KitKat emoji. It also learns from the typing of the user.
The Google keyboard is of free of cost which is available on Google Play Store. It is compatible with devices running Android 4.4 and above versions. If your device has Android 4.4 or higher, you do not need to go for other keyboard apps for Android.
4. TouchPal:
The TouchPal keyboard is not very popular one but has many useful features in it. It features over 85 languages, focused on emoji/emoji art/smiley/pictures, swipe and cloud prediction and contextual prediction.
It is available for free but the themes of the keyboard come with a cost. You have also an option for upload an image as a background and that too in free.
5. Flesky: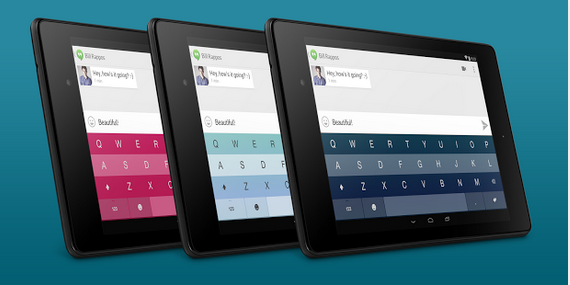 The Flesky does not have the swiping features. It basically focuses on speed and accuracy, with large buttons and brilliant autocorrect. It is extremely user-friendly. It has the ability to shrink the keyboard and even makes it invisible. With this invisible keyboard, it works in a very cool way.
It delivers accurate typing with its default button size. It has a feature of swipe up and swipes down functions for adding and correcting new words in its dictionary.
With these great features, it is not a cheap keyboard. It has 30-day trial period which you can enjoy for free. If you like this app, you can go for the premium version of the app which costs $1.99.
Hope you enjoyed this article on keyboard apps for Android. Please do tell us in comments below about your favorite android keyboard app.
Features image credit: Pixabay.com
---
Advertisement
---