Xiaomi Mi Power bank Review
Chinese mobile phone company Xiaomi has created lots of buzz in Indian smartphone market by launching its high end smartphones at very affordable price. Now, it has also launched its Mi Powerbank in India. With high battery capacity and less price makes this powerbank a hot deal online. As we know that smartphone battery cannot last longer than a day, powerbank is a must have thing if you usually go on trip and travell a log. With a powerbank, you can charge your smartphone on the go. In past, we have also posted a list of top 5 powerbank available in Indian market. But Xiaomi powerbank reallt impressed with its quality and price. So, we decided to give it a try and write a review about it.
Xiaomi Mi Powerbank is available in two battery capacity variants. One with 10400 mAh battery capacity and other one with 5200 mAh battery capacity. You can order as per your need and budget.  10400 mAh comes at a price of Rs. 999 and the 5200 mAh comes at Rs. 799. And yes, you got it right, we didn't make mistake on pricing.
Design
Design of the powerbank is inspired with Apple products. Look and feel is good. It comes with a aluminium casing to protect it from physical damage. Xiaomi also says that surface is water and corrosion resistant. As per the official documents, it can withstand a 50kg pressure limit. At top and bottom, it has plastic parts. At one end, it has power button, LED indicator lights, micro USB port and fregular USB port. These LED Indicator lights indicate the power level of the powerbank. Size and weight of the powerbank makes it easier to carry. It weighs around 250 grams.
It is worth to note that powerbank is not really required. Because powerbank automatically turn on and charge the device when the powerbank is connected with a smartphone. Then why Does Xiaomi add a power button. Answer is simple. You can check the power level of the powerbank by pressing the power button. Each LED represents the 25% charge. If all four LED lights are lit and not blinking, your Power Bank is fully charged.
It has a 2.1A output and 2A input for fast charging and recharging.
Before launching the product in market, Xiaomi has doe extensive testing. USB port of the powerbank has been tested for 1500 removal cycle and micro USB port has been tested for 500 removal cycle. Xiaomi claims that this powerbank was also tested on 70 degree high temperatur for 96 hours and -40 degree low temperatur for 96 hours. It means, this Mi Powerbank can be used in most of the part of world without any problem. But we didn't do these tests from our end, se cannot say about the authenticity of the claims.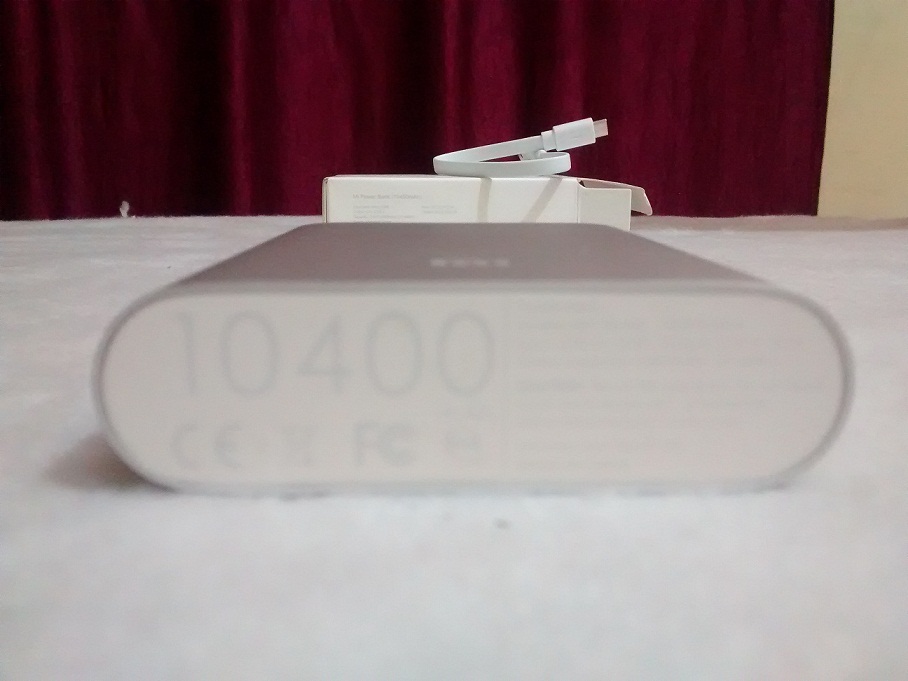 Performance
Mi Power bank is compatible with most of the smartphones and Digital Cameras and other handheld gaming devices which are capable of charging via USB. We tested it with Samsung, Nokia and Motorola smartphones and it was working fine. You can charge your smartphone up to 4 times if the powerbank is fully charged. But the number of charging cycle depends on the battery capacity of your smartphone. For example. ot can charge iPad Mini 1.5 times and iPhone 5S 4.5 times.
The only thing I missed was the capability of charging two devices. Although, you can buy a Multi Function USB Data Cable to charge more than one device at a time.
| | |
| --- | --- |
| Model | NDY-02-AD |
| Battery Type | Lithium-ion |
| Capacity | 3.6V/10400mAh |
| Power Source | DC 5V |
| Input voltage | DC 5.1V |
| Input current | 2.0A(TYP) |
| Output Current | 2.1A(TYP) |
| Size | 90.5 x 77 x 21 |
| Weight | 250g |
| Feature | Auto-detect the plug-in and plug-out of the device |
| Charging time | 5.5 hours with 5V/2A / 12 hours with 5V/1A |
Pros

Good look and Build Quality
Cheap
High charge capacity

Cons

Single USB Port
Huge demand but not easily available