Several Windows 8 Apps Reach One Million Downloads Mark
Few days back, we heard that Microsoft's windows app store has only 20,00 apps. Today, company CEO, Steve Balmer announced that some Windows 8 app store have crossed 1 million download mark. But he did not mention the name of apps.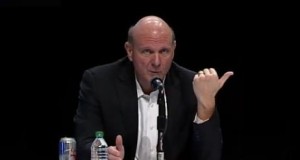 "We know for sure that people get it, and like it," Ballmer said about Windows 8. "Consumers are using the features and downloading new applications. In fact, several apps have reached already 1 million downloads," he continued.
Microsoft is happy with the number of apps in Window Store. With these number of apps, it has managed to overtake Mac store which only has 13,000 apps. Microsoft is also expecting 1,00,000 apps mark by February 2013.
He also revealed the number of new PC's that have been qualified to run Microsoft's latest operating system Windows 8. He said, "I'm pleased to announce that the number of certified Windows 8 PCs has grown from 1,000 to 1,500. Those new devices will really start to hit the shelves worldwide in the coming weeks and coming months."