Amazon Launches Official "Send to Kindle" Extension For Chrome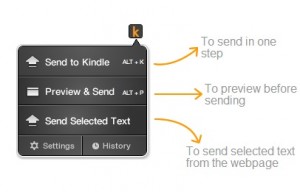 Amazon has now officially launched the "Send to Kindle" extension for Google Chrome. As the name suggests, the extension is designed to make it easy to send stuff you want to read to your Kindle. Now users can send news articles, blog posts and other web pages to Kindle devices. It also allows users to select the text and then send it to kindle.
This extension aims to make web articles easier to read.
Key features include:
Send news articles, blog posts and other web content to Kindle.
Send web content to Kindle in one step or preview before you send.
Select text from the web page and send it to your Kindle.
Read anytime, everywhere on your Kindle devices and reading apps.
Choose to archive content in your Kindle library, where you can re-download it conveniently at any time.
Once you have downloaded the extension to your Google Chrome web browser, it adds a button on the omnibar. Clicking on this will allow you to access the features of this extension.