YouTube Gets GIF Creator Tool
There are various tools which let users create GIF animations from a YouTube video. But those tools are not useless because YouTube had added a built-in GIF creator tool. But this feature is enabled only few videos. Andy Baio spotted it on video from PBS' Idea Channel.
This tool is very simple and easy to use. Just click on Share button below video. Here, you will see a new option 'GIF.' Clicking on it will open GIF creator. You can add start and end time, text to be added at top and bottom as caption. Once you are done with normal settings, you can hit 'Create GIF button' to create GIF.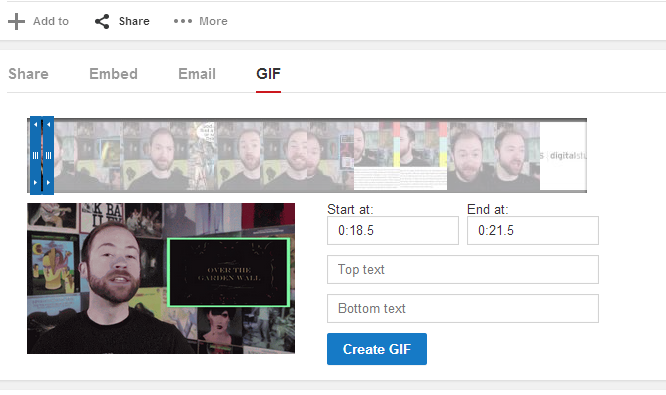 Good thing is that YouTube itself hosts the GIF animations. You will also get direct link and embed link for GIF to share on your blogs. So, now creating and share GIF images from YouTube is video is simple and faster.
This feature is really helpful and third party tools will have to find a new business. We cannot say when it will be available for all videos. Stay tuned for latest updates. We will be publishing the post when this feature will be rolled out globally.
Source: TechCrunch