3 Best Gaming Headset Stands in 2021
You can put your headset on the table when you are not playing games but there are a few people who use a dedicated headset stand to put the headphone on it. A headset stand or headphone stand helps in reducing clutter on the table and looks good. Some people say a headset stand also gives the headset a safer place to rest. I don't think there's any safety benefit until you are not throwing your headset on the table. You can also safely put it on the table, above the monitor, or your PC cabinet when not in use. Some monitors and cabinets also come with a dedicated headset stand.
Gaming headset stands are usually expensive than ordinary Headset stands. The reason is RGB lighting and extra USB ports. So, Gaming Headset stands can also act as a USB hub for your gaming PC. That is the reason Gaming Headset stands are usually costlier than regular headphone stands.
Now if you have decided to buy a good gaming headset stand to make your gaming setup look even better, keep reading. In this article, I will be taking a look at the best gaming headset stands.
Also see:
Best Gaming Headset Stands
1. Razer Base Station Chroma HeadPhone/headset Stand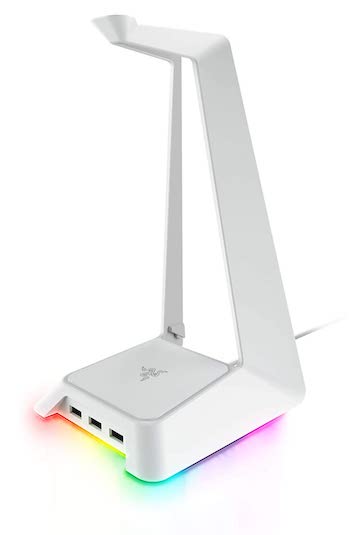 Razer is known for offering premium gaming devices. The company also sells premium gaming headset stands. Razer Base Station Chroma is the best gaming headset stand you can get. This can also act as a USB 3.0 hub. That's the reason for high pricing.
This gaming headset stand is made of high-grade plastic and has an anti-slip feel to offer stability. It also includes a 3-port USB 3.0 hub with audio-pass through. So, you can directly connect your devices and headphones to the stand. The design is detachable. You can detach the headphone stand and keep using it as a USB hub.
The headphone stand also has RGB lighting that has Razer Chroma integrations. The lightings also react to Windows notifications. Ths RGB lighting makes it suitable for your gaming setup.
The primary con of the headphone stand is the small cable. You will have to keep it near the PC cabinet to connect it to the USB of the Cabinet. Another con could be the pricing.
Price: Rs. 6999
Buy Here: Amazon
2. CORSAIR ST100
CORSAIR ST100 is also a premium headset stand for gamers. CORSAIR is also a known gaming products brand. Its CORSAIR ST100 is a premium gaming headset with RGB light integration. The gaming headset is made of aluminum and looks really premium. It has a rubberized base to prevent slipping.
The reason why this gaming headset stand is pricy because it enables virtual surround sound on any 3.5mm analog headset. The built-in 3.5mm jack creates full-range stereo or 7.1 surround sound for an improved audio experience. It also has dual USB 3.1 Gen1 ports for faster data speeds and charging.
You can use CORSAIR Utility Engine software to control the RGB lights. The software also lets you sync the RGB lights of the headset stand with other CORSAIR products you own such as a keyboard, mouse, mousepad, and headset.
Price: Rs. 5999
Buy Here: Amazon
3. Redragon Scepter PRO HA300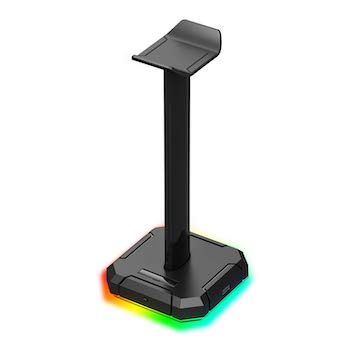 If you want a cost-effective option without compromising with RGB lighting, Redragon Scepter PRO HA300 is a good gaming headphone stand for you. Redragon Scepter PRO HA300 is made of aluminum to offer a durable construction. It has dynamic RGB lighting with 10 light effect mode options. There is a dedicated button to change the RGB light effect. The base has a non-slip rubberized pad to avoid slipping.
The base also has 4 USB 2.0 ports and can act as a USB Hub for your gaming PC. So, you can connect and charge other devices.
Price: Rs. 1699
Buy Here: Amazon
Wrap Up
Not many gaming headsets are available in the market. I also didn't include gaming headsets that cost more than Rs. 10000. Obviously, that doesn't make sense to put a huge amount on a gaming headset just to show off. Obviously, these gaming headsets also act as a USB hub for your PC. So, they help in removing clutter from the desk. In case you still find these unaffordable, you can get any regular good looking headset priced around Rs. 500. MTANK Headphone Stand Wood is the one I can recommend.