5 Best Gaming PC Cabinets Under Rs. 5000
If you are building a gaming PC, it is important to get the right cabinet. Cabinet not just holds components, but it can also improve the look of your gaming setup. This is the reason people usually prefer having a gaming PC cabinet with good shape and pretty RGB lighting. Most people now purchase the cabinet with a glass panel so it can flaunt the RGB lighting installed in the components. A cabinet with proper airflow is also important to keep the internals cool. So, always do good research before getting a cabinet. In this article, I am listing the best Gaming PC Cabinet Under Rs. 5000. If you have a budget of Rs. 5000, you can get one of these cabinets for a cool gaming setup.
Also see: Gaming PC Cabinets under Rs. 3000
RGB PC Cabinets Under Rs. 5000
1. Cooler Master MasterBox RGB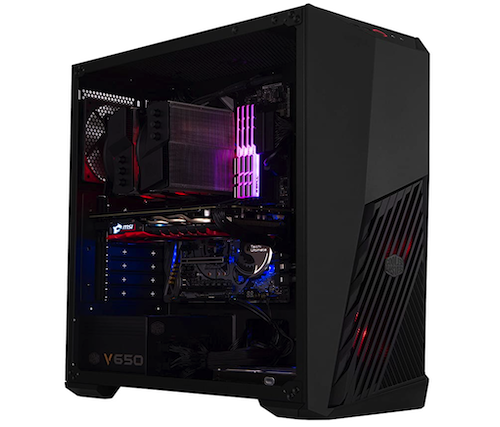 Cooler Master MasterBox RGB is the best gaming PC cabinet in this segment. This cabinet has a good design and is made for gamers. It has a proper ventilator for airflow. The side panel is transparent to show off your glowing internals. The illuminated power button. The build quality is also good and it has good space inside. The company provides a pre-installed 120mm RGB fan on the front and a normal 120mm fan on the rear.
It also supports two 360mm radiators on the top and front panel for adding extreme cooling. It supports Mini-ITX, Micro-ATX, and ATX boards. There are 4 2.5″ DRIVE BAYS and 7 expansion slots.
Buy Here: Amazon
2. Ant Esports ICE-511MT
Ant Esports ICE-511MT is another excellent gaming PC cabinet with good design, proper airflow for cooling, and support for cool RGB lighting. This gaming PC tablet has a mesh front panel for efficient airflow. There is a sliding tempered glass panel on the side to showcase your build and lurching. The front side has 3 120mm fans with auto RGB logging. You can control this lighting using the I/O panel. It supports
It supports all standing motherboards including E-ATX, ATX, Micro-ATX, Mini-ITX. There is an extra SSD bracket on the side. It has 4 2.5-inch and 2 3.5inch slots. There are 7 expansionists slow and support for vertical VGA card.
Buy Here: Amazon
3. Zebronics Zeb Viking
Zebronics Zeb Viking is also a premium gaming PC cabinet under 5000 INR. It has an RGB strip on the front and a tempered glass side panel. There are also magnetic dust filters. The design is optimized for proper airflow. The cabinet also has multiple fan mounting spaces for getting cooling the way you want.
It supports ATX, mATX, and ITX boasts. There are two 3.5-inch, two 2.5-inch drive slots, and 7 expansion slots. There is also space for cable management. The space for the power supply has been given at the bottom where It also has RGB backlit.
Buy Here: Amazon
4. MSI MAG FORGE 100R gaming PC case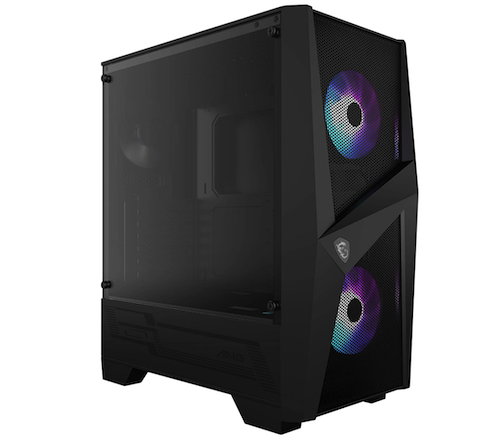 This is a mid-tower gaming PC case that supports ATX, M-ATX, and Mini ITX boasts. It comes with 2 RGB fans on the front and a normal fan on the back. This case also has good design and proper ventilation and fan support. It also comes with magnetic dust filter and RGB lighting support. There is a 4mm thick tempered glass on the side to show off internals and lighting.
It has 2 2 x 3.5″ and 3 x 2.5″ drive slots. It also supports 120 / 240 mm Front radiator and 120 / 240 mm Rear radiator.
Buy Here: Amazon
5. Thermaltake H200 Mid Tower Case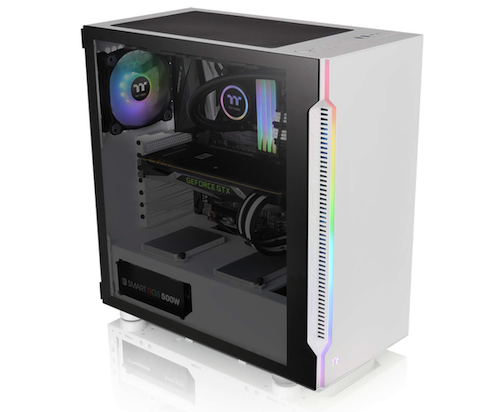 If you want a unique look for your gaming setup, get this white gaming PC cabinet. It is also available in Black color if you want. It has a clean look and tempered glass on the side. The side tempered glass has been added as a door with hinge. So, opening and closing the panel is really easy. It has RGB lightfor elegant style.
The PC case supports up to ATX motherboards and comes with preinstalled standard 120mm fan. It has an RGB button. You can switch between 19 lighting modes using this button. It supports tower CPU cooler with maximum height 180mm, a dual VGA expansion slot of up to 320mm and a power supply with length of up to 160mm.
Buy Here: Amazon