5 Best Bluetooth Speakers Under 3000 INR
If you are a music lover and looking for a good Bluetooth speaker under 300 India, you are at the right place. In this article, we are adding 5 best Bluetooth speakers under Rs. 3000 in India. Rs. 3000 budget is good enough to buy a small but good Bluetooth speaker that you can carry with you. You can carry it with you during trips and listen to music with friends.
We have checked several products before making this list. Not adding too many products to keep the list short and make less confusion in your mind. So, have a look at our list of best Bluetooth speakers under 3000 INR.
Also see: Best Bluetooth speakers under Rs. 5000
Best Bluetooth Speakers Under 3000 INR
1. Boat Stone 1000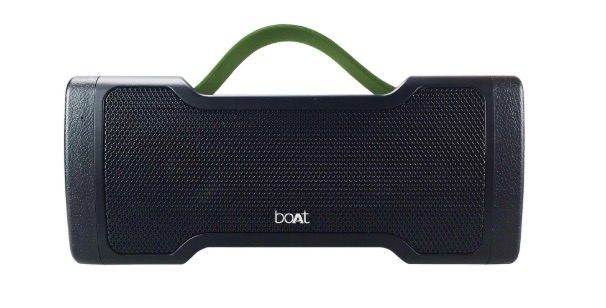 Boat Stone 1000 is the best Bluetooth speaker under 3000 INR. This speaker has a solid build and good audio quality to top the list. The speaker has a unique design and good build quality. The IPX5 rating makes it waterproof and shockproof. So, it is also a good one to use in outdoor parties. The body of the speaker is constructed of durable silicone, rubber matte finish. So, it can survive accidental drops. At the left side, it has control buttons to control volume and track. It also has an AUX port and you need to switch the mode by pressing the M button. There's also a grab handle that makes it easy to carry.
It is rated for 14W sound and the passive radiator adds bass. The speaker performs well and impresses with its music delivery, but the bass is not impressive. It is loud enough for poolside parties or outdoor usage. At the lowest volume, the sound feels a bit distorted but not much. So, you can keep enjoying music. There is also a built-in microphone for hands-free calls. Mic
Another good thing is its battery life. It offers around 7.5 hours of continuous music playback on 60-70% volume. So, the battery backup is good enough to suit the requirements of most of the people. This battery also takes
Pros
Cons

Loud sound
Auto sleeps when Bluetooth is disconnected
Good battery
Solid Build
Grab handle

Low bass
Old Bluetooth version
Buy Here: Amazon
2. ZAAP Hydra Xtreme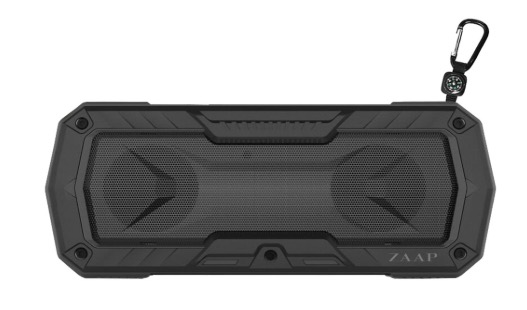 ZAAP Hydra Xtreme is another rugged and good Bluetooth speaker you can buy in a budget of Rs. 3000. The speaker's design makes it unique. It has solid body and its rubberized rugged exterior makes it shockproof. The speaker comes with Ip65 rating that makes it Water, Shock, Snow, and Dustproof. So, it can be a good speaker for trekkers and travelers who sometimes go on extreme trips. It also has a clip to attach it to your backpack or your clothes.
The speaker has two 50 mm drivers rated for offering 12 watts of power. It delivers a full 360° high definition sound and sound quality is really impressive. The passive sound enhances the bass. The speaker performs well in both indoor and outdoor conditions. The rugged build makes it ideal for poolside parties as well.
Not just impressive sound, battery backup is also good. It offers around 8 hours of playback with a single charge. It also claims to use the latest Bluetooth version that consumes less battery.
Pros
Cons

IP65 rating
Rugged build
Good sound
Good battery backup

Unidirectional sound
Distortion on high volume
Buy Here: Amazon
3. JBL Clip 3
JBL Clip 3 has been designed especially for travelers. It is portable and small in size to fit in your bag. As the name says, it has a built-in clip for attaching it to your bag or clothes. It is waterproof. So you don't need to worry about rain or spills. You can even immerse it in water.
JBL Clip 3 comes with a speaker rated to deliver 3.3W power. Speaker performs well. Sound is not loud much for outdoor parties, but you can have a good music session when you are on a trip. For indoor and poolside parties, this speaker is good. Music remains almost flat with negligible bass. Vocal quality in songs is good. It also has a microphone, so you can take calls from the speaker. Microphone performs well and you won't face any problem in calls.
Even if it is small in size, the small battery offers excellent battery backup. It offers around 10 hours of battery back with a single charge. The battery is the main thing that makes it impressive and a good one to consider.
Pros
Cons

Good battery
Solid Build
IPX7 waterproof
Vocal quality in songs
Solid connection strength

Low bass
No
high-quality streaming codecs
Buy Here: JBL
4. Tagg Sonic Angle 1
This speaker is also worth to consider in this segment. It is also the cheapest one in this list. The speaker comes with a good build and has IPX45 rating. So, it is splash proof and can survive water drops and in rain. It has volume and track control buttons on the left side. There is also a LED pairing indicator at top right corner.
Sound quality is good and the front facing 45 mm drivers performs well. It has two drivers rated to deliver 5w each. The sound is flat but clear. Sound also doesn't distort at high volume. The audio quality remained pretty good across all genres. The passive radiator for bass doesn't impress but good enough for this price. There's also a 3.5 mm audio jack for connecting the speaker directly to your laptop or phone for music.
There is a built-in mic that is average in performance. Sound is low and the other person will get a very low voice. The good thing is that it supports voice assistant and you can use the mic to give voice commands to Siri and Assistant.
It packs 2200 mAh battery that performs well and you can easily get up to 8 hours of music playback. The only drawback is that it takes a long time in charging.
Pros
Cons

Good design
Water resistant
Good sound
Great battery

Average bass
Average quality of Mic
Long charging time
Buy Here: Amazon
5. JBL GO 2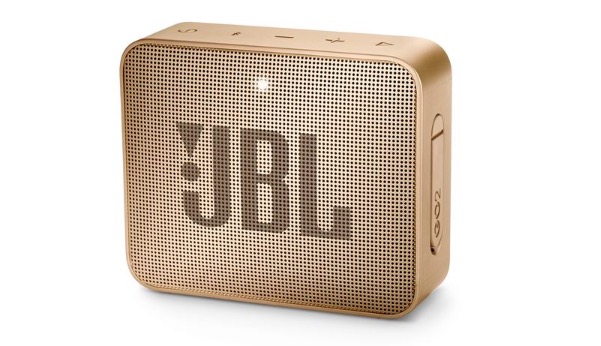 JBL GO 2 is another excellent mini Bluetooth speaker but falls short in few things. That's the reason I am adding it to the last. The most notable thing is its build quality and size. It is small to be perfect for a trip companion. It has IPX7 rated for being water resistance. It can be submerged into 1m of water up to 30 minutes. So it is good for outdoor trips and poolside parties. It is made of plastic with a rubber coating, so it can also survive accidental drops.
The speaker is good considering its price. It offers a clear and good sound. Bass is average, but others available in this segment are also average in this. The mids and highs sound tight and smooth on this speaker. It is also not much loud. It is best for a genre that focuses on vocals or for watching movies. There is also an inbuilt microphone that performs well.
It performs average in battery and just offers 5 hours of run time with a fully charged battery.
Pros
Cons

IPX7 water resistance
Solid build
Ultra-compact form factor
Speakerphone capability

Average bass
Average Battery backup
Buy Here: JBL
Recommended Videos