7 Best Bluetooth Earphones Under Rs. 3000 – 2020
Wired earphones are becoming outdated now. People now prefer wireless earphones to avoid wires. Wireless earphones are also easy to carry. We have already posted a list of the best wireless earphones under 2000 INR. If you want to cut the budget, you can check that list. In this article, I will be posting the list of best Bluetooth earphones under 3000 INR. These earphones are better in music, build, and battery as compared to cheaper options.
I have considered several factors while listing these Bluetooth earphones. Of course, sound quality is the primary factor along with build quality, features, control options, and comfort. Bluetooth earphones are now much better than before and offer a good music experience. I have tested a few Bluetooth earphones and based on my experince, I am making this list of best Bluetooth earphones under 3000 INR available in the Indian market.
Not all phones support high-quality music streaming over Bluetooth. So, it is not always the phone's fault. Sometimes, it is your phone. If you have an entry-level phone, you shouldn't expect extraordinary performance.
My Recommendation: Sony WI-XB400 (Rs. 3399) with 15 hours of battery backup and excellent music
Best Bluetooth Earphones Under 3000 INR
Here is the list of the best Bluetooth earphones under Rs. 3000.
1. Ravtek Extreme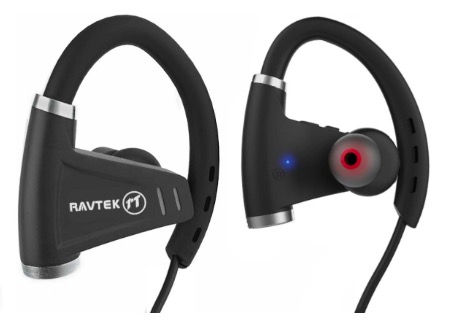 Ravtek is a new brand but its amazing quality makes it worth recommending as best Bluetooth earphones under 3000 INR. This earphone has been designed for Indian consumers who want a good bass. This earphone offers excellent music experience and you will surely love it. Earphones are loud and offer good bass. There's also a microphone for answering calls. Calling experince of the earphone is also good and your voice will be audible on the other side.
It uses 4.2 Bluetooth technology for reliable connection and low power consumption. As soon as your turn it on, it will try to connect the device it was previously connected. If your phone's Bluetooth is on, it will take less than 3 seconds in connecting. Battery life is also excellent as it offers up to 12 hours of battery backup on a single charge. So, not just good music, you are also getting a good battery backup.
The earphone offers a secure fit, so it is perfect to use during running, jogging or exercising. You also get ear tips of three different sizes to get a perfect fit for yourself. It is also IPX 7 rated for being waterproof and sweatproof. The only thing one may not like is the bulky size. It covers the ear due to its shape but that also provides a proper fit.
Read: Ravtek Extreme Review
Tech Specs
Frequency Range: 20Hz~20KHz
Bluetooth: BT 4.2
IPX 7 Waterproof
CVC 6.0 Noise Cancellation
Battery Life: 12 Hours
Buy Here: Vplak
2. Skullcandy Ink'd+ Bluetooth Headset
Skullcandy Ink'd+ Bluetooth Headset is the neckband style earphone and is the best of you have a budget of Rs. 3000. It performs well and offers an excellent music experience. It has powerful bass, so you will love it if you enjoy party songs. Low ends are overpowering, but the overall experience is great. So, you will surely love its audio performance. It is also comfortable and fits perfectly. It also has an excellent design that looks good.
It uses Bluetooth to connect with your phone. The battery life is also excellent and it lasts for around 8 hours. It also has a built-in microphone for hands-free calls. Using the inline controls, you can control music and tracks. All these control buttons are located on the left end of the neckband. So, you will be using the left hand for these buttons.
Tech Specs
Driver Units: 10 mm
Impedance: 16 ohms
Frequency Range: 20Hz~20KHz
Bluetooth 4.1
Battery Life: 8 Hours
Price: Rs. 2899
3. TAGG Inferno
TAGG Inferno is the second option but worth to go with. TAGG Inferno offers rich sound quality. It is balanced and produces good bass and treble. Few people may feel that bass it a bit low, but I am comfortable with it. At higher volume, Sounds start mixing and fuzzing but it works fine until you are at the 70% volume level.
It feels cheap in build but is fine enough for daily usage. TAGG Inferno is IPX4 rated that makes it sweatproof. So, you can use it while workouts, running or even in light rain. It also has a built-in microphone for hands-free calling.
It offers over 7 hours of battery backup that is good for a wireless earphone.
Tech Specs
Bluetooth IC: CSR 8640
Impedance: 16 ohms
Frequency Range: 20Hz~20KHz
Bluetooth 4.1
IPX4 rated
100mAh
Battery Life: 7 Hours
Price: Rs. 2249
4. JBL Endurance Run BT
JBL Endurance Run BT features a flexible two-way design that lets you use it either in-ear or behind-the-ear. It is really lightweight and ergonomically built to offer a comfortable and secure fit. With an IPX5 rating, the earphone is sweat proof which makes it good for use during running or workout. It has an in-line button remote to control call and music. The earphone also features a microphone for hands-free calls and digital assistants. Buds also have magnets to lock them together around your neck.
The earphone packs a 120 mAh battery that promises up to 6 hours of music playback. It also supports fast charging.
Tech Specs
Impedance: 16 ohms
Speaker sensitivity: 102 db+/-3
Frequency Range: 20Hz~20KHz
Dual pairing
IPX5 rated
120 mAh battery
Battery Life: 6 Hours
Price: Rs. 2299
5. Samsung Level U
Samsung Level U is a neckband style earphone with good music and awesome battery backup. It is light in weight and well designed. It vibrated when you receive calls. It packs 12nm driver to deliver clean balanced music, but it faces It is light in weight and well designed. Unlike other products listed here, it is also not sweatproof.
It has magnetic earbuds that connect together when you are not using it. It features dual-mic noise Noise Reduction and Echo Cancellation. You can also customize your listening experience using the LEVEL APP on your phone.
The most notable advantage of this earphone is its battery life as it offers over 11 hours of battery backup.
Tech Specs
Speaker Unit: 12mm
Bluetooth 4.1
Dual-Mic Noise Reduction and Echo Cancellation
Battery Backup: 10 hours
Price: Rs. 2999
6. Sony WI-C300
Sony WI-C310 is really good in terms of sound and battery life. It offers a crisp and detailed sound that feels balanced. The soundstage is also good. It comes with Bluetooth 5 connectivity for fast pairing. So, you can use any of these options to connect with your phone. It also supports Google Assistant. The built-in noise-canceling microphone also works well.
Sony WI-C310 comes in Blue, Black, and Gold colors. You also get two extra pairs of silicone ear tips. The earphone has an asymmetrical design and the inline module is next to the left earpiece. This module has a type-c port for charging and buttons for playback control. The quality of the cable could have been better.
The company has not disclosed many tech specs. So, we cannot tell you about those things. The battery life is 15 hours with a fully charged battery. It also supports fast charging
Tech Specs
Drive Unit: 9 mm
Bluetooth 5
Frequency Response: 20 Hz–20,000 Hz
Battery Life: 15 hrs
Price: Rs. 2399
7. JBL E25BT
JBL – E25BT is also a good Bluetooth earphone under Rs. 3000. It comes with a good build and nice music experience. It is lightweight and affordable. It is comfortable and you can keep using it for hours without any issue. It offers good music, with moderate bass. If you love heavy bass, this one is not for you. For other people, this one is really good.
The earphone comes in black, blue, green, red, and white color options. So, you have plenty of colors to choose from. There are an inline mic and remote control located near to the right earpiece. It comes with three pairs of ear tips and a small carrying pouch. This earphone can be paired with the two devices simultaneously. The built-in microphone also works really good.
It comes with a good battery life and the fully charged battery lasts around 8 hours. The battery also takes around 2 hours in fully charging.
The only drawback I could find in this earphone is that it lacks any IP rating, so it is not officially waterproof.
Tech Specs
Drive Unit: 8mm
Frequency Response: 20Hz-20kHz
Impedance: 6 ohm
Bluetooth: 4.1
Battery Life: 8 hr
Price: Rs, 2799
Buy Here: Flipkart Amazon Vplak
Final Words
I have added 7 best earphones you can buy under Rs. 3000. You can go with any of these depending on your choice and requirement. I have added a proper description to clear all the doubts about these products. So, you can read the article properly before you make any decision. If you ask me the one, I will recommend the Ravtek Extreme. I recently started using it and I am really impressed with its performance. I have not tested all the products available in this segment. So, I might miss a good one. If you know any good Bluetooth earphones under 3000 INR, you can comment the name below and I will surely try that to see if that is worth mentioning here.
How to select one?
This was the list of best Bluetooth earphones under 3000 INR in the Indian market. All these are good, but you still need to take care of a few things while selecting one for you.
There's no one who would compromise in music and all earphones listed here are good in that. The next thing is the battery life. You must consider that and see what meets your needs. You should also check the charging time. It is also equally important. The earphone should not ages to charge. Eartip shape is also important. You must check that and see if it is fine for your ears.
Now, most of the earphones come with a microphone so you can also use it to receive calls. But make sure you check the presence of the mic and don't assume its presence. If you also use digital assistants like Google Assistant, Siri or Alexa, check if Bluetooth earphone also gives access to them. For example, I can long-press a button of earphones and ask the Assistant for answers. That makes life easier.
Most people use earphones while running, workout and traveling. So build quality must be good and the IP rating is recommended. It ensures that your earphones will survive water splashes and accidental exposure to water.
Which is the best Bluetooth earphones under 3000?
In my opinion, Ravtek Extreme is the best Bluetooth earphones under 3000 INR in India. I have personally used it. That's the reason I am recommending this one. You can check the review of the earphone to know more about if you have any confusion.
Which is the best earphone under 2500?
In case your budget is Rs. 2500 and you do not want to go beyond this, you can buy Samsung Level U. This is the best one you can buy in 2500 INR.