3 Best tools to merge videos online
If you have multiple video clips and want to merge them together, you need to use video editing software. There are several free and paid video editing software and mobile apps. You can use one depending on the kind of editing you want to do. here's are some links for your reference.
If you do not want to install video editing software, you can do it online. There are several online tools that let you merge videos online. You just need to upload your videos, merge and download. In this article, I will tell you how to merge videos online.
Online tools to merge videos
1. Pixiko
Pixiko is a good online tool that lets you marge videos online. You can simply upload your videos on Pixiko. It shows all the videos in a timeline where you can reorder videos.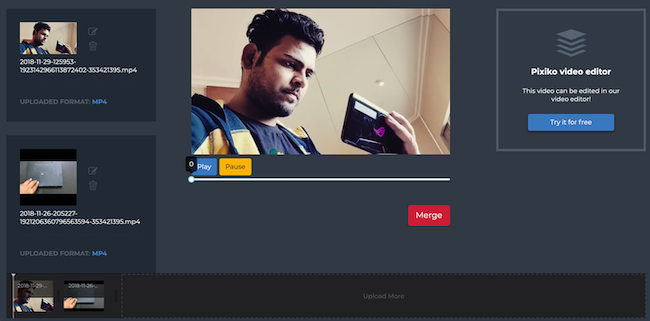 This is a simple online tool to merge videos. There are no options for further editing videos. So, you cannot trim videos or add text. Just upload videos, order, and merge. If you want editing options, you can use Pixiko editor. Along with Video Merger, Pixiko also offers Vide Trimmer, Video rotator, and a few other video tools.
This is a free tool and adds Pixiko watermark in the final video. If you are comfortable with the watermark, it is. fine. Otherwise, you can subscribe for paid subscriptions. If this is a one-time task, you can just pay $4.89 for a single video. For regular work, you can go for monthly or yearly subscriptions as per your need. These prices are the same for all the video tools on Pixiko.
2. Clideo
Clideo is another interesting online tool that lets you merge videos online. This is a bit advanced tool where you can Aldo select video aspect ratio like 1:1, 16:9, 9:16, and 5:4. You can also add audio to the final video and mute original audio. When you are done, click the Export button.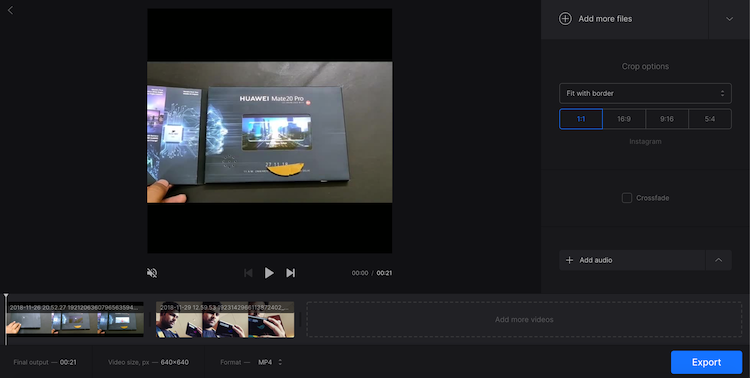 This tool also adds a watermark in the final video. If you want to remove the watermark, you can subscribe to paid subscriptions that cost $9 per month and $72 per year.
Clideo is a collection of video tools including Merge, Compress, Resize, Cut, Speed, Crop, and many more Here is the list of all video tools.
3. Kapwing
Kapwing is a collection of more than 65 different video editing tools including a tool to merge video. Upload all the videos that you want to marge and then add them to the timeline. This is an advanced video editing tool, so you can individually trim clips, remove audio from clips, speed up videos, zoom, change aspect ratio, add text, add audio, and more. When you are done, click export.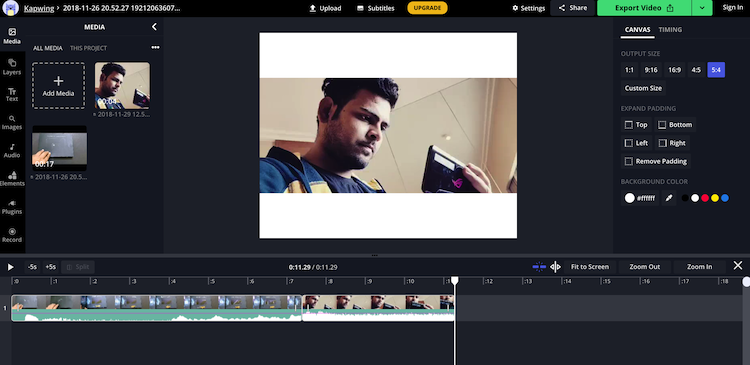 This video also adds a watermark. To remove this watermark, you just need to sign up and create a free account. So, this tool lets you merge videos and export the final video without any watermark. In this free account, you can upload up to 250MB files and export a video up to 7 minutes long. If you want more, you can purchase subscriptions starting $17 per month. Use this tool if you want to merge videos online free without watermark.
Wrap UP
Now you know a few tools that let you merge videos online. If you do not want a watermark in the video but also do not want to pay anything, use Kapwing. This tool is a good one to use. Pixiko is a good and easy to use no-nonsense video meter tool. Clideo is also an impressive tool to merge videos online.