10 Best Free Video Editing Apps For Android – 2022
Video editing is not an easy task and it requires a good video editing device, concentration, and time. Initially, we could only do video editing on computers with good configuration. Video editing requires a good amount of RAM and powerful processors. You also need a big display to review your work properly. Now smartphones are powerful enough to use for video editing, but you can not get experiences like Final Cut Pro or Adobe Premiere Pro. There are several smartphone video editing apps that can offer pro-level editing features. You can do timeline editing, color correction, and more. If you want good video editing apps for Android, here is the list. I have tested several video editing apps and made a list of the best free video editing apps for Android. All these apps are free but some of these even have a pro version to unlock all the features.
If you have a laptop or desktop, you can check the list of Best Video Editing Software. Editing videos on a big screen makes overall work easier.
Also see: Best Slow motion video apps for Android
Free Video editing apps for Android
These are the best free video editing apps for Android. This is not the ranking and Video editor apps have been added in random order. So, I advise you to check the description of all Video editor apps before selecting one for you.
1. VN Video Editor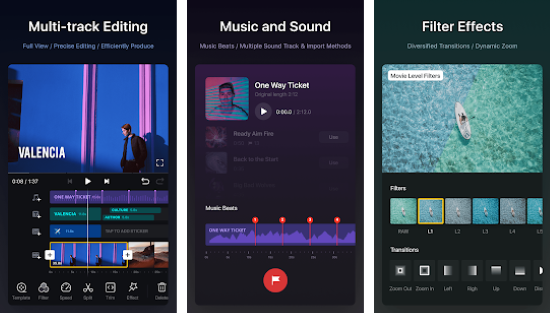 VN Video Editor is my personal favorite free video editing app for Android. This app can be used to make all kinds of videos. It has several video aspect ratios. So, you can either make videos for YouTube or even edit vertical videos for Reels, TikTok, and YouTube Shorts. The app has timeline video editing where you can split clips, trim, change speed, add multiple clips, control playback speed, Green Screen support, mask, text, effects, and transitions. It also supports soundtracks and you can use multiple soundtracks on different clicks. The powerful subtitle tool lets you add title, change the font, change position, adjust subtitle duration, and more. Once your video is ready, you can export it to share on any social media website. This is a professional video editing software that you can use to make impressive videos for sharing on TikTok, Instagram, YouTube, or any other social media website. If you want to be a content creator and use your phone for editing, try VN Video editor app for Android. The app is free and doesn't add any watermark to the videos you export.
2. FilmoraGo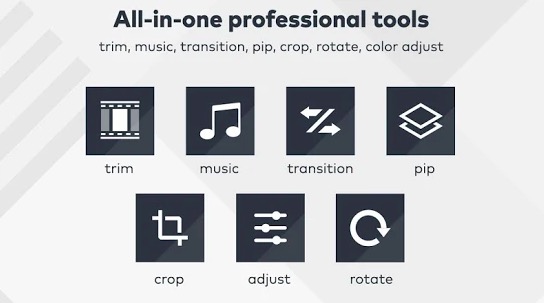 FilmoraGo is the mobile version of the popular desktop video editor Filmora by Wondershare. FlimoraGo is one of the best video editor apps for Android. FilmoraGo allows you to edit videos on the go. You can import photos and videos from the gallery, Facebook, or social media to edit. There are several themes, music, filters, titles, and transition efforts to try. Filmora provides a library of licensed songs to use. You can perform several options like reverse, speed up or down, Overlays & Filters, and multiple transitions. You can export the videos in HD format and are it on several platforms like Facebook, YouTube, Instagram, WhatsApp, Vimeo, and Tumblr.
You can edit either classic 16:9 or 1:1 videos for Instagram. The app is free and offers most of the features. You also have an option of in-app purchases to add more power. In the free version, it adds a watermark and you need to purchase the VIP to remove the watermark from the video.
3. Adobe Premiere Rush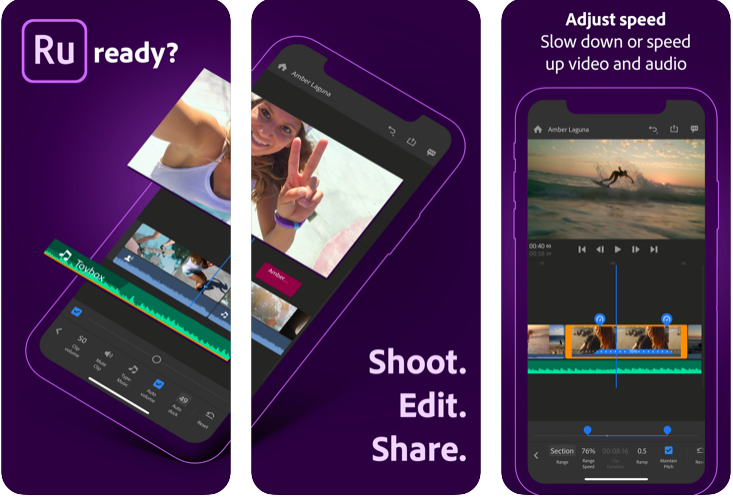 Adobe Premiere Rush is another nice video editing app to edit videos on your Android phone. The app offers an interesting option to create professional-looking videos with lots of video effects. The app allows you to perform several options like cutting, trimming, adding transitions, music, filters, effects, etc. There is a Built-in professional camera functionality that lets you capture high-quality content and start video editing with no watermarks immediately.
You also get music from stock soundtracks to add to your music. The smart volume smooths audio levels between clips and Auto Mix dynamically balances soundtracks with your audio. You have several video effects and more options.
4. InShot Viedo Editor: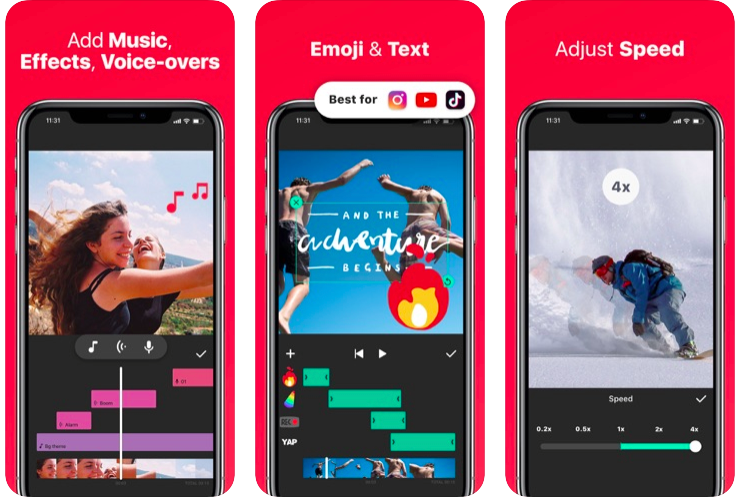 The Inshot is one of the Best FREE HD Video Maker apps with all features like trim & cut video/movie, blur the background, and no crop, add music, and video effects. The app has several editing tools such as Trim, cut, split, and merge videos. You can adjust the aspect ratio, adjust playback speed, and also can reverse video. If you have photos, you can make a video slide show of photos. The tool also lets you crop a photo or video to adjust the aspect ratio. It also supports Picture-in-Picture (PIP) mode. The tool supports Green Screen video editing. There are lots of sound effects. You can also upload a music track and then use it in the video. There are several video effects such as the Glitch effect, stop motion, Retro, RGB, etc. The video editing tool also lets you adjust brightness, contrast, saturation, etc. There are more than 60 transitions. The subtitle tool lets you add text, adjust text size and fonts. You can also add stickers and memes to the videos. There are more than 1000 stickers to use in the video. The free version of this app has a watermark. InShot helps you create a video with ease, edit videos for YouTube, Instagram, Tik Tok, Facebook, Messenger, Whatsapp, Twitter, etc.
5. PowerDirector Video Editor App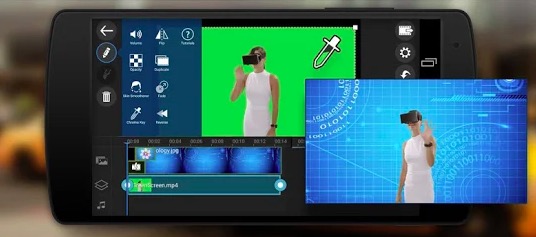 PowerDirector is also a full-featured video editing app for Android. It offers a similar timeline interface with lots of video editing options. It lets you edit videos on your phone like a pro. There are over 30 different effects and transition effects to choose from. It also has an option to edit the background by using a Blue screen or green screen. You can also make a pic or video collage. The notable features include export in 4K if you have a powerful Android device, speed adjustment, video stabilizer, animated titles, voice change, overlays, trim, rotate videos, control brightness, add text, PIP, and voiceovers. It also offers options for adding music or add voiceover to a video. You can Rotate, flip, split or trim video clips instantly. As the app offers professional-level editing options, you need a powerful smartphone.
If you purchase the premium, you get premium content, ad-free experience, royalty-free stock library powered by Shutterstock, stock media content, and powerful editing features.
6. KineMaster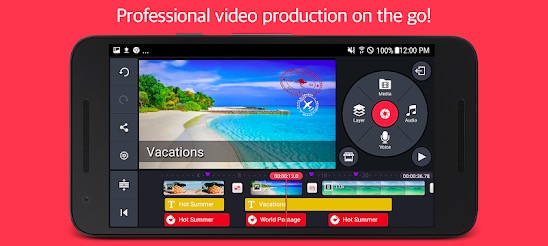 KineMaster comes with a good interface along with powerful video editing features. It allows you drag-n-drop to import media. You get several editing tools and proper control over the editing process. You can add video effects, perform trim, change Hue, brightness, and saturation, add Audi filter, add Blur, mosaic and other effects along with several other options. You can make impressive videos by reversing, speeding up, adding slow-mo, and applying blending modes. This free video editing app also brings 2,500 downloadable transitions, effects, videos & images, stickers, fonts, and animations. The app also includes color filters and color adjustments tools. Finally, you can export videos in up to 4K resolution. The videos you make from this app can be shared on YouTube, TikTok, Facebook Feed and Stories, Instagram Feed, Reels, Stories, and more social media apps.
The app is free to use but ads watermark. You need to purchase KineMaster Premium to remove the watermark and get an ad-free experience.
7. Quik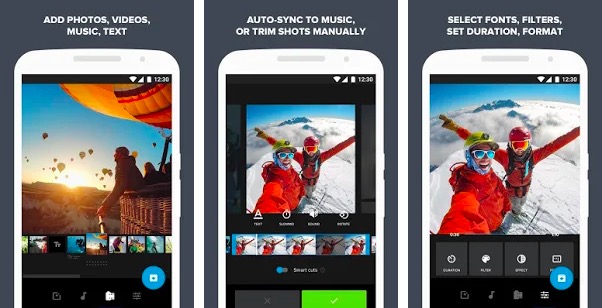 Quik is also a fast and free video editing app for Android that lets you edit videos on the go. Like Adobe Premiere Clip, it also comes with automatic video creation capabilities. You can also import your photos and videos to make a video of your choice. You can add up to 75 photos or videos from the gallery, Google Photos, Dropbox, GoPro Plus, or GoPro Quik Key You can add effects, texts, and quickly sync everything with music. There are over 23 video styles, each with carefully designed transitions and graphics. You can add a set and adjust the font. You can also reorder videos, trim, rotate, and more. There are over 80 songs to use or you can add your own. You can save the video to either the camera roll or directly share it on social media apps. The app has several notable features like slo-mo, GPS stickers, themes, fonts, and more. Finally, you can save the video in 1080p or 720p resolutions.
8. VideoShow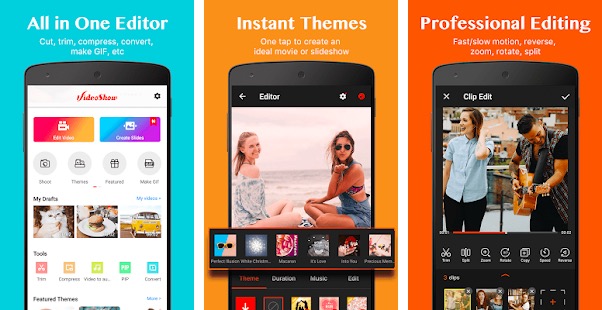 VideoShow is an award-winning video editing app for Android. It comes with easy to use interface and lots of features. There are 50 different themes available to try. You can add text, effects, music, and sound to your videos. It comes with real-time trending filters and options to enhance videos. You can add music, enhance voice, and more. There is also an option to reduce the size of your video by compressing it without losing the quality. You can also cover a video to MP3 using this app. The app can extract audio from any video, comes with ready-made tempaltes, supports 4K export, and more. This app also adds a watermark but you can remove the watermark after updating to VIP.
It also offers easy sharing options to several social media websites including Facebook, YouTube, Instagram, Vine, Flipagram, cute cut, etc.
Also see: Best Ringtone Cutter Apps
9. Magisto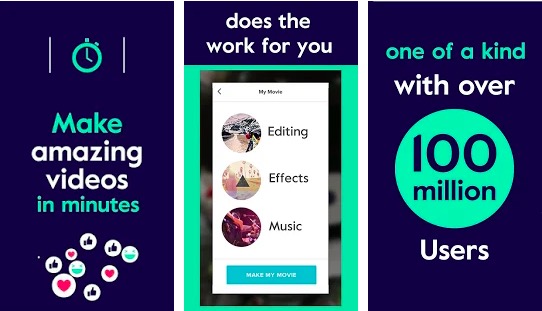 Magisto is also an excellent video editing app for Android. The app lets you create mini-movies on your Android phone in a few minutes. The app lets you make a video using photos and videos. You can select the video style depending on the kind of video you want to make. It also comes with music suggestions and lets you add your own music. It brings a library of music for commercial use. The app also lets you share your videos on different social media platforms. Video editing tools include cut, trim, merge and reorder. The app also supports adding text, changing orientation, and using different colors. There are ready-made templates for any occasion. The free version of the app adds a watermark to the videos. If you purchase premium, you can remove the watermark, get premium styles, increase movie length and exclusive styles and templates.
10. Funimate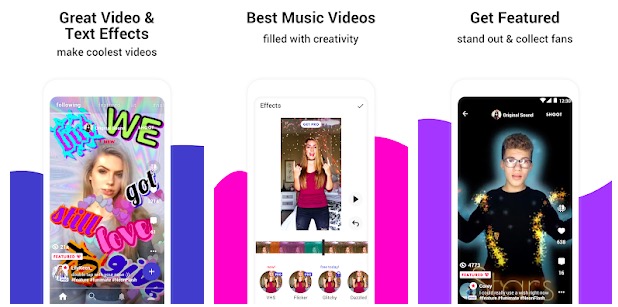 Funimate is one of the best video editor apps that lets you create music videos or simple videos from your smartphone quickly. The app comes with 15 video filters that you can use in your videos. There are more than 100 advanced effects that are designed for short videos. The app has transitions, effects, element library, effects, text effects, music, and common video editing tools such as Merge, Split, cut, and trim. This app is suitable for those who want to make videos for sharing on Instagram or similar video-sharing app. Funimate also has a dedicated Funimate video community. People can follow you to check your latest shared videos.
Final Words
These are the best video editing apps for Android. With the increasing popularity of video content on social media, it is important to have a video editing app on your phone and publish videos on the go. All these video editor apps offer professional-level video editing options with a timeline, video effects, and music. You can select any of these depending on your needs and phone capabilities. If you own an entry-level phone, you won't get a good experience. So consider upgrading to a good phone if you badly want video editing on your phone.
If you know of any other good app for video editing, share the name with us using the comments section below. I will surely try that to see if that can make a way into our list.