10+ Best Quotes Apps For Android and iOS
If you want a daily dose of motivational quotes to get inspiration and motivational support, you may think of installing good quotes apps on your phone. Quotations give you emotional support, encourages you to focus and work hard. In this article, I am listing the best quotes apps for Android and iOS. You can use these apps to get motivational quotes. Several people also look for good photos to share as WhatsApp Status or Instagram Stories, They can also use these apps to download motivational quotes and share on social media.
Also see: Best Music Downloader Apps
All you need to do is open one of these apps and read the quotes there. If you want to share that with friends and followers, you get easy options.
Best Quotes Apps
Have a look at the list of best quotes app for Android and iOS. If you want a daily dose of motivation, you should install one of these apps on your phone for sure.
1. Brilliant Quotes
Brilliant Quotes has a collection of hand-picked quotes from more than 260 authors including philosophers, writers, spiritual thinkers, and great leaders. The app also offers you a Quote of the day as a push notification. You can also check about the author and read his/her bio. The app also has an easy to use interface and search function to find more quotes.
The app is free to download and contains ads. It also brings a widget that you can pin to the home screen and select what quote you want to see there.
2. PictureQuotes
Picture Quotes is not the normal quotes app. It shows quotes on photos with Various Textures, Colors, Fonts, and shaders. It creates photos and saves it in your phone's gallery. There are several categories of quotes including Famous Quotes, inspirational quotes, Bible Quotes, love messages, Birthday Messages, Wedding Messages, and more.
You can select a photo you want to add behind the quote. This photo can be from your phone's gallery or you can use the customer designed Photo Backgrounds available on the app. Then you can select the quote, change the color, font, add effects, and save.
3. 53,000+ Famous Quotes Free
As the name suggests, the app brings over 53000 quotes to your phone. The app is easy to use and you can browse through a book of quote pages by tapping, swiping, and shaking. There is a search where you can search quotes by author name. You can also mark your quotes as a favorite. You can also share these quotes on social media and email.
4. Inspirational Quotes Free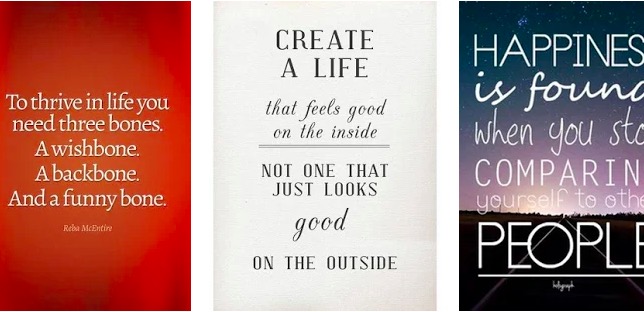 This is also a similar kind of app for getting inspirational quotes on your phone. It brings the best quotes with pictures. The app gets daily updates with new quotes. You can save the quotes and even set it as wallpaper. You are also allowed to share the picture using Facebook. The app is easy to use and is available for free only for Android.
Download: Android
5. Inspirational Quotes & Sayings
This is the iOS only app that brings wise quotes on success, perseverance, courage, inspiration & hope to your iPhone. You get motivational quotes to give you daily motivation. It lets you save your favorite inspiring quotes and share that on social media as well.
Download: iOS
Also see: Best Ringtone Cutter Apps
6. Quote Wallpaper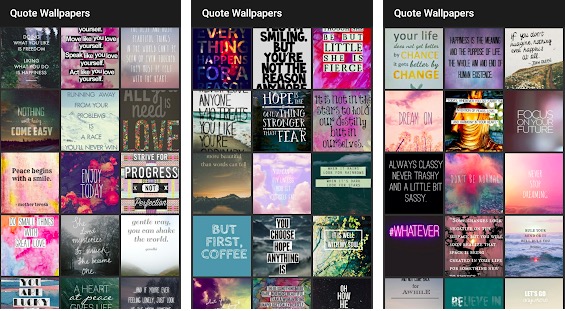 Quote Wallpaper brings wallpapers with quotes on it. You get several photos with quotes. You can either share those photos on social media or put one of those on your phone's wallpaper or lock screen.
7. Funny Quotes
Funny Quotes Free is another good app to get best quotes on your phone. As the name suggests, the app is for funny quotes. It shows quotes with pictures. You can also share these quotes on social media as well.
8. Best Life Quotes
The Best Quotes brings quotes from different categories to give you motivation, happiness, and more. The app even allows you to share quotes as text or pictures. You can mark your favorite quotes. It also gives you daily quotes notification.
9. Buddha Quotes
Buddha Quotes is a popular quote app that brings Best Daily Buddhism Wisdom Quotes & Beautiful Buddha Wallpapers. The app gives you stronger motivational quotes daily. You can either read quotes or let it read for you. You can share quotes on Facebook, Twitter, Email, SMS, and more. The app also gives you a daily notification.
10. Daily Quote
Daily Quote is also a similar app that offers Inspirational and Motivational Quotes on daily basis. It has a huge collection of quotes for different purposes. You can get quotes by your requirements, save it, or share it on social media. It also has an option to set reminders and it will send daily quotes on your smartphone. You can also choose random background photos or colors for your daily quotes.
Also see: Best bodybuilding apps
11. Best Quotes with Images of all Type
Even if the name looks more like an SEO practice rather than an app name, this app is worth trying. It brings a collection of inspirational and motivational quotes images. You can add quotes to your favorite lists, download, or share. The app has thousands of hand-selected quotes from famous people. It has an easy to use interface and works really well on the phone.
Download: Android
Final Words
Here are the best quotes apps for Android and iOS. Depending on your phone, you can select any of these quotes apps for getting a daily dose of motivation and inspiration. Most apps are for both Android and iOS, but a few are restricted to only one platform. All apps listed here are good. You just need to check what is suitable for you. So, read the app description carefully before installing an app.
What daily motivation app do you use? What app do you use for quotes? Let us know about using the comments section below.