5 Best Plagiarism Checker Tools
Most bloggers and popular publications face plagiarism problem. Several people create a new website and start copying content from notable websites. There have been several cases where people copied content from online sources, complied it into a book, and listed it as a paid ebook on Amazon. If you are a blogger or a journalist, you already know about plagiarism. But it is important to first talk about Plagiarism to make this term clear.
What is Plagiarism?
Plagiarism is copying someone else's work or idea and presenting it as their own without their consent. If you are writing an article, blog post, book, or any research paper and use text from any other blog post, article, or research paper without giving proper credit, it is called Plagiarism. Paraphrasing and copying just a part of the content also falls into plagiarism.
Plagiarism is unethical and is also an offense.
If someone sends you an article to publish on your website, it is really important to check for plagiarism. Google hates plagiarised content. If you put plagiarised content in a blog post, it affects search performance in a negative way. You may also fall into legal trouble. But it is not easy to check for plagiarism manually. This is the reason there are several tools that help you check for plagiarised content and find out the source from which the part of the text was copied. The plagiarism checker tool is important for bloggers, writers, students, journalists, and SEO people. In this article, I am listing the best Plagiarism checker tools. You can check all these plagiarism tools and start using one that matches your requirement.
Plagiarism Checker Tools
1. Plagiarism Checker by Grammarly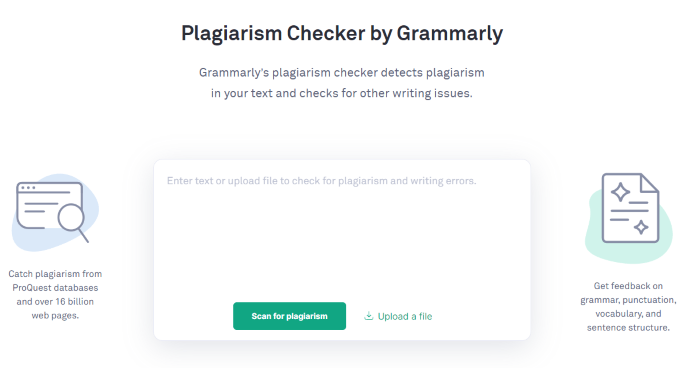 Grammarly is one of the best tools for spelling and grammar check. I personally use it to find errors in my blog posts. Grammarly also offers a plagiarism checker tool that detects plagiarism in your article. You just need to paste the content into the text area and click the Scan for plagiarism button. It will scan the text and will show you the result.
Plagiarism detection is only available in Grammarly premium plans. So, you need to purchase Grammarly Premium if you want to enjoy its plagiarism checker. Grammarly's plagiarism checker claims to compare the text from billions of web pages and ProQuest's academic databases to find plagiarism. It also highlights passages that are copied and also tells you the original source so you can give proper credit to the source.
2. Copyscape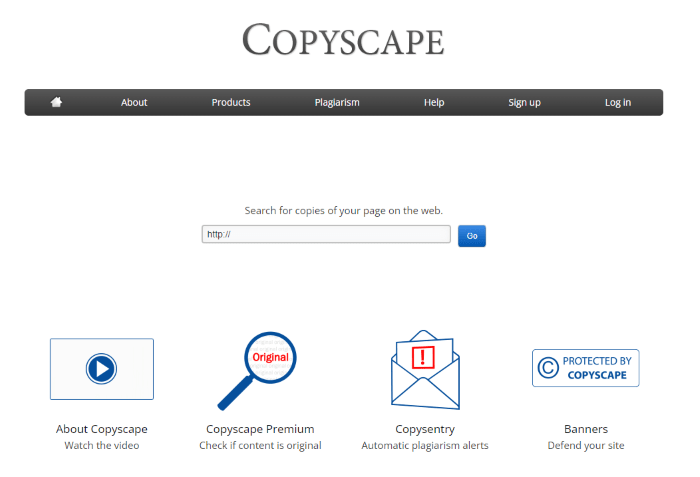 Copyscape is one of the best and most popular plagiarism checker tools. The only issue with this tool is that it works with a URL. you need to enter the URL. Then it scans the content of the web page and matches it with billions of web pages on the internet. In a few seconds, it will tell you what part of the content was copied from what web page, but limited results. If you go with Copyscape Premium, you can see all the results. The Premium version also lets you upload a file or copy-paste the content in the text area to search for plagiarism. It also offers a bulk plagiarism checker that can scan up to 10,000 pages in a single operation. So, you can scan the whole website to find out what articles have plagiarism issues.
3. Duplichecker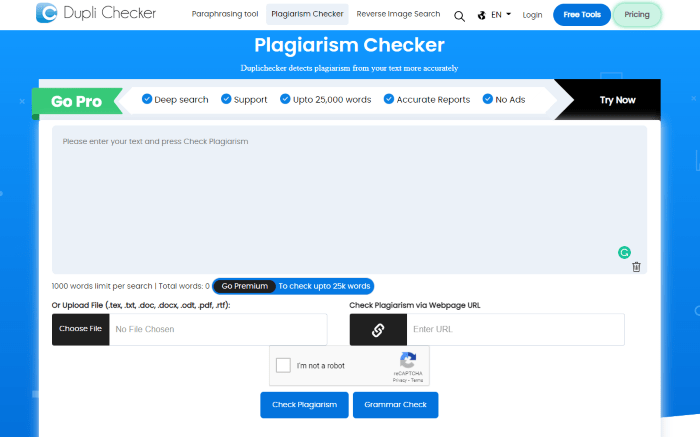 Duplichecker is also an impressive plagiarism checker tool that can accurately detect plagiarism from a text. This tool also works in the same way. There is a big text box where you need to paste the content. You can also upload text, doc, or PDF files to check the content of the file for plagiarism. There is also an option to enter the webpage's URL and check for plagiarism. After entering the content from one of the given ways, click the Check Plagiarism button. In a few seconds, you will get the results. It will highlight the part of the text and tell you the URL of the source from where the content was copied.
This is a free tool but limits searches. if you want more, Dupli Checker offers flexible plans.
4 Copyleaks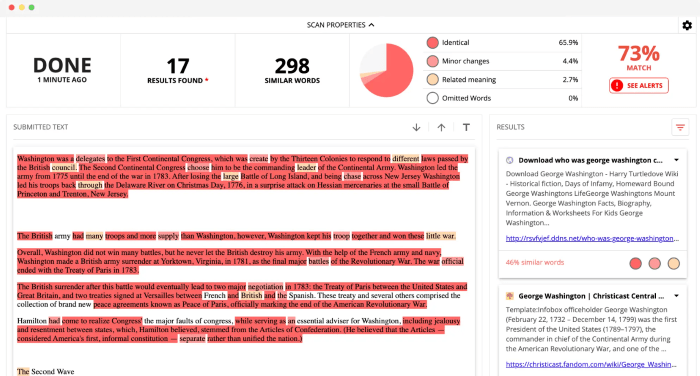 Copyleaks is also known as one of the accurate plagiarism checker tools you can try. It scans the content for plagiarism and provides detailed information.  You can either paste the text in the text area, upload a file, or enter a URL. It then scans the text for finding possible plagiarism. This plagiarism checker tool compares the provided text against the web pages on the Internet and various databases to find similarities. It claims to use AI and machine learning to detect different similarity types and paraphrased text. This tool is free but you need to create an account to use it. It also limits 10 scans per month in a free account. If you want more, you need to get a premium account.
5. Plagiarism checker by SmallSEOTools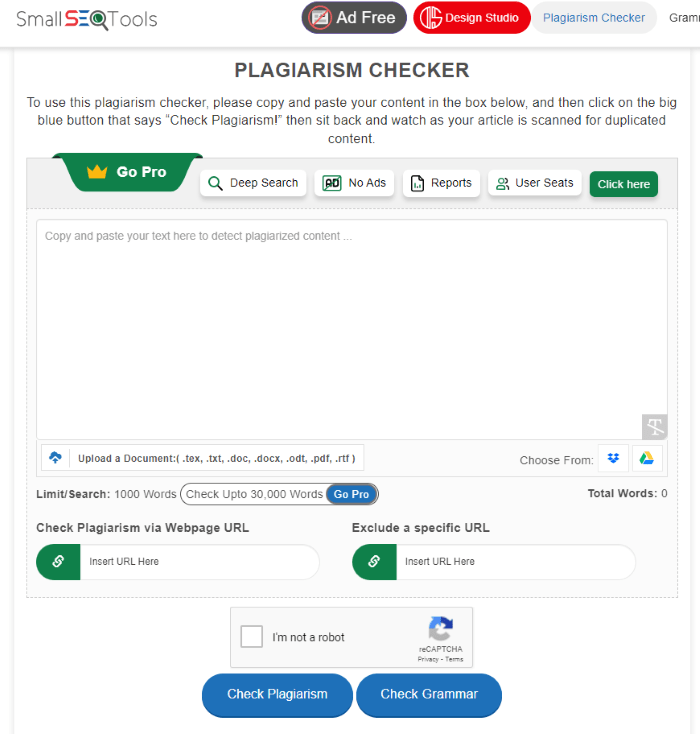 This is a completely free Plagiarism checker tool used by bloggers and articles writers. Here, you can either paste the content, upload a file, or enter a web page's URL to check for Plagiarism. It scans the content and takes a few seconds before showing you the results. It highlights the text that matches the content of any other web page. You will also get the URL from where the part of the content was taken. Like other Plagiarism checker tools, this one also scans billions of web pages on the internet and matches the content to find out similarities. This tool also has an option to automatically rewrite the content in just one click.
Wrap Up
There are several other good tools to check for plagiarized content online. But this list has enough plagiarism detector tools to find out plagiarized content and the source of it. Grammarly is a nice spelling and grammar checker tool with a built-in Plagiarism Checker. So, I recommend that to anyone who is into article writing. Other tools given in this list are also really good. The plagiarism checker by SmallSEOTools is quite popular because it is free and provides accurate results.
Also see: Best Dating Apps in India