Riversong Wave S is an all-day fitness tracker band available in the market. Like other fitness trackers, it also features activity tracking, heart-rate sensor, sleep tracking, and more. Recently, I started using it to see if it is worth buying. Based on my experience with this fitness tracker, here's my review.
Riversong Wave S looks much like other fitness trackers of this segment. It is IP67 water-resistant, so you can keep wearing it throughout the day without any issue. While using this fitness band, I washed hands several times a day and nothing happened to it. It is also comfortable enough so you can keep wearing it all the time. There are a TFT display and a touch button just below the display. At the back, it has different sensors to measure health data.
There's a built-in USB charging. You only need to remove straps to reveal the USB male port and then plug it into a laptop or power bank's USB port. So, you don't need to carry an extra charger for your fitness band.
The fitness band comes with a 0.96-inches TFT display that is bright enough to use even outdoors. You can clearly see the display even from angles to quickly check time or notification. The display shows time, steps, calories, and distance data. You get three different band faces to select from. Using the touch button, you can navigate through different options on the watch. The display has a 2.5D tempered glass layer to avoid scratches. I performed rugged testing on it, but there's no scratch till date.
Riversong Wave S is an all-day activity tracker that tracks steps, distance, burnt calories information in real-time. The band's display shows steps, distance, and calorie data. Just keep tapping on the button to navigate through data.
The first day when I started using the band, I found irregular reading for steps. It was showing many more steps than I actually took. Calories data was looking fine. So, I performed a factory reset using the companion app and then start using it again. This time, the step count was fine. Many times I counted my steps and then checked the count on the band. The increase in steps count was close to what I took.
It has a multi-sports mode where you can select outdoor activities like running, walking, swimming, skipping, football, etc. You can use the touch button on the band to enter into a specific sports mode.
When you want to measure the heart rate, blood pressure, or blood oxygen level, navigate to the option and wait for a few seconds.
There's a companion app RS Wave S for accessing the fitness band data and configure settings. The app is available for Android and iOS. I installed the App on my OnePlus 6T running Android 10. There's always a notification of RS Wave S confirming the app is connected to the band. I wish I could dismiss this notification.
The app shows steps you walked, the distance you covered, calories you burnt, sleep data, heart rate data, and other data it measures. You can also use the app to configure different things like alarm, continuous heart rate monitoring, and more. The app also keeps synchronizing data with the band. So, you can always see the history data.
It features automatic sleep monitoring and tells you about the quality of sleep your take. You learn how long you slept with information about light and deep sleep. Sleeping hours were mostly accurate. Not sure about the deep and light sleep accuracy.
It also features a heart rate sensor and can measure your heart rate. You can either keep it manual and check only when it is needed or set the automatic heart rate monitoring using the companion app. In automatic heart rate monitoring, it keeps monitoring heart rate at regular intervals. You can use the app to keep track of your heart rate data.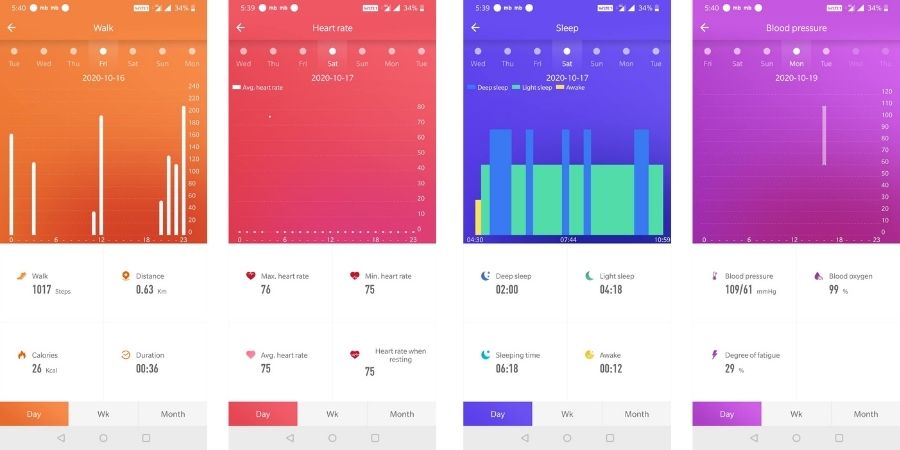 The band also monitors blood pressure and blood oxygen level. It is now a really important feature. I don't have any blood pressure issues and the reading on the fitness band confirms the same.
The fitness band also has a built-in stopwatch that is useful while doing exercise.
Other notable features are app notifications, alarm clock, and inactivity remainder. All these features work fine. You can select what apps can send you notifications. Notifications are limited for a few specific messaging apps mentioned on the app. Not all apps can send notifications.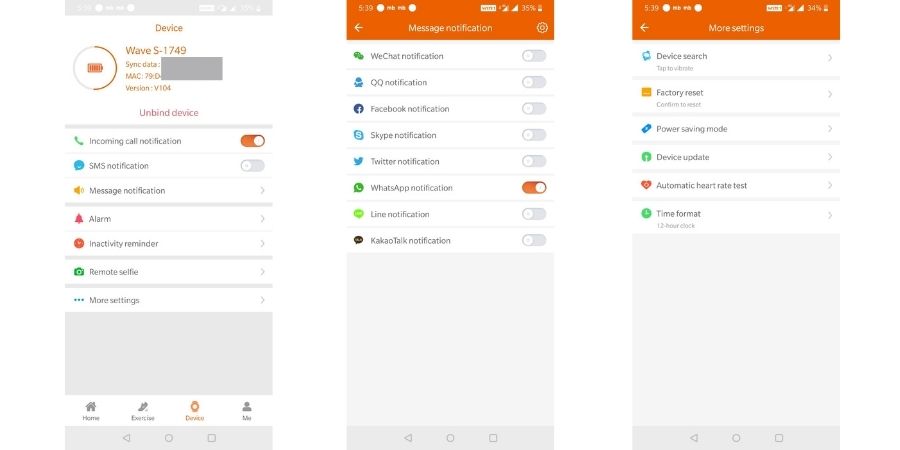 I also tried the remote shutter feature of the band and it works fine. The company also advertises music control but I couldn't find that feature anywhere. Neither on the band nor on the app.
The fitness band packs a 90 mAh battery and promises 7 hours of battery, In my usage, it fulfills the promise. If you keep measuring heart rate and blood oxygen level several times a day, battery life will drop. Otherwise, it will easily offer 6-7 days under normal usage. While I was expecting a better battery life, I am happy to see at least the band is offering what it promises.
Final Words
Riversong Wave S is a good fitness band that comes with almost all the features one expects to have in a fitness band. Most existing fitness bands of this price segment don't offer Blood oxygen monitoring. Riversong Wave S is affordable and costs less than Rs. 1500. If you are looking for an affordable fitness band for tracking making and achieving your fitness goals, you can consider Riversong Wave S.
Riversong Wave S
"Riversong Wave S is a budget fitness tracker offering nice features including blood oxygen measurement."
The Good
Blood Oxygen Monitoring
Built-in USB for charging
Breakdown
Design 80%

Performance 70%

Features 80%

Battery 70%

Value for money 75%