Asus E410M Review – Impressive entry-level laptop for students
Asus offers laptops in all the price segments. Not just premium and business laptops, the company also has laptops in entry-level segments. I recently got the Asus E410M to use and review. This laptop is available at around Rs. 30000 in the Indian market. So, I was curious to see how it performs. Now when online classes have become an important part of student's lives, several people ask for budget laptops. In this article, I will talk about the Asus E410M in detail. I had the Asus E410MA – EK321T model. So, the review of Asus E410M is based on that specific model
As soon as I took the laptop out of the box, it caught my attention due to the unique patterns on the lid. This color variant is called Dreamy White but there are also Peacock Blue and Rose Gold variants. The lid looks good and it even changes color when viewed from different angles. It comes with a lightweight body shell. It has an all-plastic body but looks premium on the lid, display, and keyboard sides. Only the base side feels cheap plastic. The laptop weighs just 1.3 KG making it a portable machine.
On the left, it has a charging port, an HDMI port. a USB port, a USB-C port, and a headphone jack. It has a USB port, microSD card slot, and status LED on the right side. It has a properly designed 180-degree lay-flat hinge. It can be useful several times while sharing content with others.
The laptop has a 14-inch Full HD display with a 78% screen-to-body ratio. It has narrow size bezels. The display looks good and viewing angles are also good. The only issue could be that the screen isn't much bright. it is rated for just 150nits. You can still enjoy videos on the laptop but not if you are a movie buff who doesn't want to compromise with visual quality.
The matte finish on the display makes it good for outdoors, but the screen looks fairly dull. You won't notice much if working on some documents or checking emails, but for sure if checking photos or working with presentations that involve graphic elements.
By using MyAsus app, you can also tweak the color temperate of the screen, enable Asus' Tru2Life tech, or enable the Blue light filter.
Asus E410M packs Intel Pentium Silver N5030 Processor with a base clock speed of 1.1GHz. This processor has 4 cores and 4 threads. Pentium Silver N5030 is weaker than 10th gen Intel Core i3, but this laptop is also an entry-level laptop. It features a finless design and runs silently. It offers a good performance for tasks like web browsing, emails, documents, and presentations. This model has 4GB DDR4 RAM. There's also a model offering 8GB RAM. It offers fine multitasking. You can keep running three or four software at a time or 6-7 tabs on Chrome at a time.
The laptop has Intel UHD 605 integrated graphics that is average for graphics-related tasks. You can also try low-end games but don't expect good fps. In case you also want to play good games lie Valorant or CS Go, I recommend to invest more and get a better one.
It also comes with a 256GB PCIe Gen3 x2 SSD. So, you get a fast read and write experience. This fast storage means faster boot time and software also loads quickly. I also did disk benchmarking and found impressive results. It easily reaches 1800 MBps read and 950MBps write speed.
Asus E410M runs on Windows 10 out of the box. It also comes with MyAsus app that includes several useful utility tools to configure and diagnose hardware. It also lets you contact Asus support when you need it. My personal favorite is Link to MyAsus which lets you mirror your phone on your laptop to get access to calls and messages on your laptop. You can also use it as an emulator to run mobile apps on your laptop. You just need to download Link to MyAsus app on your phone. I have already talked about it in detail in ExpertBook B9450 Review.
It has a VGA camera located at the top of the display. This webcam disappoints and isn't good for video calls.
Asus E410M has a compact keyboard with no number pad. That's a common setup in 14-inch laptops. The Enter key has a yellow color at the edges to give the keyboard a different look. Keys are really soft to press and offer 1.4mm key travel. The model I got lacks a backlit keyboard, while some models have one. If you need a backlit keyboard, make sure to get the right model.
It has a standard Touchpad that is responsive and offers click feedback if pressed. Touchpad also supports multi-finger gestures. It also has an integrated number pad like premium Asus laptops. There's a toggle button at the top right corner to quickly enable and disable this number pad.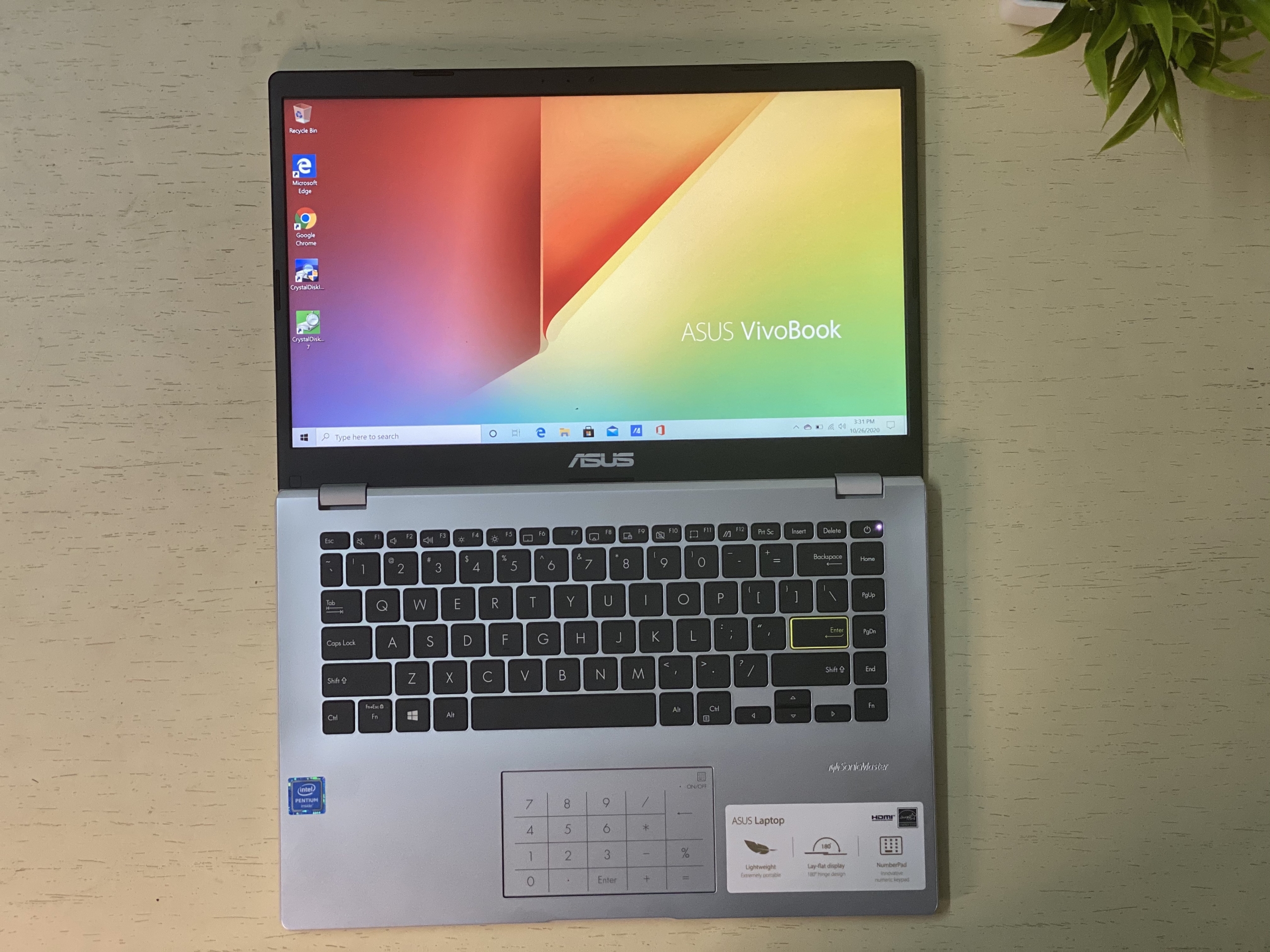 I have already talked about physical ports for connectivity. Along with that, it also offers WiFi 5 and Bluetooth connectivity.
Asus E410M has dual speakers located on the base side. The quality of sound from the speaker is good but it isn't much loud. If you want to watch movies with a group, you need an external speaker. Sound output over the 3.5mm headphone jack is also impressive.
The laptop packs a 3-Cell 42 Wh Battery. It can easily offer 9-10 hours of battery backup depending on your usage. So, you can easily carry it to college without needing a charger for the whole day. It comes with a small power supply brick and thin cable. So, the charger doesn't add much extra weight burden.
Wrap Up
Asus E410M is a good entry-level laptop for those who need a laptop for basic tasks such as emails, web browsing, movies, presentations, and documents. It does all the basic tasks well. The laptop is also extremely light to make it a portable one. Now when online classes are in trend, this laptop could be a good one for kids to join classes and learn.
If you want a laptop to handle big programs, multimedia work like photo or video editing, or need good processing power, this laptop isn't for you.
Asus E410M
"Asus E410M is an impressive entry-level laptop offering good performance for regular tasks and long battery backup."
The Good
Good design
Long battery backup
Fast SSD
Lightweight
The Bad
Poor Webcam
Low display brightness
Breakdown
Design and build 75%

Display 70%

Performance 70%

Battery 80%

Value for money 75%