With the launch of new iPhone models, Apple also announced a new feature called Smart HDR. Many smartphones can already capture HDR photos that combine multiple shots at various exposures to perfectly capture details of shadows and highlights that would otherwise be lost. I have explained HDR in a detailed article. You must read that. Apple has used the same phenomenon powered by its new A12 Bionic Chip and advanced processing to give you best HDR shots.
The core of smart HDR is Apple's newly launched 7nm chip 7nm chip A12 Bionic that has 6.9 billion transistors. It features 6-core CPU and a quad-core GPU . It also runs Apple's neural engine, with an 8-core design. As the company claims, it can can run 5 trillion operations for second. A12 also allows for 512GB of addressable storage in the iPhone.
Smart HDR
In typical HDR shots, the camera captures multiple photos of same scene with different exposure level and combine all into a single photo. But Apple has different approach and it uses AI to select what part of a photo is best to use while merging all together. Here, Apple's new A12 Bionic Chip plays an important role in image processing.
In Smart HDR, the iPhone camera shoots a constant four-frame buffer along with shooting the 'interframes' between those frames at different exposures. This help in brining out the things like highlight and shadow details.  You can understand this from the image below.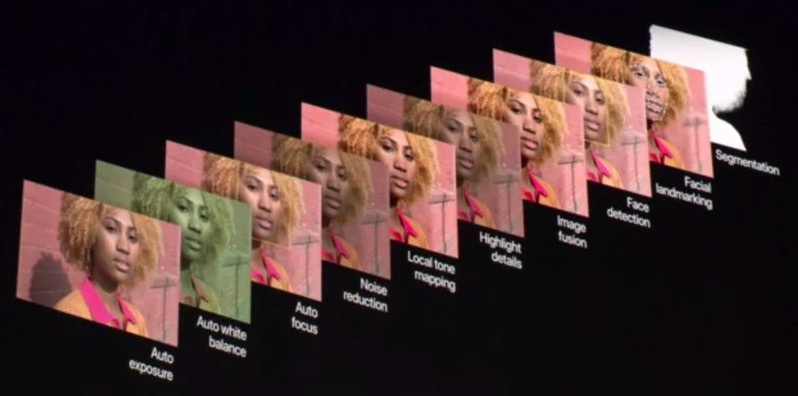 Then it uses the neural engine to choose the best parts of each photo and merges them together to make a photo.
Here is the example how the one image from all the shots it capture.
Apple also demonstrated few shots captures using Smart HDR in the launch event. While those shots were really interesting, I have stopped believing camera samples of launch event. I have not yet tried the smart HDR. So, I am not exactly sure how smart HDR is going to impact the smartphone photography.
Apple's new iPhone XS and iPhone XS max will debut later this month. I am super excited to try the new camera capabilities of new iPhone.