Mobile vs desktop – Why do companies prefer users to come on mobile apps?
Few days back, when Myntra decided to go with app only strategy, buzz started on the Internet. Few people started cursing Myntra for ignoring its Desktop users. But we were not surprised with this move. You may have also seen that most of the other e-commerce offers more cashback and discounts from mobile apps. Everyone is in hurry to get users on mobile apps. Is it really a benefit for the company if it has active users on mobile apps? In this post, we will check the users engagement in mobile vs desktop and try to see if it is right to go with mobile only strategy.
Mobile vs desktop
First of all, let us compare the mobile vs desktop. With the increasing use of smartphones, now internet is in the pocket of users. This is the reason mobile traffic is increasing day by day. Mobile traffic has already surpassed the desktop traffic in 2014. See the below stats: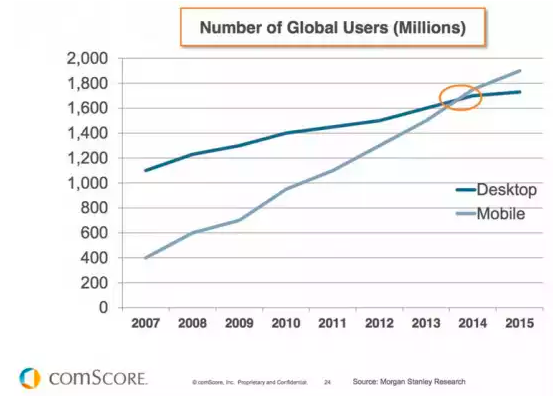 Above graph clearly shows that mobile traffic is growing really fast and has already surpassed desktop traffic. So, it is very important for companies to offer better user experience on mobile devices. Desktop websites only works fine on mobile devices if it is responsive or there is a different mobile version of the website. Responsive websites have the same size as in desktop so it takes time to load. This is why companies prefer mobile version of the website with limited features. So, users are not going to get all the features on mobile site.
Mobile site vs Mobile apps
With the increasing use of smartphone, now companies try to have mobile apps too to offer better user experience. Most of the users do not want to visit mobile site because of less engaging user experience. There is no need to explain that mobile apps offers better and engaging user experience than mobile apps. So, users can enjoy a website via mobile apps in better way. See the comScore data of users' activity on mobile browser and app. You can see that app gets more than 80% activity than mobile browser.
This is another research data which confirms that users prefer mobile apps.
In mobile apps, there is another advantage. Users will be always logged in their accounts and quickly access everything. But in mobile browser, it will be log out after closing the account otherwise users will have remember the login. With push notification features, companies can also send notification to users about latest offers. Most of the users check the push notifications send by mobile apps. In mobile apps users are already logged in into the account, so companies can send personalize apps. This increases the sales and conversion. So, mobile apps are beneficial for the companies and users both. Users get better user experience and companies get more conversion.
Mobile apps can also gather the data from the smartphone depending on the permissions it asks. Apps can also use GPS to get users' location and provide location based offers on mobile apps. So, better personalization is possible. Unlike mobile web, mobile apps offer lot more features. So, mobile apps are much better option that mobile web.
Why did Myntra decide to go with mobile only strategy?
Now take the example of Myntra. It decided to go with mobile only strategy and reports confirmed that it will shutdown its website in coming months. If you have read the above analysis, you already know that mobile app offers better engagement on mobile devices. And most of the users now access internet via mobile apps. It means, mobile app is now very important for companies. But desktop is equivalent important because a large fraction of users is still on desktop. So, here is an important question:
Is Myntra ditching desktop users?
I guess 'NO,' Myntra is not ditching desktop users. If a company is taking this much of big step, then there must be a big valid reason behind this. No company can ditch its millions of users in just one go. If company has decided to shutdown the desktop website, it means it has very less fraction of traffic coming from the desktop.
In conversation with Myntra persons, I got to know that the main reason why Myntra decided to shutdown its website and ask users to use app is because it can offer personalized experience on mobile apps. Myntra doesn't just want to be a shopping website. It wants to be a shopping platform which gives users a better and richer shopping experience which is not possible in desktop. We have already explained why mobile apps can offer better personalized experience.
Most of these desktop users are already shopping from mobile apps. Now you will ask:
Why will users shop from mobile apps if they are visiting from desktop?
Because most of the discount offers are valid only on mobile apps and users can save card details for quick payments. So, mobile apps seem beneficial. Daily different offers run on Myntra. So users can enjoy mobile app with offers.
We cannot confirm with exact data but ditching desktop app decision came because Myntra has very less percentage of traffic and conversion from desktop. This less can be negligible for the company. So, it thought not to maintain a separate website and invest on its maintenance.
With the above analysis, it seems Myntra has got it right by moving towards mobile only strategy.
What about those users who are not happy with this decision?
These are mostly those users who own smartphone with less internal storage and do not like to install too many apps. This is the reason there are still few users who hate this decision. Other users who are not happy are those who hate changes. This is a general psychology. In coming days, they will be comfortable with changes.
Conclusion:
It is the topic of long debate but if you look closely on the research data, you will see that mobile apps have already surpassed the desktop web. Users are using mobile apps and smartphones to access Internet more in comparison to desktop. Desktop users are decreasing month by month. I know it will take many years to completely replace the desktop web, but few specific categories of websites it is already replacing desktop web. Mobile apps also offer better conversion and hence better revenue. This is the reason why most of the companies prefer mobile apps. And to get users on mobile apps, companies are pushing better offers.
Recommended Videos