Dropbox For Android 2.2 Gets New Photo Gallery
Dropbox has updated its app for Android devices. This new update is called version 2.2 and it brings few enhancements and new features. Now users can enjoy photos and videos on the go.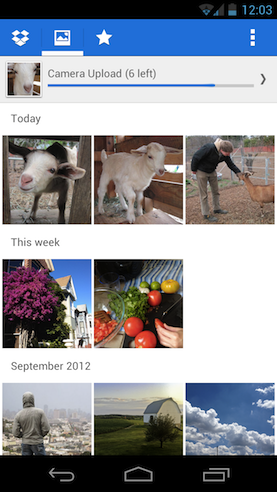 In the app, Dropbox has added a new photo tab where you will see all photos and videos uploaded by you. No need to search for pictures in among the files. So you will be able to access your photos and videos faster than before.
"We've created a new photos gallery in our Dropbox Android app that puts your pictures front and centre and displays them beautifully," Tony Grue from Dropbox wrote in a blog post.
"Now it's even easier to flip through all of the photos you've automatically uploaded to Dropbox and share them in a snap! And since our Camera Upload feature lets you gather all your photos in one spot, you'll even see pictures you've taken with other cameras," He added.
These are the main changes in this new version
Introducing the Photos tab with all your uploaded photos and videos
Uploads moved to the menu in the file browser
Lots of under-the-hood bug fixes and tune-ups
Download this updated Dropbox app from Google Play Store.