Rovio is Working On A Game Starring Pigs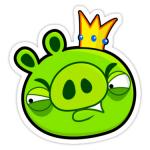 Rovio, Developer of Angry Birds, is working on a new game which is based on the pigs of Angry Birds. When we play Angry Birds, we try to hit the pigs and play from the birds. But the new game will let users to play from the pigs views. It there rumors are true, we will be soon able to play this new game.
This news is coming from the report published on the Pocket lint.
Nothing more about the game has been leaked but some popular online news websites have published the news. We can not say about the name of the game. But it is expected to be available before Christmas.
In the game, each pig will have different skills and characteristics. The idea of this game will be to protect eggs from the birds. We can expect to see jumping pigs hitting birds this time.
All these things are not certain as there is no image which can prove this rumor true. So we will have to wait few more months to get the truth. May be the birds are the bad guys in this new game.
If we combine Angry Birds with this game, Rovio may launch a new multi-player game. One player will play as birds and other will play as pig. That will be really interesting. But this time, we will have to concentrate on single player game from the view of Pigs.
Rovio has written the history of success in the mobile gaming with Angry Birds. Angry Birds has broken all the downloading records and earn millions of dollars for the company. We an also expect the big hit from the upcoming games of the company
Rovio has also announced its next game Amazing Alex. This game is expected to hit the market by the end of this month.
What do you think about launching a game to play as pigs. Will like to have some change in Angry Birds and want to kill birds this time? let us know via comments.
Recommended Videos